Lakers fall to Clippers after team meeting to air frustrations over business and basketball decisions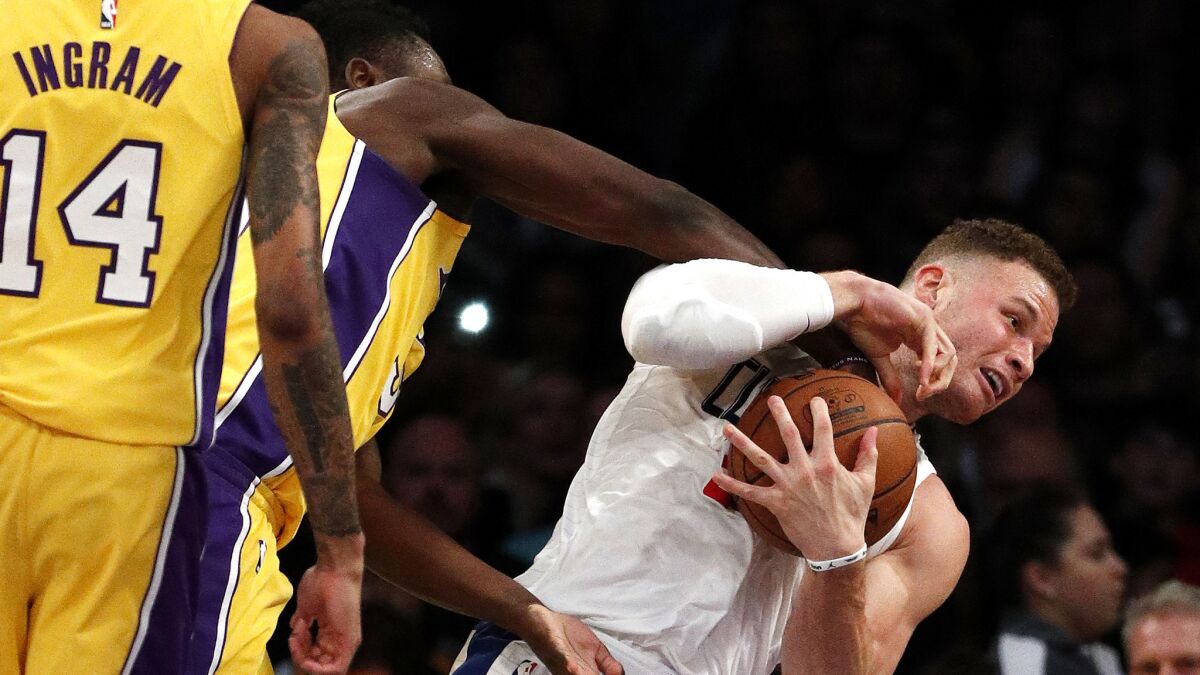 Losing can amplify a team's problems, and the Lakers have done a lot of it lately.
So on Thursday, with frustrations mounting among the players, the Lakers held a team meeting in lieu of practice to allow players to air their grievances with each other, with the coaching staff and with the organization.
"Hopefully we think about what we said to each other, what we said to the coaches and that the coaches have listened to what we said," forward Brandon Ingram said. "Hopefully we can take it into practice, into games and just get better."
Friday night's game showed that their product on the court still needs work. The Lakers lost to the Clippers, 121-106, after trailing by 17 points early in the first quarter. Blake Griffin returned for the Clippers after missing 14 games because a sprained medial collateral ligament he injured against the Lakers last month.
Griffin and former Laker Lou Williams each scored 24 points. The two players combined to make 24 of 27 free throws.
The Lakers were led by Jordan Clarkson, who scored 20 points on nine-of-16 shooting.
The Lakers have lost eight of their last nine games. Their only win in that span came against the Rockets in Houston. It was a tough stretch of games that included two contests against the Warriors, one against the Rockets and one against the Cleveland Cavaliers. Even in their losses, they played each team close, impressing Lakers coach Luke Walton as they did it.
But the losses continued after that against teams they should have beaten.
"Every team has issues," Walton said. "You look at the top teams to the bottom, they all have their issues. Part of this job is keeping a pulse on everything and continuing to grow and do things in a certain manner. It gets more challenging when you're on a team that's losing."
What's frustrated players on this team is a combination of on- and off-court issues. Playing time has frustrated some players. They've also been hearing for months that their franchise's future might not include many of them, and some players have wondered if that, rather than a quest for wins and losses, is dictating some of the Lakers' rotations.
Those frustrations came to light last week when the Lakers lost by three points to the Portland Trail Blazers, who did not have All-Star point guard Damian Lillard. Afterward Walton said he thought players were "pouting." Andrew Bogut said after the game that players were frustrated and the effort overall in the game wasn't very "professional."
Bogut specifically cited the Lakers' salary cap plans as part of what frustrated his teammates. The team's front office has made clear that they want to sign two free agents to maximum contracts this summer, and to do so they will have to move some of their current players.
On Thursday, the Lakers faced a practice day in which four of their starters would have been unavailable or significantly limited – Lonzo Ball, Brook Lopez, Kyle Kuzma and Brandon Ingram were all nursing injuries. Given the dearth of healthy players and the clearly simmering frustrations within his roster, Walton canceled practice.
"I'm always thinking about how we can get better in the time we have to work," Walton said. "… We weren't going to get much done on the court that day anyway. It was just a creative way to grow and get better for that day. The amount f questions being asked about having a team meeting are a little blown out of proportion from the fact that we had one. It was just a way for our group to get together."
Kuzma called it a "heart-to-heart."
Clippers forward Blake Griffin dunks with authority over Lakers forward Julius Randle during the second half.
(Gina Ferazzi / Los Angeles Times)
Lakers forward Larry Nance Jr. fouls Clippers forward Montrezl Harrell during the second half.
(Gina Ferazzi / Los Angeles Times)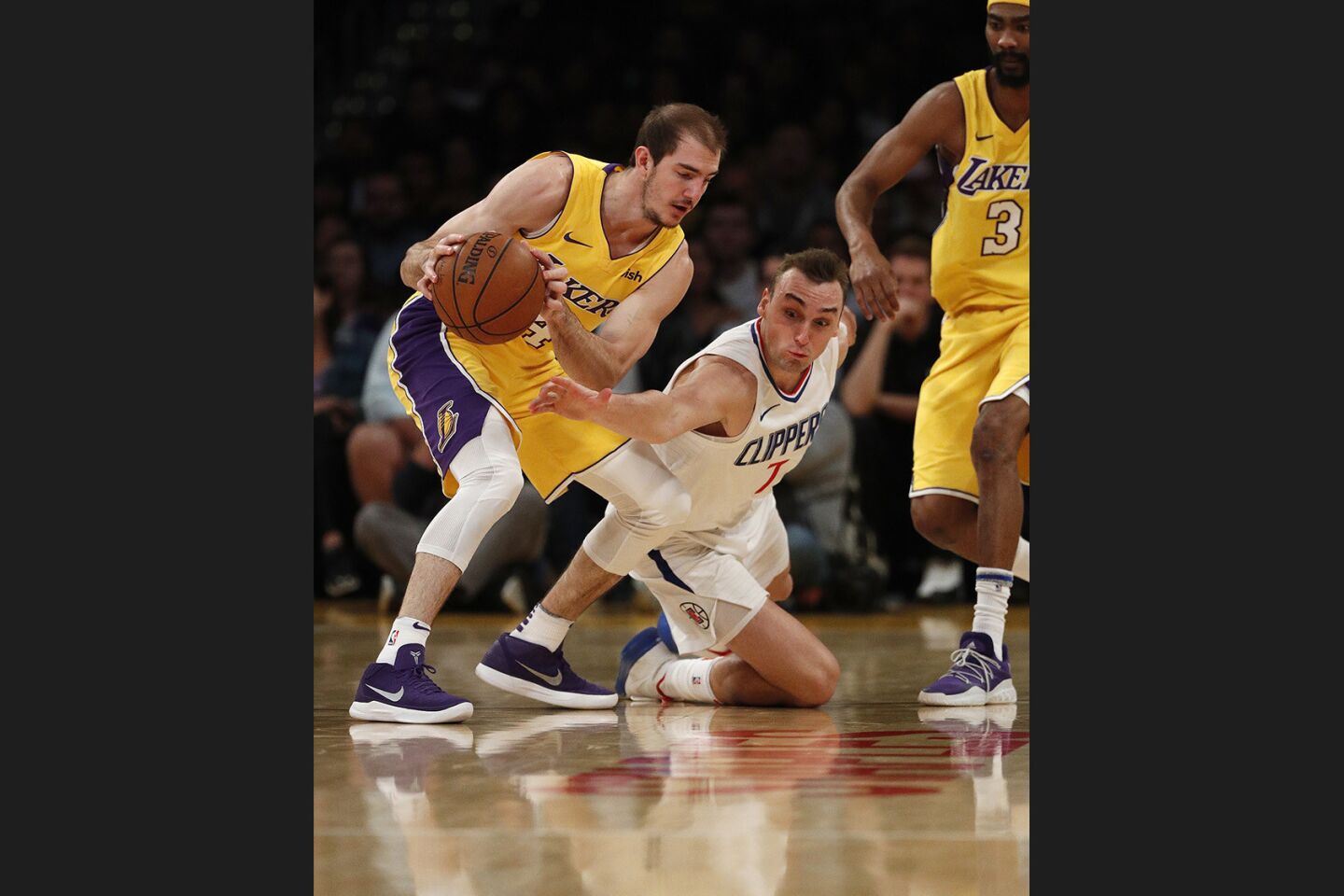 Clippers forward Sam Dekker loses his balance going for a steal against Lakers guard Alex Caruso during the second half.
(Gina Ferazzi / Los Angeles Times)
Lakers forward Larry Nance Jr. tries an awkward shot over Clippers forward Montrezl Harrell during the second half.
(Gina Ferazzi / Los Angeles Times)
Clippers guard Austin Rivers reacts after injuring his left hand during the second quarter. He would continue to play until exiting in the third quarter with an Achilles' tendon injury.
(Gina Ferazzi / Los Angeles Times)
Lakers guard Kentavious Caldwell-Pope (1) and forward Kyle Kuzma (0) double team Clippers guard Lou Williams during the first half.
(Gina Ferazzi / Los Angeles Times)
Lakers guard Josh Hart falls on the heel of Clippers guard Austin Rivers during the first half.
(Gina Ferazzi / Los Angeles Times)
Each player spoke and got a chance to air their grievances. Some of the veterans tried to use their own experiences to offer advice to their younger teammates about how to weather uncertainty about their futures.
"I don't think you work through it in one day, but I think we put it out there about how each guy was feeling about how they play on the basketball floor, about how they're feeling about the business of the organization, how they want to be played or anything of that nature," Lakers forward Brandon Ingram said. "I think they just put it all out there and ultimately I would hope they felt free after they did."
Said Kuzma: "We're just trying to get back on the same page."
Walton harkened back to his playing days when cautioning that meetings like the one the Lakers had Thursday are not limited to losing teams. He remembered frustrations often mounting even on the teams he played for that won championships.
Phil Jackson was his coach back then, and Jackson had an unorthodox method (at least for basketball) for clearing negative energy on the team. During a losing streak or another such down time, Jackson could be seen walking the halls of the Lakers' facility burning sage.
"I thought about it actually," Walton said. "I did not go that route, but it did cross my mind."
Follow Tania Ganguli on Twitter @taniaganguli
---
UPDATES:
10:10 p.m.: This article has been updated with more details, including from the game against the Clippers.
This article was originally published at 12:50 p.m.
All things Lakers, all the time.
Get all the Lakers news you need in Dan Woike's weekly newsletter.
You may occasionally receive promotional content from the Los Angeles Times.