Lakers' Tyler Ennis returns home to Toronto, with Jordan Clarkson by his side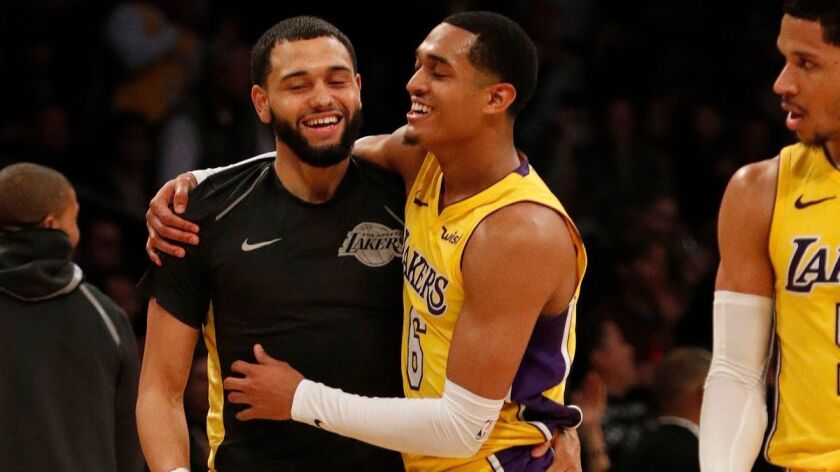 Reporting from Toronto —
Back when both of them were heading into the draft, Jordan Clarkson and Tyler Ennis developed a bond. They became friends, Clarkson got to know Ennis's family, and then he started spending time with them regularly in Toronto during his offseasons.
So when Ennis told Clarkson on Saturday that he planned to go to his 13-year-old sister's basketball game, Clarkson didn't hesitate to ask to come along.
"Awesome," Clarkson said, when asked how the game was. "His family is like my family. I spend time out here in Toronto since my rookie year. I'm really close with his dad and his family."
Because of Lonzo Ball's injury, Ennis has been the Lakers' starting point guard for the past seven games. Sunday marked the first time he'd started an NBA game in Toronto. Ennis made only one of four shots with no assists.
"Cool to see, kind of being back, being a kid and being around the family," Ennis said. "But it's also cool for them to be able to come watch me here, because I remember when I was a little kid coming and watching these games, Sunday game, and ACC [Air Canada Center] is always jumping no matter what."
Ennis grew up in Brampton, a suburb of Toronto. Living so far away from home, he doesn't get to see his younger sister's games much. Her name is Dominique and she's also a point guard.
"I think she watches my tapes, copying my moves, too," Ennis said. "She's doing well, she's working. It's cool seeing her going from obviously a baby to playing now."
The reaction in the gym to having Clarkson there amused Ennis. Afterward they all had dinner together.
Nigel Hayes' 10-day contract expired Sunday and the Lakers chose not to sign him to a second 10-day deal.
Hayes played 9 minutes 41 seconds for the Lakers against the Raptors. He scored three points, making one field goal and one free throw. Hayes also added two assists late in the game.
Before that, Hayes had played in only one other game — against the New York Knicks — and got one minute of playing time. Lakers coach Luke Walton told him after the game that the team did not plan to re-sign him.
"I just try to be a good teammate," Hayes said before Sunday's game, when asked how he impacts the game without playing time. "I think that goes whether you're playing 48 or if you're playing zero minutes. Try to be encouraging. When guys come to the bench during timeouts I just tell them things I see. There's always different perspectives."
Ball got on the court for some shooting before the Lakers' game Sunday. They did not have a shootaround, so it was the only chance Ball had to get some time on the court.
Ball has missed seven games because of a sprained left medial collateral ligament. He has not yet progressed to testing his knee laterally, but he has done some shooting and dribbling drills that don't require that kind of movement.
The Lakers will not have an official practice Monday, but they will have an optional session Monday in Toronto before flying to Orlando on Tuesday.
"I will be interested to be in there and watch him work out and see how he is moving," Walton said.
Etc.
Toronto's Dwane Casey will coach Team LeBron in the All-Star game, thanks to the fact Boston's Brad Stevens, the coach of the team with the best record in the East, is ineligible because he coached in last year's game. The Raptors have the second-best record in the East.
Follow Tania Ganguli on Twitter @taniaganguli
---
All things Lakers, all the time.
Get all the Lakers news you need in Tania Ganguli's weekly newsletter.
You may occasionally receive promotional content from the Los Angeles Times.