Elgin Baylor, in bronze, gets place of honor
Jerry West was a scared rookie leaving West Virginia for the big city, unsure he even belonged in the NBA, when he joined Elgin Baylor's team in 1960.
He'll never forget the way Baylor welcomed him.
"You would have never known that he was different than most players that played the game, but you would have known that he was different as a human being," West said. "I've laughed with him, I've been to the depth of the ocean with him as a player, I loved him like a brother."
Then, the ever-stoic West caught himself to fight back tears.
"And I still do today," West said. "This is one of the greatest men I've ever met in my life."
Elgin Baylor's No. 22 was retired years ago, and he entered the Basketball Hall of Fame more than 40 years ago. On Friday, he received one long-overdue honor — a statue in front of Staples Center.
Baylor's bronze statue became the 10th placed in front of Staples Center, joining West, Kareem Abdul-Jabbar, Magic Johnson, Shaquille O'Neal, Chick Hearn, Wayne Gretzky, Luc Robitaille, Bob Miller and Oscar De La Hoya.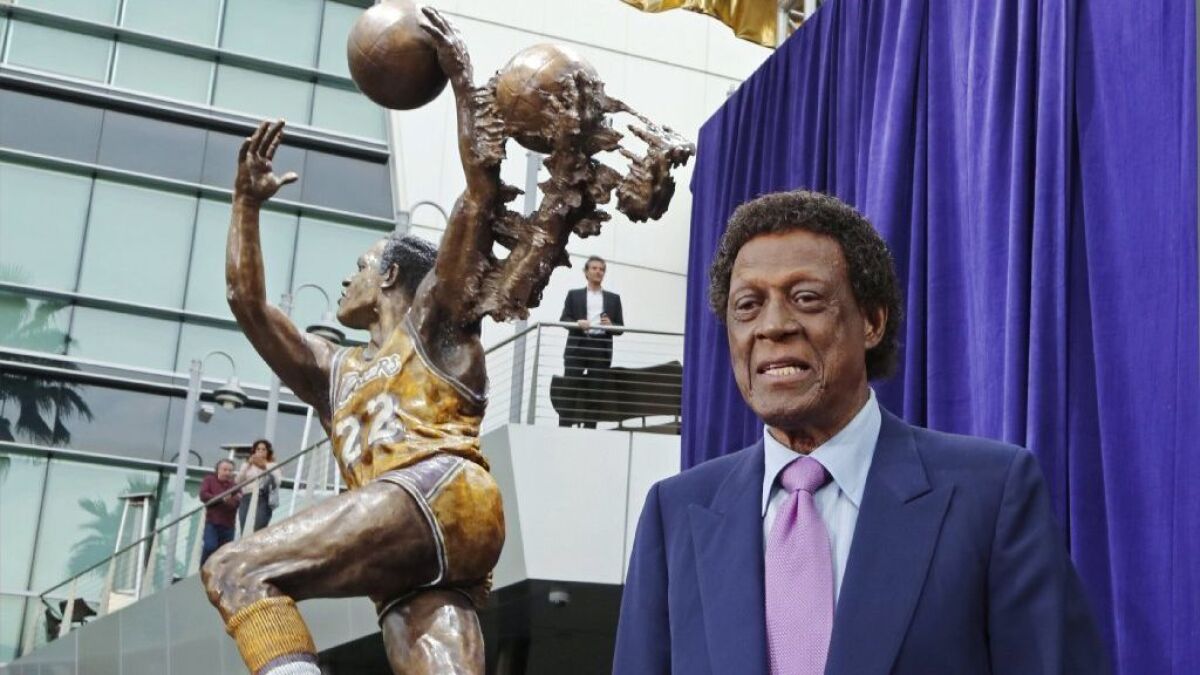 Baylor began his career with the Minneapolis Lakers, who drafted him in 1958. The team moved to Los Angeles in 1960, where Baylor played until 1971.
Bill Russell, the Celtics legend who beat Baylor and Wests teams repeatedly in the finals, sat in the front row for Baylor's ceremony. West playfully referred to Russell as "this smiling jackass over here."
Abdul-Jabbar, O'Neal, West and Johnson all gave speeches, as did legendary singer-songwriter Bill Withers.
"You too should feel an unburdening, you will no longer have to bear the burden of being asked over and over, year after year, why doesn't Elgin Baylor have a statue in front of the Staples Center?" Withers said.
Said O'Neal: "When you listen to guys like Magic Johnson and Dr. J and Jordan talk about the greats, your name always came up. So finally I Googled you. Let me say, you were a bad man."
Kobe Bryant did not attend, but during a video tribute listed all the moves he'd stolen from Baylor.
Baylor was last to speak, and brief in his remarks. He spent nearly his entire speech thanking friends and family and supporters for their impact on his life. He spoke of the first time he ever played basketball — he dribbled and shot a tennis ball because he couldn't afford a basketball.
"It was the beginning of love and appreciation of the game that's still with me today," Baylor said.
West remembers the days before the Lakers were what they are today.
He remembers riding around in the back of a truck asking fans to come watch, back when the Lakers weren't the draw the Rams and the Dodgers were, when they could barely get 5,000 people to come watch their games.
"I used to say, when we were heading around town in the back of a truck asking people to come out and watch us play, there were two newspapers then, we were the last page of the newspaper, and here we are [with] one of the greatest players ever in the back of a damn truck in the neighborhood with a microphone saying [to] come out and watch the Lakers play," West said.
"I said, 'One day, because the way this sport has grown, this town is going to change forever.' And during my time here, I saw the Lakers going from the back page of the newspaper to the front page."
Baylor was a big part of why.
Follow Tania Ganguli on Twitter @taniaganguli
All things Lakers, all the time.
Get all the Lakers news you need in Dan Woike's weekly newsletter.
You may occasionally receive promotional content from the Los Angeles Times.