Once-reluctant Ingram looks to make some noise in his third Lakers season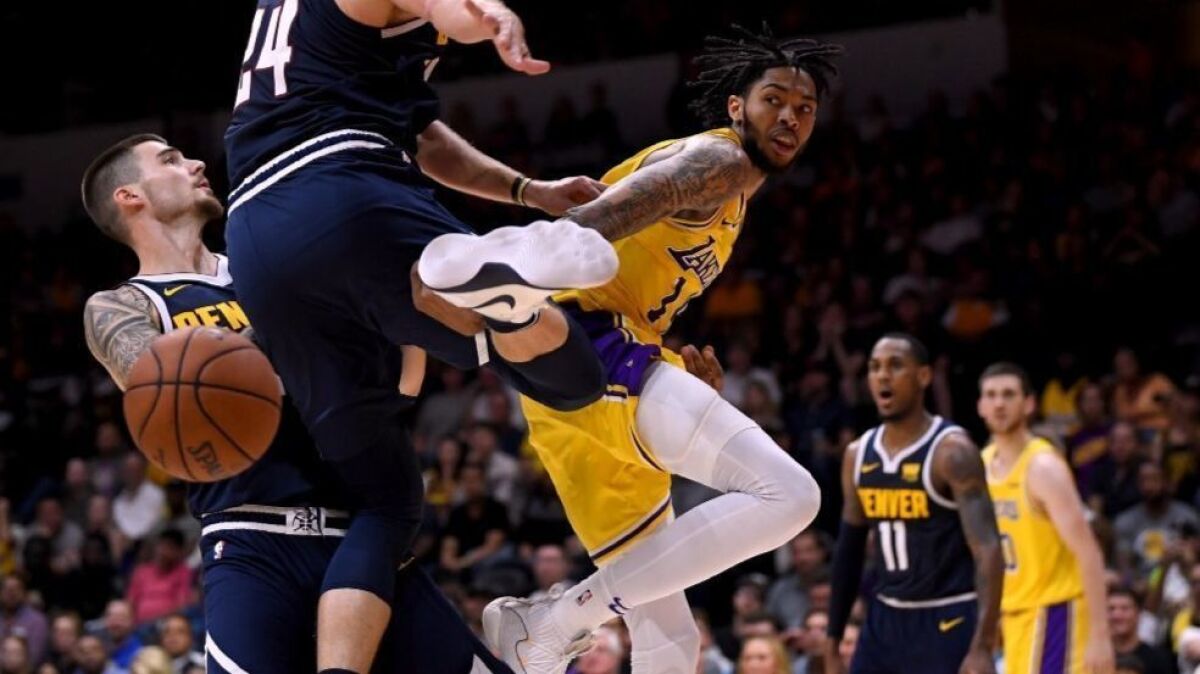 Each season he gets a little bit louder. Brandon Ingram can feel it happening.
His voice is naturally quiet. His demeanor is naturally mellow. During his rookie season two years ago his words were barely audible even when he tried to project. At times coach Luke Walton's quest to draw an able communicator out from Ingram's thin, lanky frame seemed quixotic.
That's no longer the case.
As Ingram grows into his long limbs and better understands his role and abilities, his volume has increased. With teammates showing him how to do it, he has turned up the volume even more. Steeled with a confidence he sometimes lacked during his first two NBA seasons, Ingram is creeping closer to what many around him see as his destiny: to become an elite defender.
"You don't think much of him as a defensive player, at least I didn't, but for this team in particular it's big for us," teammate Rajon Rondo said. "He should lead us in steals, deflections, blocks. He can do it all. ... I'm very impressed by the way he plays defensively. He's only getting stronger. He's 21 years old … should be one of the next best defensive players we have in our league."
The 6-foot-9 Ingram weighed 190 pounds when he entered the league, so thin that many people wondered about his durablity.
The Lakers hoped that his body would develop so that it would one day match the physique of a player such as Golden State Warriors star Kevin Durant, who also entered the league with a skeletal build. They also worked to teach him how to best utilize his 7-foot-3 wingspan, the kind of attribute that helps a player succeed defensively.
Ingram started learning how to use his length on offense and defense last season. This season he came armed with an intangible change.
"I'm feeling more confident on the defensive end," Ingram said.
Confidence can help a player make himself heard.
"A lot of people don't talk because they don't know what to say," Rondo said. "And if you don't, it's best to be quiet until you're able to understand and catch up to speed with the guys who do know what they're talking about."
Now surrounded by vocal veterans, Ingram is getting to see and hear what it looks like when teammates communicate.
"You see Rajon Rondo talking every day, he never stops talking," Ingram said. "LeBron [James] never stops talking. Think that's where it comes from. You know exactly where you're supposed to be and it helps a lot."
That outspokenness on the court is something Walton tried to coax out of his young players the last two seasons. Now they can see what it looks like.
"This is definitely the example," Ingram said of his chatty teammates. "Like I said these guys have won championships. Whatever they do, we want to try to emulate. Of course that's not in our character to be vocal and sometimes we have to get out of our comfort zone a little bit."
Lonzo Ball still out
Second-year point guard Lonzo Ball will not play in Tuesday night's preseason game against the Denver Nuggets at Staples Center.
Ball, who has been practicing fully with the team and participating in scrimmages, competed Monday in a four-on-four scrimmage.
"Just doing more of that, getting more comfortable with it," Walton said. "That's four on four, it's a controlled environment, it's his body going through those reps more and more. You can do that all day long. There's nothing like playing in those NBA games, as far as how hard you have to compete and cutting and the way you get hit with screens. So just because, again, he' been out so long we're just trying to be patient with it."
Etc.
Michael Beasley had an MRI Monday after suffering a head laceration during Sunday's game in San Diego. The Lakers said that Beasley did not have concussion-like symptoms. … James will play in Tuesday's game. The Lakers will evaluate his playing time on a game-by-game basis. … Walton was lukewarm on the success of a small-ball unit he tried Sunday featuring Kyle Kuzma at center. Walton said that Kuzma was better offensively than defensively but will have another chance to play in that role.
Follow Tania Ganguli on Twitter @taniaganguli
All things Lakers, all the time.
Get all the Lakers news you need in Dan Woike's weekly newsletter.
You may occasionally receive promotional content from the Los Angeles Times.