Lonzo Ball is ready to develop on-court chemistry with LeBron James and Lakers teammates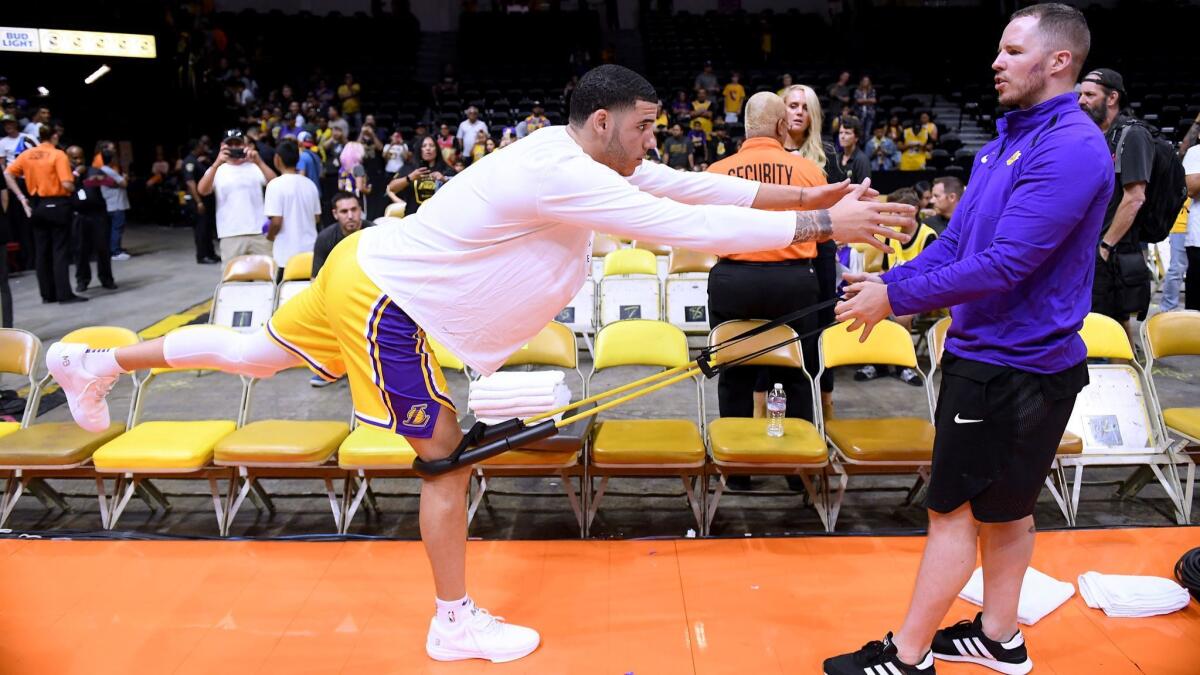 Lonzo Ball's first outing as LeBron James' Lakers teammate will come under the bright lights of Las Vegas against the NBA's defending champion Golden State Warriors in an exhibition game.
That's not what Ball says he's focusing on, though. He's just happy he gets to play basketball again.
"It is going to be very fun," Ball said. "The way they play, the way we play, be a lot of up and down, a lot of shots to be taken, just fun basketball."
Ball hasn't played a competitive game since March. He was close to making his exhibition debut Saturday against the Clippers, but he and the Lakers opted to be safe and give him a few more days.
Ball finally will have a chance Wednesday to start developing some on-court chemistry with his teammates. In particular, he and the Lakers will get a better view of how he will interact with James on the court.
"We'll [be] playing fast," Ball said. "I'll be getting the ball to [James] a lot, he can do the same, get out and push it so that will be a very interesting dynamic."
Ball will come off the bench and Rajon Rondo will still start Wednesday. It's possible that Rondo, who started in 63 of the 65 games in which he played last season with the New Orleans Pelicans, will remain the Lakers starter into the regular season. The Lakers play their opener Oct. 18.
Asked whether he wants Ball to feel like he's competing for the starting job, coach Luke Walton said he wants everyone to feel that way.
"It's nice because they're both selfless, playmaking guards that make their teammates better," Walton said about the two point guards. "Those are the type of guys we want on the floor. … Most of the time we'll have at least one of those types of guys at the point and is a big plus for us."
Lakers extend a hand again
During the game at T-Mobile Arena in Las Vegas on Wednesday, the Lakers will host the family of Quinton Robbins, one of the victims of last year's mass shooting outside the Mandalay Bay hotel and casino.
The Robbins family, which lives in Henderson, Nev., first visited the Lakers last year when the team played there a week after the shooting at a country music concert killed 58 people.
Their youngest son, Quade, who was 12 at the time, is a big fan of Lakers forward Brandon Ingram. Walton embraced every member of the family and spent several minutes after the game introducing them to players and treating Quade to some inside information about the Lakers.
James faces the Warriors
The Warriors have had many postseason battles against James. The two parties have faced each other in the NBA Finals in each of the last four seasons.
Their game Wednesday will be the first meeting with James in a Lakers uniform, but James isn't planning to read too much into that.
"It's just preseason," James said. "It's just another game. I don't think what we do tomorrow and I don't think what they show tomorrow will be the teams that will be [competing] come January, February, March, April."
Follow Tania Ganguli on Twitter @taniaganguli
All things Lakers, all the time.
Get all the Lakers news you need in Dan Woike's weekly newsletter.
You may occasionally receive promotional content from the Los Angeles Times.