Lakers sign Tyson Chandler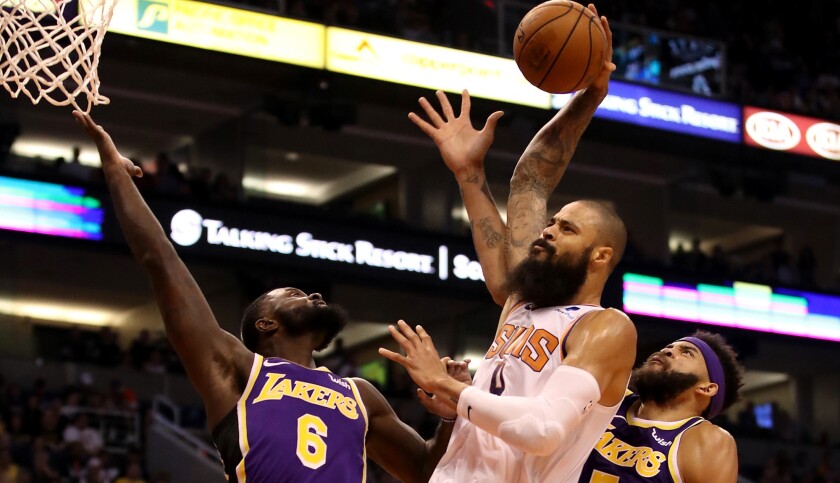 Tyson Chandler is officially a Laker.
The veteran center signed with the Lakers on Tuesday, after the 48-hour period during which a team could have claimed him off waivers passed. Chandler was waived after he reached a buyout agreement with the Phoenix Suns. He was owed $13.5 million in the final year of a four-year contract.
Chandler adds depth at center, a position at which they have desperately needed it. Lakers president of basketball operations Magic Johnson and general manager Rob Pelinka created a roster this summer with only one center who had much experience: JaVale McGee, who is in his 11th season and has filled the position for a majority of the minutes this season.
To back him up, coach Luke Walton mostly has used smaller players like Kyle Kuzma, LeBron James, Johnathan Williams and Michael Beasley. 
The Lakers drafted 6-foot-11 Moe Wagner with the 25th pick in June, but he hasn't been ready to truly contribute due to injury and inexperience. Seven-foot-1 Ivica Zubac also lacks experience because the Lakers played him sparingly in his first two seasons.
"Having observed our roster for the first 10 games of this young season, one of the areas that Earvin and I discussed with Luke that we desired to upgrade is interior defense and rebounding," Pelinka said in a statement. "In Tyson Chandler we addressed that need, and so much more. We are excited that Tyson will bring championship-level experience to our Lakers team."
Chandler, 36, won a championship with Dallas in 2011 and has averaged 9.4 rebounds and 1.2 blocks in his 18-year career. Last season the Lakers primarily used Brook Lopez and Julius Randle as centers, but they chose to not re-sign either player.
Why James votes
With the midterm elections taking place Tuesday, James was asked about his history of voting. James shared that he began voting as soon as he was legally of age.
"I did it because it was my right, but I wasn't educated about it just yet," James said. "I wasn't into politics my first time [voting]. But as the years went on, I grew more and more educated about the whole situation and knowing things, the amendments and things that the people that you want to get in, what they believe in, how they feel they can better America, better the world as well."
James wore a hat supporting Beto O'Rourke, the Texas Democratic candidate for Senate who lost to Ted Cruz on Tuesday, when the Lakers played in San Antonio. But he declined to share any other political preferences.
"Beto is a really, really good candidate," James said, "and I love what he spoke, what he speaks for, what he stands for. And we can leave it at that."
Don't look back
After a 14-point loss to Toronto, the Lakers didn't spend much time reviewing that film.
"We threw that in the trash," James said.
It wasn't a game they felt they could learn from, given how quickly it got out of hand. The Lakers trailed by 31 in the first quarter and spent the rest of the game trying to erase the deficit.
"We show individual clips," Walton said. "We always show individual clips to the guys, whatever coach is working with them. So those, but as a team, we didn't have a film session on that game today. But they'll see it. Guys like [Rajon] Rondo and LeBron, they'll watch every game anyway."
LAKERS NEXT
VS. MINNESOTA
When: 7:30 Wednesday.
On Air: TV — Spectrum SportsNet, ESPN; Radio — 710, 1330
Update: The Lakers are preparing as if Jimmy Butler will play, but Butler has played in only every other game for the last week, and he played Monday against the Clippers.
Follow Tania Ganguli on Twitter @taniaganguli
---
All things Lakers, all the time.
Get all the Lakers news you need in Dan Woike's weekly newsletter.
You may occasionally receive promotional content from the Los Angeles Times.