Lakers' LeBron James shaken by mass shooting at the Borderline Bar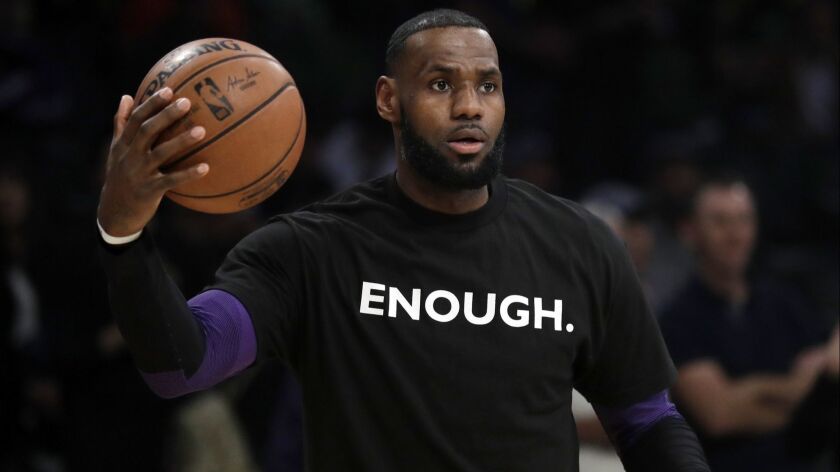 When LeBron James heard about the mass shooting at the Borderline Bar and Grill in Thousand Oaks, he had a reaction he thinks he shared with many.
" 'Not again.' Or: 'Wow.' 'What the hell.' Probably some more explicit terms that I won't say right here," James said Sunday night. "It's just how do we clean up this — it all comes back to this gun situation that we have in America and gun violence. I don't definitely want to go into that right now but I can do it at a later point. We know that these people are just being able to go and buy guns and do things with them and innocent lives are being taken at young ages. Young ages."
James thought back to his childhood.
"If you had a problem with somebody you kind of fist it out and move on," James said. "And now, it's like people are like shooting it out and don't even have a problem with somebody, they just got a problem with themselves or a problem with the situation that they're in. It's just very troubling times for everyone and for parents.
"It's just, how can you be comfortable with sending your kids to school or sending them to church or sending them to the movies or sending them to the mall? Those are kind of like the great havens when I was growing up: school, church, go to the mall, go to a sporting event. That was like heaven. You know? And it's kind of scary at this point and time."
Beasley leaves team again
Lakers forward Michael Beasley left the team just before Sunday's game against Atlanta Hawks to tend to a family illness.
Beasley was in the locker room about an hour before tipoff and left some time before the game.
Last month, Beasley left the team amid its trip to San Antonio and Minnesota for the same family illness and sat out games against the Timberwolves, Dallas Mavericks, Portland Trail Blazers and Toronto Raptors.
Beasley returned to the team Wednesday but didn't play in the two games that followed.
The Lakers signed Beasley, who was the second overall pick in 2008, to a one-year deal in the summer. The Lakers became the seventh NBA team for which Beasley has played.
Keeping in touch
They developed a relationship with James when they were all in Cleveland and it is a bond that has continued to this day for Atlanta coach Lloyd Pierce and assistants Melvin Hunt and Chris Jent.
Pierce was an assistant on the Cavaliers staff from 2007 to 2010, when James was taking the team out of the darkness.
Hunt (2005-10) and Jent (2006-10) also were assistants during James' first stint with the Cavaliers. Jent served as James' personal shooting coach.
Before the Hawks played the Lakers on Sunday night in Staples Center, Pierce fondly recalled his time with James and said they still keep in touch.
"The relationship has always been consistent," Pierce said. "He's about as loyal of a person as I've ever known. Great family guy. Loyal to his friends and what he's done with them and what they've done for him.
"But the relationship is a lot of text messaging and a lot of nonbasketball. We communicate about family, about his family, about his move and how things are going. But he's been a great person for all of us because of the work that we shared."
Staff writer Broderick Turner contributed to this report.
Follow Tania Ganguli on Twitter @taniaganguli
---
All things Lakers, all the time.
Get all the Lakers news you need in Dan Woike's weekly newsletter.
You may occasionally receive promotional content from the Los Angeles Times.