Lakers keeping their hands off the touchy subject of guarding James Harden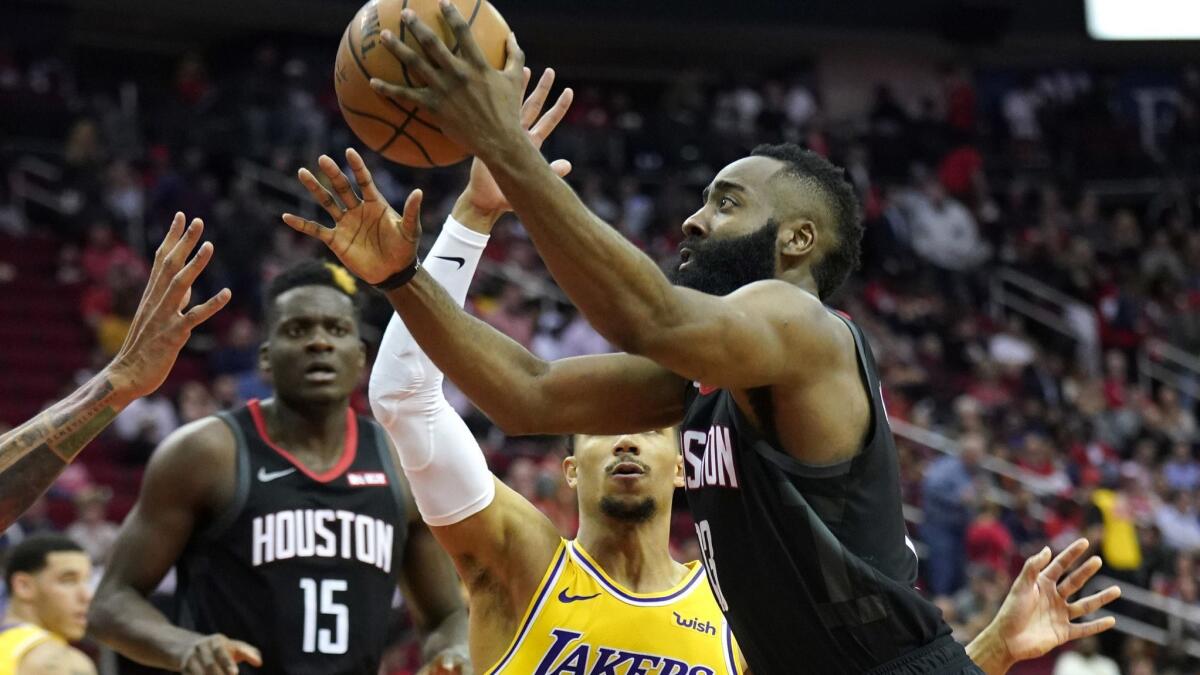 Reporting from Houston —
The Lakers let their actions speak louder than their words in regard to the officiating Thursday night in Houston.
Some made their feelings clear about what they deemed unfair foul calls that benefited the Rockets, especially reigning MVP James Harden, by declining to comment for fear of being fined by the NBA.
Some put their hands behind their backs while defending the Rockets and Harden, who shot 19 free throws and made 18.
The Rockets responded Friday.
"They should talk about it," Rockets coach Mike D'Antoni told reporters in Houston. "They shouldn't foul. They foul. … You walk under a guy, put a foot under him, it's a foul. That's what we've been doing. Sorry. … James Harden gets fouled. That's just what happens."
Lakers coach Luke Walton said putting their hands behind their backs was not part of the game plan. He thought players were doing it to make a point. Asked about it after the game, LeBron James, Kyle Kuzma and Lonzo Ball all took the same stance.
"I was just trying not to foul," Ball said. "They were calling it tight today so I was just trying to get my hands out of there."
Harden told reporters he has seen it all before.
"Seen it everywhere," Harden said Friday. "If someone doesn't want to pick up a foul, they put their hands behind their back and try to play defense like that."
Harden acknowledged so many trips to the free-throw line help his game in other ways. While Harden made one of six three-pointers in the first half, he made three of six and eight of 14 shots overall after halftime. Harden finished with 50 points, 11 assists and 10 rebounds.
When James was asked after the game about Harden's big night, he pointed to Harden's free-throw attempts. James said sending a player with Harden's skills to the line is dangerous because of the confidence it gives him in his shooting. James added that some were "tough calls" for the young Lakers defending Harden.
Harden has attempted 10 or more free throws in 10 of the 24 games he has played this season; almost 42%. The Lakers have allowed an average of 21.5 free throws per game , better than almost than three quarters of the league.
They have had trouble keeping Harden off the free-throw line, though. In two games against the Lakers, Harden has attempted 34 free throws.
Rockets forward P.J. Tucker understands how difficult Harden can make it to guard him without fouling; Tucker faced that challenge before joining Houston two years ago. As for the Lakers' complaints?
"I don't think about it," Tucker said. "We cry just as much as anybody. And everybody else cries. And everybody thinks other people get the call more than them when they cry all the time. Who cares?"
UP NEXT
AT CHARLOTTE
When: 4 p.m. PST, Saturday
On Air: TV: Spectrum SportsNet; Radio: 710, 1330
Update: The Hornets, led by point guard Kemba Walker, blew a 21-point lead at home in Friday night's 126-124 overtime loss to the New York Knicks.
Follow Tania Ganguli on Twitter @taniaganguli
All things Lakers, all the time.
Get all the Lakers news you need in Dan Woike's weekly newsletter.
You may occasionally receive promotional content from the Los Angeles Times.