Rajon Rondo and Brandon Ingram practice Thursday, hope to play Friday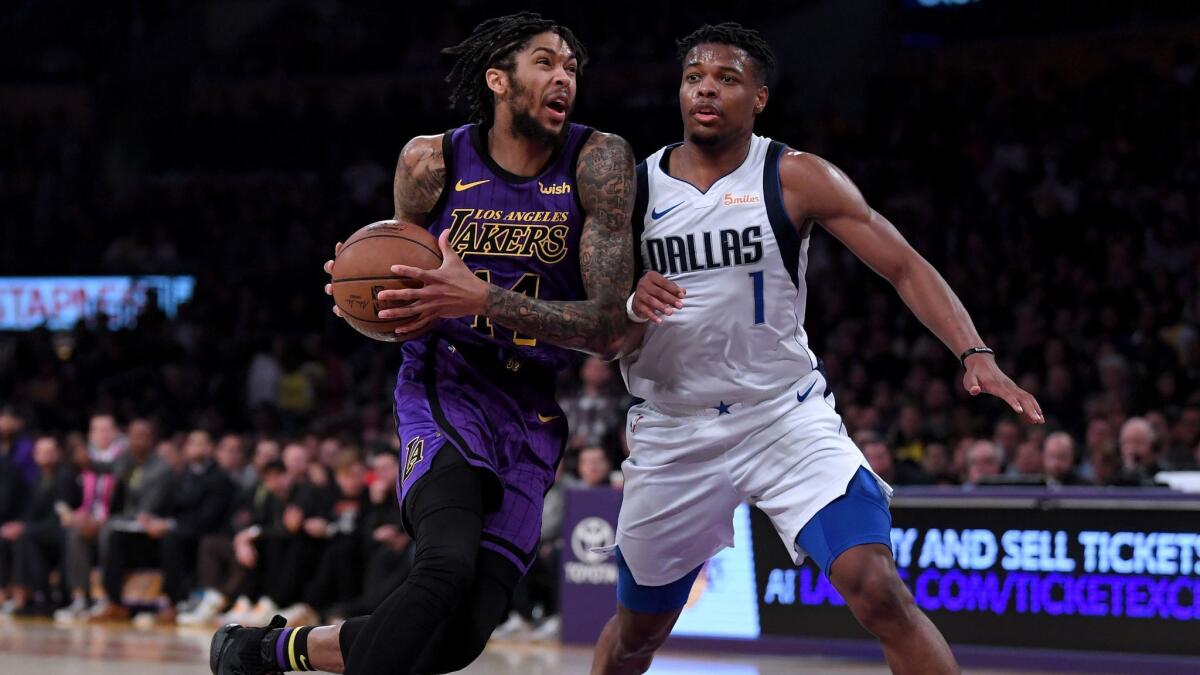 There was no visible sign of the ankle sprain that kept Brandon Ingram away from his team for 15 days, but Rajon Rondo's injury left a mark.
A large bump protruded from the top of Rondo's right hand, where he had broken the third metacarpal bone on Nov. 14.
Nonetheless, both players practiced fully on Thursday in hopes of being able to play on Friday against the New Orleans Pelicans.
"My goal would be to play," Ingram said. "See how it feels in the morning, go through shootaround, to the game, I go to my preshoot, and I, you know."
Neither player went with the Lakers on their most recent trip, which lasted from Dec. 12 until Wednesday, but both were sent down to the South Bay Lakers for a day to get in a practice. Thursday's practice was their first without limitations with the NBA club since their injuries.
"I was just frustrated I couldn't travel with the team, but obviously the man upstairs had different plans for me as far as resting longer," Rondo said. "But like I said I missed being out there with the guys, coaching, talking trash a little bit from the sideline. That's the only thing I missed."
Lakers coach Luke Walton said the bump on Rondo's hand does not need to disappear before he can play in a game. All that will take is having the team's medical staff clear him.
Both players will see how they feel Friday morning before the team decides whether they should play. Rondo said the swelling he experienced last week that required him to have his hand drained has dissipated.
"That was one of the reasons they wanted me to stay grounded, obviously, [to avoid] inflammation with the altitude from the air, swelling in the hand, but other than that, rest," Rondo said of why he wasn't able to join the team during their trip. "It's not something that you ice. Just a matter [of] letting it heal. Getting the skin back proper to where it needs to be."
McGee still sick
Lakers center JaVale McGee did not practice with the team Thursday as he continued to be treated for what the Lakers are calling "flu-like symptoms."
McGee has been dealing with these symptoms for at least the past six days.
On Saturday, he received IV treatments and then played in the Lakers game against the Charlotte Hornets. McGee scored 19 points, making nine of 10 shots and then posted an image on Instagram based on a classic photo of Michael Jordan leaning on Scottie Pippen when he played an NBA Finals game with the flu. McGee's version replaced Jordan's face with his own and Pippen's face with that of LeBron James.
That game was the only one the Lakers won.
But his health did not improve enough for him to return for the Lakers' next two games.
More free-throw talk
The Lakers' free-throw shooting was horrid during their four-game trip. Against the Houston Rockets, Kyle Kuzma made all seven of his free throws, but the rest of the team made only eight of 20.
They made 59.8% of their free throws on the trip as a whole.
"When you do struggle as a team, it turns into something bigger," Walton said. "And because of that, then guys start thinking about it, and the fans, they overreact on a missed free throw. Not overreact in the sense of everyone knows how important they are, but overreact as in the whole building sighs on a missed free throw, you know what I mean? So all of a sudden the psyche part of it kicks in even more."
UP NEXT
VS NEW ORLEANS
When: 7:30
On Air: TV – Spectrum SportsNet, ESPN; Radio – 710, 1330
Update: The Pelicans are 15-17 which qualifies as the 12th-worst record in the Western Conference, tied with the Utah Jazz. But all three of the Lakers' losses on their trip came to teams with losing records at the time they played.
Follow Tania Ganguli on Twitter @taniaganguli
All things Lakers, all the time.
Get all the Lakers news you need in Dan Woike's weekly newsletter.
You may occasionally receive promotional content from the Los Angeles Times.