Lakers are still trying to figure out how to fill holes left by injured veterans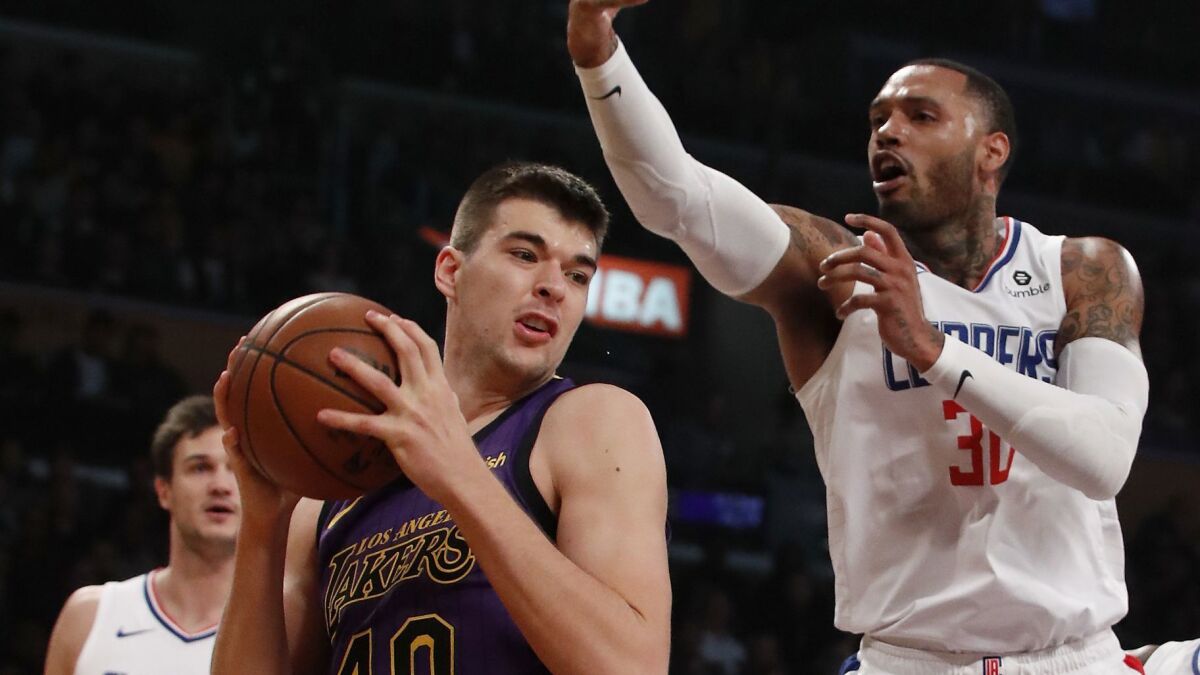 There was a sense of déjà vu in Luke Walton's postgame news conference Friday night.
Once again he was talking about how to get through tough times with a team filled with young players who are learning and growing. Once again he was reminding his team of the importance of not abandoning the team's goals when things are tough.
"We have to understand how important it is that we have to stick together and keep our composure," Walton said. "And I think we're playing good basketball. And then for whatever reason, once it really gets tough, whether that's late in the fourth quarter — we give in a little bit as a team and our body language gets off a little bit. What we have to understand is as a group we're going to win and we're going to lose and we have to stay together, no matter what."
Walton's message is being heard by his players.
"We can't be a front-running team," Kyle Kuzma said. "When things are up, we can't just all be happy, and then when things are down, we're just separate from each other. So the biggest thing for us is just to always be together. Every team has rough patches in a season. And we've been down bodies all year, different lineups. And we can't let those things affect us."
Now it's a matter of the team as a whole being able to follow through with that on the court.
The Lakers took Saturday off after back-to-back losses against the Sacramento Kings and Clippers. The Lakers were without LeBron James and Rajon Rondo, who are recovering from injuries and won't be available Sunday. Rondo will be out for at least a month after having surgery on his right hand, and James, who is day-to-day, is likely to miss a few more games because of a strained groin.
Also out of the lineup has been starting center JaVale McGee, who has missed seven games after a bout with pneumonia and is questionable for Sunday's game.
In the meantime, the Lakers have started a lineup consisting of Lonzo Ball, Brandon Ingram, Josh Hart, Ivica Zubac and Kyle Kuzma — that's two 23-year-olds in Hart and Kuzma and three 21-year-olds. All five of the players were drafted by the Lakers in either 2016 or 2017.
It was their development the last two seasons that was paramount. The Lakers' dynamic changed dramatically this season with the addition of James and a cast of veterans with the experience to get their team through adversity.
It's why after a 2-5 start, the Lakers were vastly improved late in games. Where an opposing team's run might have demoralized last year's Lakers, this year's team was able to withstand potential knockout blows.
The Warriors tried on Christmas, but even their patented third-quarter run couldn't take back the game.
"I thought Rondo was a huge part of that," Walton said. "He settled us down. They went on the big run and he settled us down and then Lance [Stephenson] hit a big three at the end of that quarter and then our guys kind of regained our composure."
Rondo and James didn't travel to Sacramento but Friday night against the Clippers they offered what help they could from the bench.Ball said while it helped, it wasn't the same as having them on the court. He then acknowledged that the onus falls on the players on the court to figure out how to help themselves.
Right now, the calm, veteran voice on the court belongs to center Tyson Chandler.
"When you got Rondo out there, when you got Bron, they handle all the intangibles," Chandler said. "They take care of every little mistake a team will make and they make so many plays. So when you're without that you really gotta concentrate on the little things and the game plan."
UP NEXT
VS. SACRAMENTO
When: 6:30 p.m., Sunday
On Air: TV: Spectrum SportsNet, Radio: 710, 1330
Update: The Kings (19-16) defeated the Lakers at Sacramento on Thursday night on a buzzer-beating three-pointer by Bogdan Bogdanovic.
Follow Tania Ganguli on Twitter @taniaganguli
All things Lakers, all the time.
Get all the Lakers news you need in Dan Woike's weekly newsletter.
You may occasionally receive promotional content from the Los Angeles Times.