Lakers will play two games in China next fall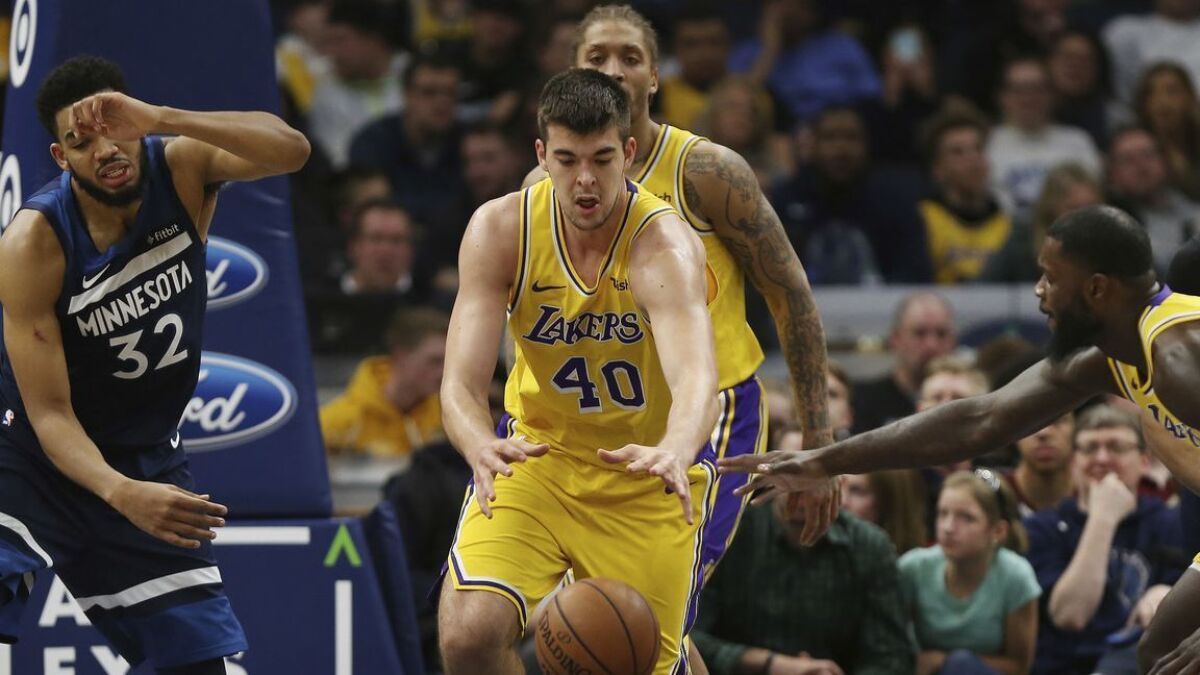 Reporting from Minneapolis —
The Lakers have agreed to play two preseason games in China next fall, according to sources familiar with the team's discussion with the NBA.
The league has held at least two preseason games between NBA teams in China every year since 2010 — in Beijing, Shanghai and Shenzen, which is near Hong Kong. The Lakers will play the Brooklyn Nets in two games in October that are expected to be in Shanghai and Shenzen.
It would be the first time since 2013 that the Lakers participated in the preseason series in China. That year the Lakers played the Golden State Warriors in Beijing and Shanghai. The Lakers also played the Minnesota Timberwolves in London in 2010. That same fall they also played an exhibition in Spain against FC Barcelona.
The NBA also has played exhibition games in Japan, Mexico, Brazil Germany, Italy, the Dominican Republic, France and the Bahamas.
Kuzma not ready
Before Sunday's game, Kyle Kuzma went through a series of workouts on the court at Target Center. With Lakers assistant Miles Simon, Kuzma tried some basketball moves and shot some threes — most of which went in.
And while Kuzma felt good after the workout, his back stiffened up during pregame activities and the Lakers opted not to play him. The Lakers then flew to Dallas where they will play the Mavericks on Monday night.
"We fly tonight so that's not great," coach Luke Walton said of Kuzma's prospects for playing Monday. "We'll see how he feels in the morning. He's going to get treatment tonight, he'll get treatment again tomorrow and we'll be asking and answering these questions again."
Kuzma was struck in the lower back during Wednesday night's loss to the Oklahoma City Thunder. He did not play the entire second half due to a painful bruise. An MRI the next day confirmed his injury wasn't more serious. Kuzma did not play in Friday's loss to the New York Knicks.
Size doesn't matter
Wanting more size on the court, the Lakers tried an unusual starting lineup, playing centers Ivica Zubac and JaVale McGee together. That lineup wasn't effective, as Minnesota jumped to a 15-1 lead. But Walton also played McGee with fellow center Tyson Chandler.
"I was watching the last Charlotte game where Charlotte had a big lead and all of the sudden they just started beating them up on the glass," Walton said. "Our first game that we played here, they beat us up on the glass. So with Kuz out, Josh Hart, we've started him at the 4 before but we just want to be big and to be able to physically hold our own, but we weren't able to score the ball so …
"We did an all right job rebounding, but I guess they weren't missing much either, so that's not a fair stat to look at."
The Lakers had only two fewer rebounds than Minnesota, and six fewer defensive rebounds.
UP NEXT
AT DALLAS
When: 5:30 p.m. PST, Monday
On Air: Spectrum SportsNet; Radio: 710, 1330
Update: The Mavericks (18-21) have lost two in a row and three of four to fall to 12th place in the Western Conference, 2 1/2 games behind the eighth-place Lakers (21-19). The teams played Oct. 31 and Nov. 30, with the Lakers prevailing 114-113 and 114-103, respectively.
Follow Tania Ganguli on Twitter @taniaganguli
---
All things Lakers, all the time.
Get all the Lakers news you need in Dan Woike's weekly newsletter.
You may occasionally receive promotional content from the Los Angeles Times.