Luke Walton trusts LeBron James' rehab plan, mum on specifics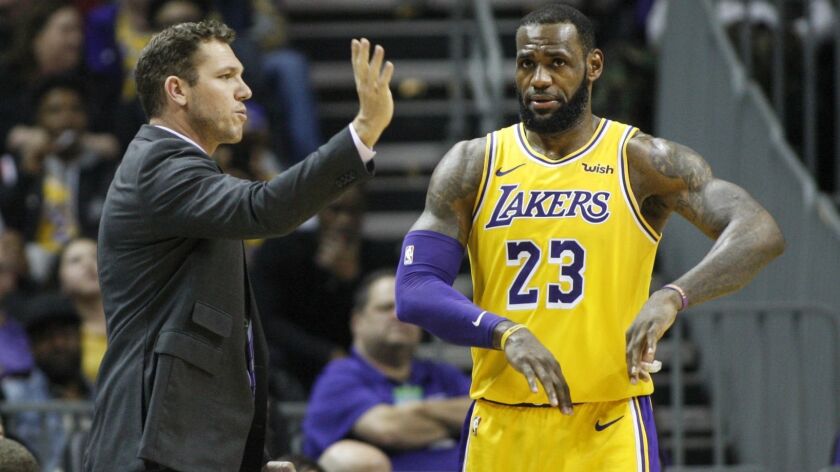 Reporting from Salt Lake City —
Lakers coach Luke Walton took a hands-off approach when asked Friday about LeBron James' rehab for the next few days.
"He's getting re-evaluated again, I think, on the 16th," Walton said. "So for me, I got a lot of other things that we're trying to get done between now and then. We got a great medical staff. LeBron, as you know, he takes care of himself when it comes to seeing doctors and taking care of his body. So, as soon as he's cleared and ready to go then we'll get him back out there. But until then, we'll continue to be patient with him."
James strained his left groin during the third quarter of the Lakers' Christmas Day game against the Golden State Warriors. An MRI the next day confirmed there were no tears. Although the injury is relatively minor, a groin strain can linger if a player is rushed back.
Team doctors examined James on Thursday and the Lakers announced they would provide another update next Wednesday. The Lakers played the Jazz on Friday without James for the ninth time since he was injured and likely will face Cleveland on Sunday and Chicago on Tuesday without him as well.
That examination also allowed James to be cleared for further "on-court functional basketball movements." Walton was asked what that meant.
"He'll start shooting," Walton said. "He knows what he's doing. So him and his team will move forward as long as everything's feeling good."
Kuzma's return
After the Lakers landed in Utah on Thursday night, Kyle Kuzma went to his alma mater for a visit.
The Utah Utes were playing Washington. The school put his image on the video board in the arena and passed out Kuzmania shirts.
"Last night was pretty fun," Kuzma said. "It was my first time coming back to a U game, so I got to see familiar faces — teammates, family members and people that kind of were here when I was here."
Kuzma spent four years at Utah, playing for three of them. He graduated before leaving for the NBA.
The visit happened as Kuzma's stock was soaring after a career-high 41-point performance in 29 minutes against the Detroit on Wednesday. Kuzma heard from a lot of people after that game, including Jazz guard Donovan Mitchell.
"I told him I was going to try to do it again," Kuzma said.
That's about the extent of the talking Kuzma did to Mitchell.
"He's got more 40-balls than me so I'm not going to discuss that with him," Kuzma said.
Getting defensive
The Lakers prioritized defense from the start of training camp, setting a goal of being in the top 10. During James' absence, the defense has been right in that range.
Entering Friday they were eighth in defensive rating over their previous eight games.
'The desire to stay in the top 10, to understand how important that is for us, even more so when [missing] LeBron and [Rajon] Rondo, Kuz when Kuz was out," Walton said. "When these guys are out it's even more important that our defense is ready to go. That gives us a chance to win games.
"I think our guys know that and they take pride in being a good defensive team. The best way to be a good defensive team is to give a lot of effort. Our guys normally do that."
Follow Tania Ganguli on Twitter @taniaganguli
---
All things Lakers, all the time.
Get all the Lakers news you need in Dan Woike's weekly newsletter.
You may occasionally receive promotional content from the Los Angeles Times.