Rockets finish off Lakers after a brawl ignites in final minutes
On the night LeBron James introduced his game to Los Angeles in earnest, a fight on the floor stole the show.
With 4:13 remaining in the Lakers' home opener Saturday against Houston, a foul called on Brandon Ingram sparked a true melee, the kind rarely seen in NBA games these days.
At the time, the Lakers trailed the Rockets, 109-108, and ultimately lost the game, 124-115.
"We were right there," James said. "It was a one-point game and we had opportunities to win the game."
Ingram fouled James Harden on a drive with the Rockets holding a one-point lead, then he pushed Harden in the back. When referee Jason Phillips assessed a technical foul to Ingram, Ingram stood over Phillips and shouted at him before Lance Stephenson rushed over to pull him away.
Meanwhile, Rajon Rondo and Chris Paul, longtime foes, stood inches away from each other's faces jawing at each other. Paul reached forward to poke Rondo in the face, Rondo punched him in his, and Paul fired back with a punch of his own. Ingram ran from across the court to throw a punch too.
Eventually James, Paul's close friend, threw his arms around the Rockets point guard and dragged him away.
Ingram, Rondo and Paul were ejected and likely will be suspended and heavily fined. As the public address announcer told the arena of the players' fate, the crowd chanted, defiantly, "RON-DO! RON-DO!"
Rockets players said Paul told them that Rondo spit in his face, and that the video they saw of the incident supports that.
"That's unacceptable," Rockets forward Carmelo Anthony said. "You don't do that to nobody. Not in sports, in the streets, that's blatant disrespect. That's unacceptable."
But Lakers players denied it.
"I didn't see that," Lonzo Ball said. "I saw Chris Paul touch his face then go from there."
According to a source, the Lakers reviewed the tape and insist Rondo never spit on Paul.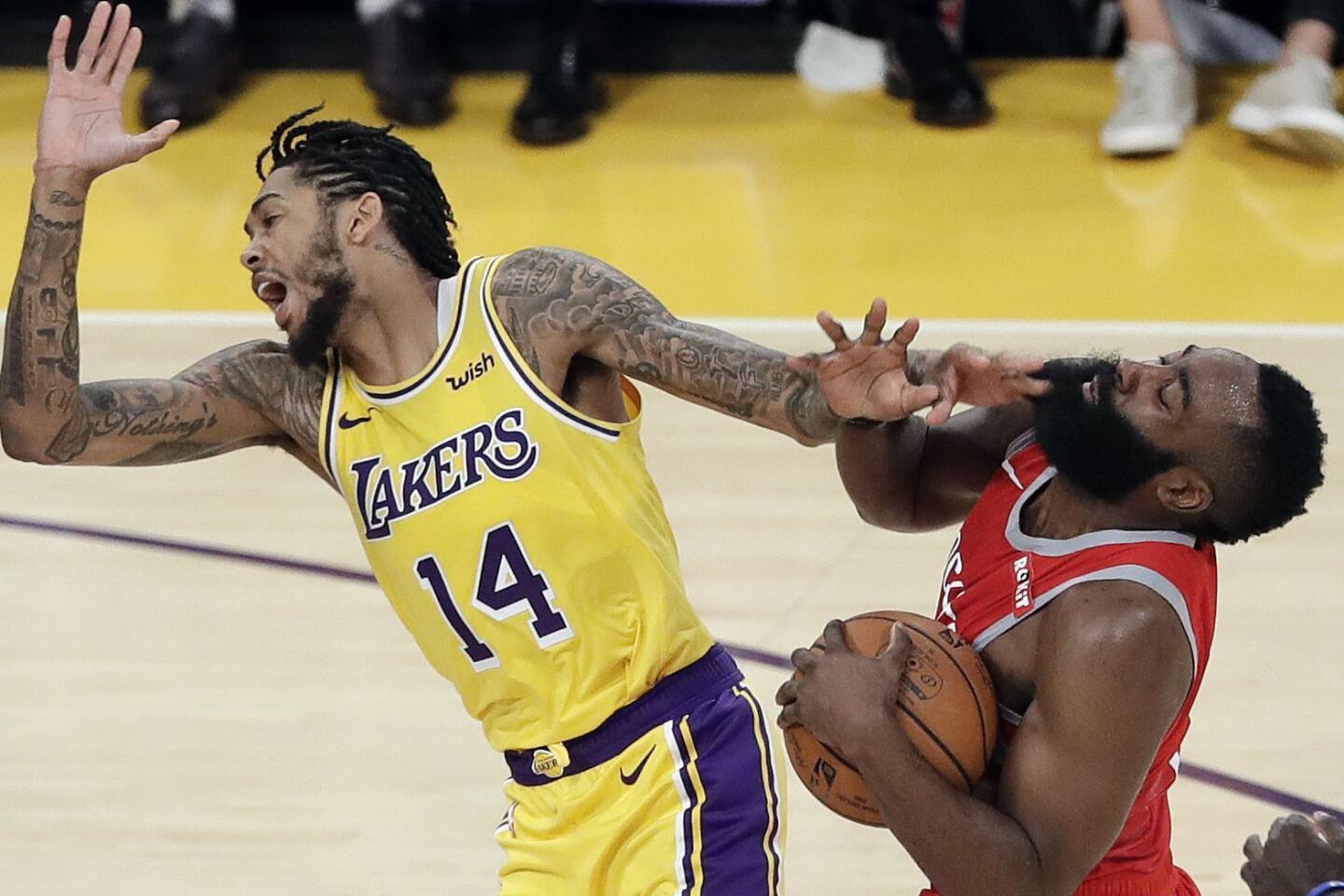 Rockets guard James Harden collides with Lakers forward Brandon Ingram, who was called for a foul on the play with 4 minutes left in the fourth quarter. That led to an exchange of words before Ingram shoved Harden, igniting a brawl.
(Marcio Jose Sanchez / Associated Press)
Lakers guard Lonzo Ball tries to separate teammate Brandon Ingram and Rockets forward Carmelo Anthony after Ingram ignited a brawl by shoving Rockets guard James Harden.
(Kevork Djansezian / Getty Images)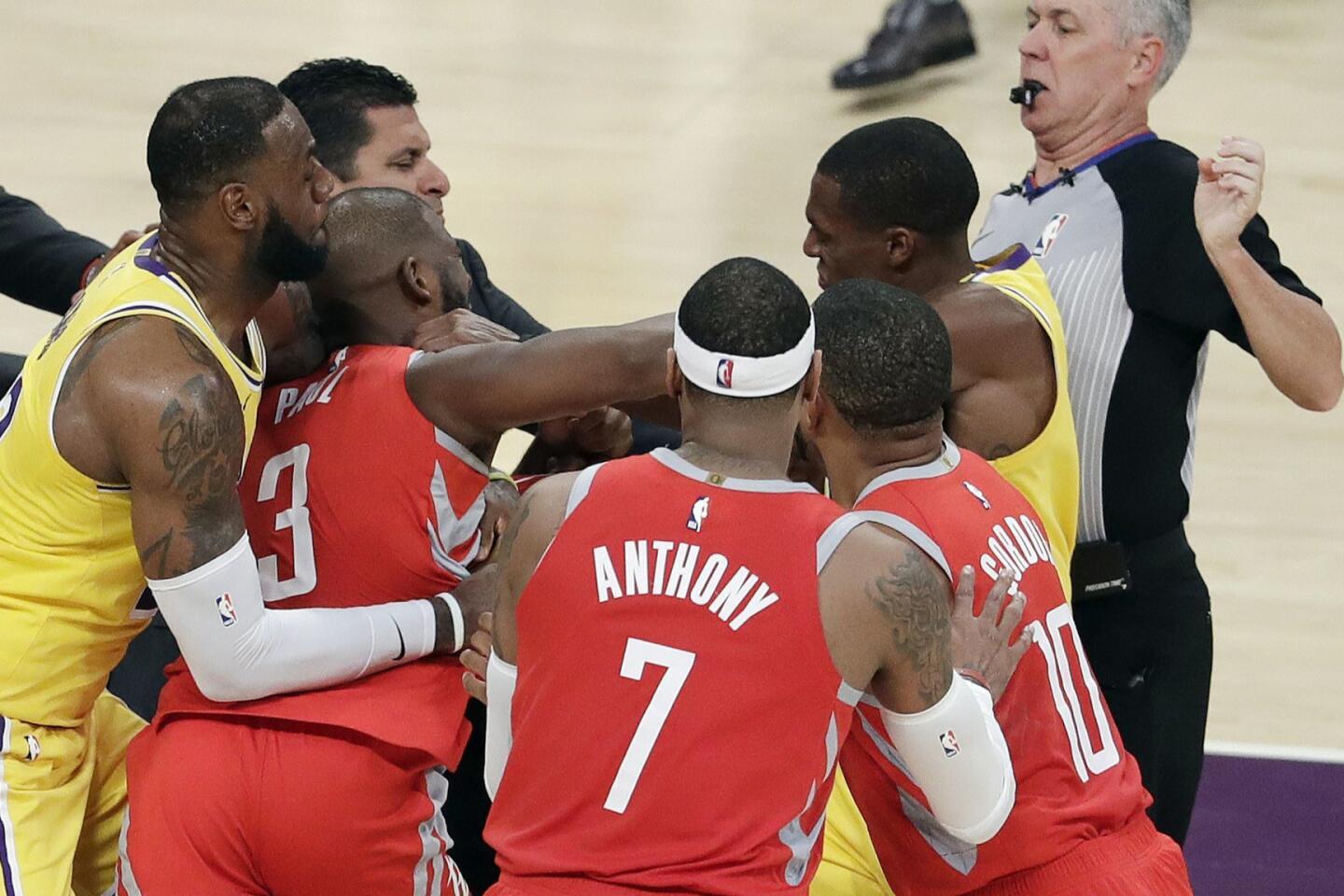 Rockets guard Chris Paul, second from left being restrained by Lakers forward LeBron James, trades punches with Lakers guard Rajon Rondo, who next to the referee. Rondo and Paul were both ejected.
(Marcio Jose Sanchez / Associated Press)
Players try to separate Chris Paul and Rajon Rondo after Paul appeared to poke Rondo in the face as they exchanged words.
(Marcio Jose Sanchez / Associated Press)
Rockets guard Chris Paul, left, is held back by Lakers forward LeBron James after Paul and Rockets guard Rajon Rondo (not pictured) exchanged punches.
(Marcio Jose Sanchez / Associated Press)
Lakers forward LeBron James talks to Rockets guard Chris Paul as he's escorted off the court after getting ejected for throwing punches.
(Kevork Djansezian / Getty Images)
It's likely the fight was about more than what happened in the moment. Rondo and Paul have a history of tension, and Ingram's frustration wasn't only about that moment. Lakers coach Luke Walton said the team was agitated after Rockets forward James Ennis III clotheslined Josh Hart and received only a Flagrant 1 foul.
"Whenever you have something that's not a basketball play, you know sometimes tensions flare," Hart said. "I think that definitely aided to some things."
Ingram also had pent-up anger throughout the game.
"I think they was picking on him," Stephenson said. "That's why I tried to grab him as quickly as possible and tell him, 'Hey don't fall for the trick.' And umm, I guess we fell for it."
The game taught Lakers fans this lesson: When James is one of your own, you get a whole new set of feats to cheer.
You get the perfect 18-foot jumper that scored the Lakers' first points at home this season, to stop a 7-0 Rockets run that started the game. You get the two-handed dunk as he cuts to the basket and JaVale McGee finds him. You get the no-look pass to Josh Hart, streaking toward the basket as James looked toward Rondo standing near the scorer's table.
But you also get a dose of reality. James' magic often will stop short of wins.
"I can promise to our fans we're not the team tonight that we're going to be in January, February," James said earlier. "But we will be extremely excited to get out there and play for them."
The Lakers struggled from three-point range again, with only Lonzo Ball producing a respectable percentage. Ball made four of eight threes while the team went eight of 32. The Rockets, the league's most prolific three-point-shooting team, made 16 of 42.
The Lakers also missed too many free throws, going 11 of 18 from the line.
Harden scored 36 and Paul had 28 with 10 assists and seven rebounds for the Rockets, who closed on a 15-7 run after the fight.
James scored 24 points with five assists and five rebounds. Rondo started at point guard and contributed a double double with 13 points, 10 assists and seven rebounds.
It had been three months since Lakers fans started anticipating what this would be like — to hear James introduced as a Laker, to see him, as a Laker, take on best teams in the Western Conference, and give the Lakers real hope that they could be one of them. They were asked to remain silent for the national anthem, but that was too big an ask.
When the song reached "land of the free," and the video board camera panned to James, the place erupted.
A close game kept the fans engaged and by the end of the night, the fight ignited them, too.
Follow Tania Ganguli on Twitter @taniaganguli
All things Lakers, all the time.
Get all the Lakers news you need in Dan Woike's weekly newsletter.
You may occasionally receive promotional content from the Los Angeles Times.