Lakers blow 21-point lead, fall to Rockets 138-134 in OT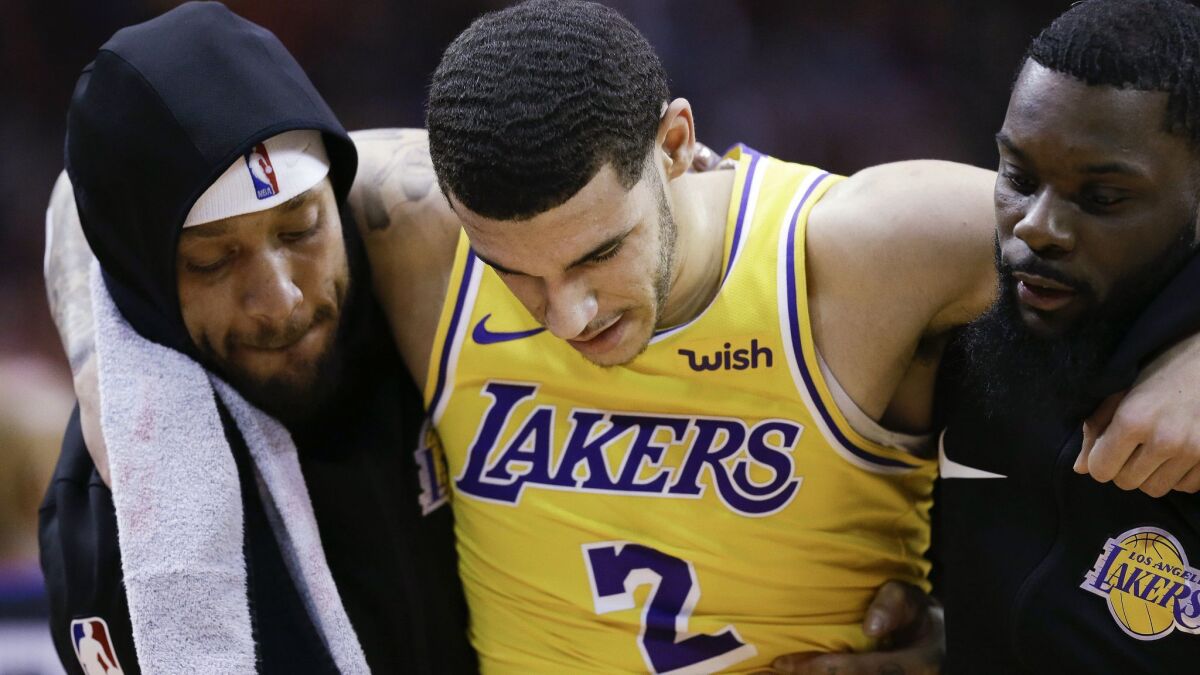 Reporting from Houston —
Lonzo Ball collided with Houston's James Ennis, turned his ankle and fell to the floor. He writhed in pain while holding his left ankle until teammates Michael Beasley and Lance Stephenson put his arms around their shoulders and carried him off the court with 8:39 left in the third quarter.
His departure coincided with a few other unfortunate developments for the Lakers. Around that time they began to lose their composure. Then their crisp ball movement stagnated. Then head coach Luke Walton got ejected. Then the Rockets, who had trailed by 21 points, reduced their deficit to two.
Even the arena's X-ray machine was broken, so Ball had to go to a nearby hospital to have his sprained left ankle X-rayed. Everything that could go wrong, did.
Sign up for our Lakers newsletter »
The Lakers recovered from that initial shock and fought back, but ultimately it was all just too much.
The Rockets beat the Lakers 138-134 in overtime to improve to 26-19, dropping L.A. to 25-22. The Lakers are 5-8 without LeBron James, who is expected to practice fully Sunday as he works to return from a groin strain.
Walton doesn't expect James or Rajon Rondo to play Monday against the Golden State Warriors.
The Rockets were shorthanded as well, missing point guard Chris Paul and center Clint Capela.
James Harden, who led Houston with 48 points, had his 19th consecutive game with at least 30 points.
The Lakers' Brandon Ingram scored 11 points on five-of-six shooting in overtime after scoring 10 in regulation.
"I was [bad] the whole game and I just got another opportunity in the overtime to go out there and just leave it all on the floor and just try to do the best I could do," Ingram said.
Kyle Kuzma, who scored 32 points, began at a torrid pace. He played the entire first quarter and scored 20 points, becoming the first Laker since Kobe Bryant in 2011 to score 20 points or more in a first quarter. He joins Harden, Golden State's Stephen Curry, Charlotte's Kemba Walker, Oklahoma City's Paul George and Portland's Damian Lillard as the only players this season to have multiple 20-point quarters.
Perhaps as impressive was Ball's first quarter, in which he matched a career high with seven assists in a quarter. He finished the game with eight points, 11 assists and three rebounds.
The Lakers led by 13 after one quarter and 18 at halftime. They bodied up Harden the moment he touched the ball and, just as they did on their last trip to Houston, sometimes guarded him with their hands behind their back. At halftime, Harden led the Rockets with 16 points.
The Lakers kept their cushion in the third quarter and were leading by 18 points when Ball was injured.
"It didn't look too good out there," Kuzma said. "Hopefully he gets back healthy really soon because we're down our top three playmakers. It's tough enough to win like that."
In the next 3 minutes 31 seconds, the Rockets cut the Lakers' lead to two and seemed poised to take control of the game. Walton got ejected with 6:05 left in the third.
"The first technical I deserved," Walton said. "Second one, all I said was, 'You guys are funny. This is really funny.' That's all I said. I wasn't yelling anymore, I wasn't screaming anymore. I was shocked that I got thrown out for that. I've heard a lot worse, I've said a lot worse but it is what it is."
After an initial swoon, the Lakers collected themselves and stayed just ahead. The Rockets trailed for the entire game until the final two seconds of regulation.
While they'd made only six of 12 through the first three quarters, they made all 17 of their free throws in the fourth quarter.
Up three with 5.7 seconds left, the Lakers denied Harden the opportunity to shoot a three-pointer by fouling him early.
Up three with two seconds left, they let Rockets guard Eric Gordon take the shot and Gordon sent the game into overtime. It was the second straight overtime game for both teams.
In overtime, the Rockets hit two quick three-pointers in the first 45 seconds but couldn't pull away. They didn't score a basket again, but drew fouls on the Lakers nearly every trip down.
Ivica Zubac, who had made all nine of his free throws, fouled out in overtime with 17 points and seven rebounds.
With 11.5 seconds left and the Lakers down two, Josh Hart passed the ball to Kuzma, who lost it out of bounds. The play haunted Hart so much that during his postgame interview he could barely remember details from the game.
For all their fight, they didn't have enough left.
"We played smart throughout the whole game, we didn't crumble," Stephenson said.
"We stayed together the whole time and believed in each other."
Follow Tania Ganguli on Twitter @taniaganguli
---
All things Lakers, all the time.
Get all the Lakers news you need in Dan Woike's weekly newsletter.
You may occasionally receive promotional content from the Los Angeles Times.