Five takeaways from the Lakers' 118-95 loss to the Rockets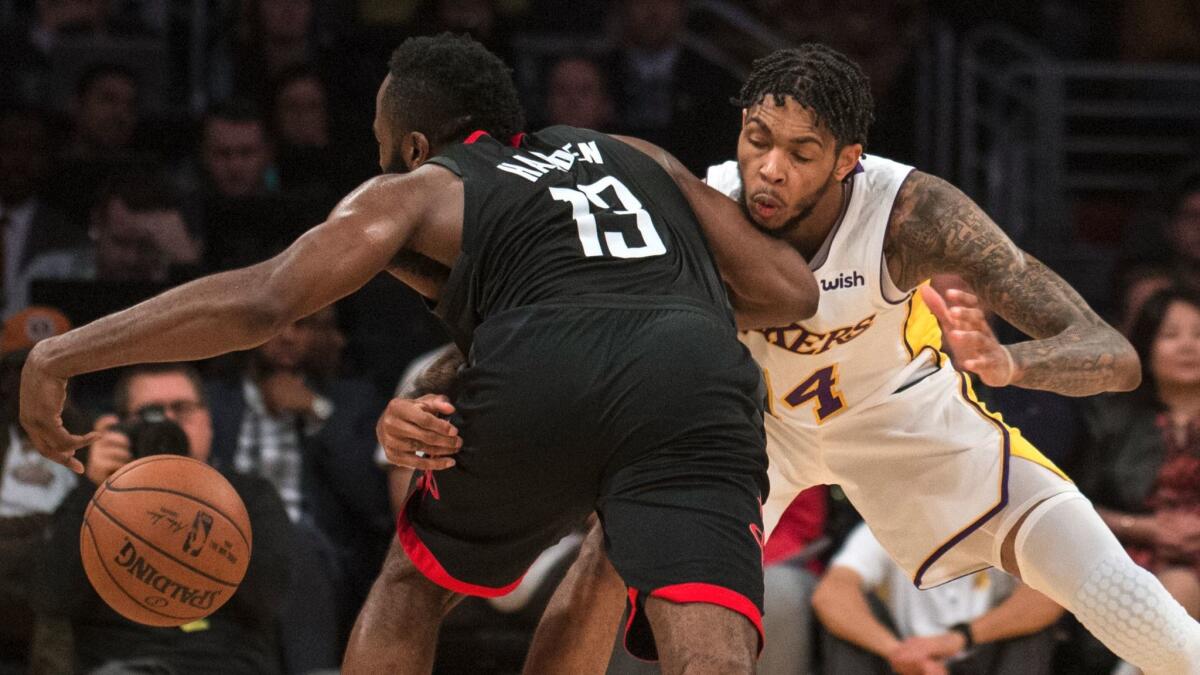 The Lakers are in the midst of another losing streak, and this one has included several close calls.
Those close calls have given Lakers Coach Luke Walton some cause for optimism.
Sunday's game wasn't a close call, but it also wasn't a game in which the Lakers never had a chance. They cut the Rockets' lead to three in the third quarter before Houston tightened its grip.
Here are five takeaways from the Lakers' 118-95 loss to the Rockets.
1. Asked about turnovers for a second day in a row, Kyle Kuzma didn't have a different answer. The Lakers know what they're supposed to do, now it's just a matter of doing it. They had 21 turnovers against the Rockets after 21 turnovers the night before against the Nuggets. The Rockets scored 27 points off the Lakers' turnovers. Walton said the drills they do in practice are so simple that the players sometimes joke that they're like high school drills. "That's what it's come to," Walton said.
2. Losing isn't easy for people who haven't done much of it. Walton went through that last year — he's mostly been part of winning programs. Lonzo Ball was asked postgame if he has ever lost five games in a row at any level. He paused to think. Then he said he hadn't. "I don't think anybody likes losing so try and turn it around as fast as possible," Ball said. These five straight losses equal his losses in the last two years combined.
3. Scoring is not a problem for Kuzma, but Walton challenged him to play defense with an edge Sunday. It wasn't an easy assignment against a team with the NBA's leading scorer. Kuzma's plus/minus rating was a minus-25, but Walton felt strongly that it didn't properly reflect Kuzma's play beyond his team-high 22 points. Kuzma was pleased with his performance given the way he played when he switched onto James Harden. "He's a tough guard. There's a reason why he's one of the best in the league. It's hard to guard somebody that takes that many dribbles and has that many moves and shiftiness when you're on an island."
4. The second and fourth quarters were particularly lethal for the Lakers on Sunday. Harden scored 16 second-quarter points and made every shot he took. He was less efficient in the fourth, but scored 10 points nonetheless and helped fuel a 33-point fourth quarter.
5. Larry Nance Jr. was very assertive offensively early in the game. He scored seven first-quarter points and 11 in the first half with four offensive rebounds in the first half. Nance typically does things the Lakers need that don't show up on the stat sheet, but he showed some diversity in his game on Sunday.
Follow Tania Ganguli on Twitter @taniaganguli
All things Lakers, all the time.
Get all the Lakers news you need in Dan Woike's weekly newsletter.
You may occasionally receive promotional content from the Los Angeles Times.