Five takeaways from the Lakers 126-111 loss to the Houston Rockets
The primary factor in the Lakers' loss to the Houston Rockets was what happened at the free-throw line. James Harden is a transcendent talent, and his keen ability to draw fouls on opponents is certainly part of that.
It doesn't help that opponents get so frustrated by the volume of free throws awarded to Harden that it starts to bleed over into other parts of their games.
Thursday night's game was a lot closer than the final score. Here are five takeaways from the Lakers' 126-111 loss to the Rockets.
1. Josh Hart was sullen after the game, having picked up five fouls, three of them on Harden. But Hart's play offensively helped keep the Lakers in the game early. He scored 15 points, 10 of them in the first half. One of his two three-pointers offered a counter to a Harden three.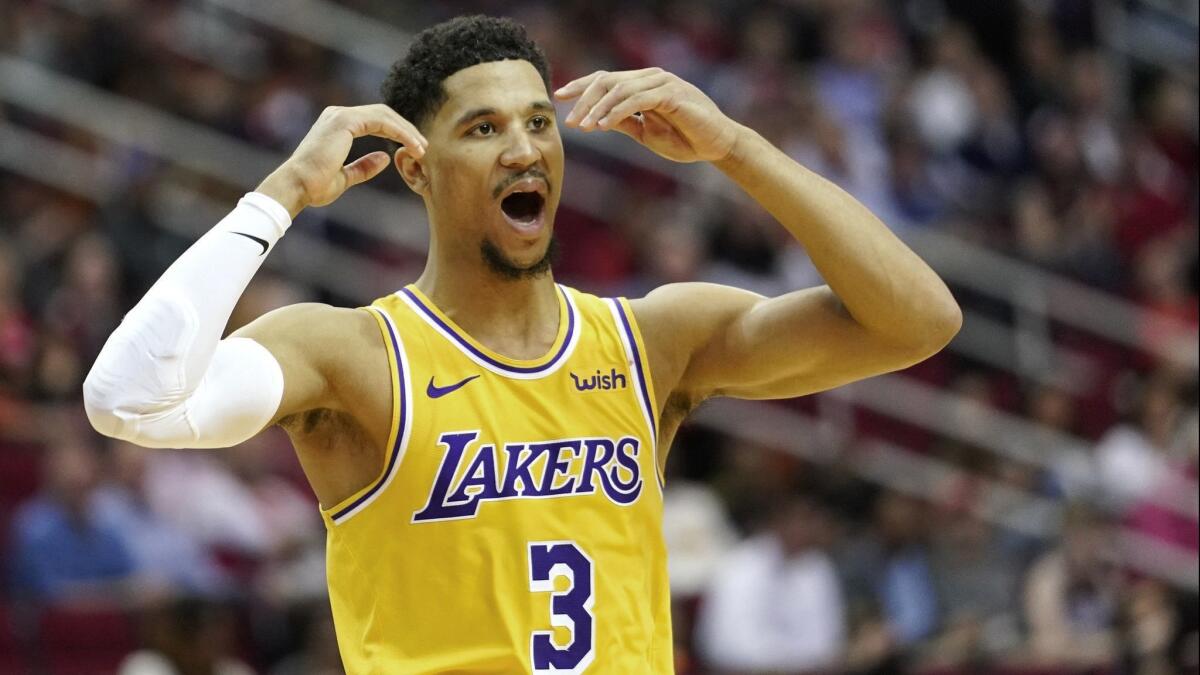 2. The Lakers played some solid defense early in the game, but the Rockets were dominating them on rebounds and consequently greatly outscored the Lakers in second-chance points. By the game's end, Houston had 27 second-chance points and the Lakers had nine.
3. We saw a little bit of air guitar from Lance Stephenson, who had some big threes for the Lakers. He finished with 17 points, 11 in the fourth quarter. Stephenson played that entire frame and was efficient, making four of five field goals including three of four three-pointers for 11 points in the fourth quarter. "Being in attack mode," Stephenson said. "Trying to make the easiest play possible, trying to get my teammates involved, just playing freely and trying to make no mistakes when I'm out there."
4. Kyle Kuzma hit a desperation three-pointer at the shot-clock buzzer late in the third quarter. He didn't see it go in because he'd been knocked to the ground. "To save my money, I don't know about that one," Kuzma said, declining an opportunity to criticize the officiating. "It's going to happen, especially on the road. My college coach always used to say, especially on road games, you're playing 16,000-18,000 on 15. So it's going to happen on the road."
5. There are situations where the plus/minus rating is indicative of how a player played, and other times when it's coincidence. Kentavious Caldwell-Pope's rating might have been an example of the latter. He was the only Laker with a positive plus/minus rating against the Rockets, but he had a tough shooting night. Caldwell-Pope made two of seven shots and one of six threes.
Follow Tania Ganguli on Twitter @taniaganguli
All things Lakers, all the time.
Get all the Lakers news you need in Dan Woike's weekly newsletter.
You may occasionally receive promotional content from the Los Angeles Times.