Lakers and Rajon Rondo have mutual interest in a deal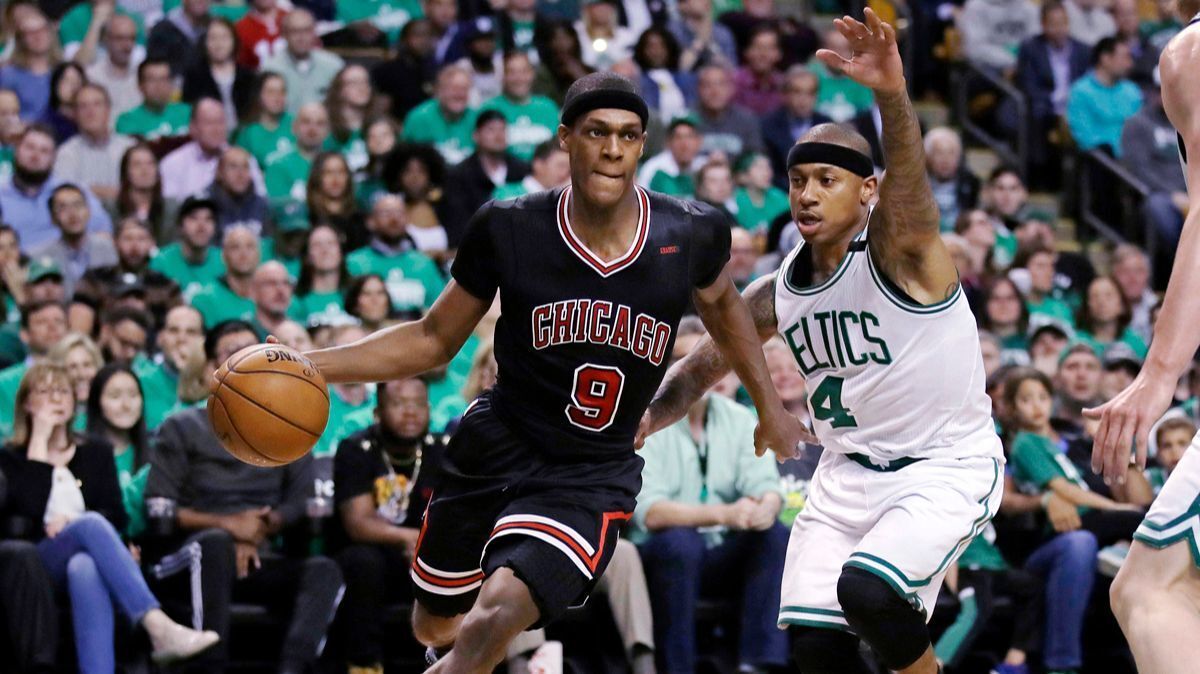 In their search for veteran backcourt help, the Lakers have been considering a familiar, if unexpected name.
Former Boston Celtics point guard Rajon Rondo and the Lakers have mutual interest. A representative from Rondo's camp initiated the discussions on Friday night, as free agency opened.
If that interest moves into serious contract discussions, Rondo would have to agree to a one-year deal, as the Lakers have been unwilling to jeopardize their salary-cap space for the summer of 2018.
The Lakers see Rondo as a candidate for a one-year deal, having become something of a journeyman lately. They also see him as a potential mentor for rookie point guard Lonzo Ball. In Chicago last season, Rondo was hailed as a great teammate by the Bulls' younger players. Chicago waived him last week.
The Lakers have also been leaning toward re-signing Tyler Ennis, a 22-year-old point guard who was traded to the Lakers in February.
Rondo spent the first eight years of his career with the Celtics, winning a championship against the Lakers in 2008. He's clashed with coaches in the past at the high school, college and professional level, but also earned the respect of teammates and opponents.
One such opponent is Kobe Bryant, the former Lakers great whose opinion carries a lot of weight with the Lakers front office. Bryant once likened Rondo's mentality to his own.
"He's an [expletive] like me," Bryant once said about Rondo.
The two had a much publicized breakfast before a game in Boston in December of 2014, and during the following summer's free agency, Bryant was a proponent of the Lakers acquiring Rondo. Days later, the Celtics traded Rondo to the Dallas Mavericks.
He spent the remainder of the 2014-15 season with the Mavericks, then the 2015-16 season with the Sacramento Kings, before signing a two-year deal with the Bulls last summer.
Follow Tania Ganguli on Twitter @taniaganguli
---
All things Lakers, all the time.
Get all the Lakers news you need in Dan Woike's weekly newsletter.
You may occasionally receive promotional content from the Los Angeles Times.