Michael Beasley wasn't a big contributor to the Lakers on the court during the first month of the season as he dealt with a family illness. But in the past couple of games, the Lakers have asked more of Beasley and he's delivered.
That was apparent in Sunday afternoon's game against the Phoenix Suns. Beasley didn't play much, but he was effective when the Lakers needed it most.
"I know Beas, I know what he's about," LeBron James said. "I know what he's capable of. To have him here right now just trying to be the bright spot for him every day. His ability to play the game, I think he had a hell of a year last year in New York and we just want to continue that."
Here are five takeaways from the Lakers' 120-96 win over the Phoenix Suns.
1. Kyle Kuzma's development has really started to show lately and it's the product of his sincere effort to become a more complete player. It was easy to dismiss Kuzma as a gunner, and many did. Sunday, I asked Lakers coach Luke Walton if Kuzma's desire to be a well-rounded basketball player was new. Walton said it wasn't. He said while Kuzma wasn't very good defensively when he first entered the NBA, he did want to be.
2. Against an opponent like the Suns, the Lakers' turnover scourge didn't decide the game. But they again committed too many. Their 19 turnovers turned into 23 Suns points. The Lakers average 16.1 turnovers per game — the fourth most in the NBA.
3. There was a moment during the game when Suns guard Devin Booker, Phoenix's only effective playmaker, chased after a loose ball and injured his left hamstring. Booker ran into a tunnel at Staples Center, grimacing and James ran after him. James has been a fan since Booker's rookie year — when James called him a future All Star— and that moment was only a sign of his esteem for the fourth-year guard.
4. Facing his old team, Tyson Chandler didn't make a huge offensive impact, scoring only three points in 17 minutes, 27 seconds. But Chandler also contributed 11 rebounds, eight of them defensive, and he had a plus/minus rating of 23.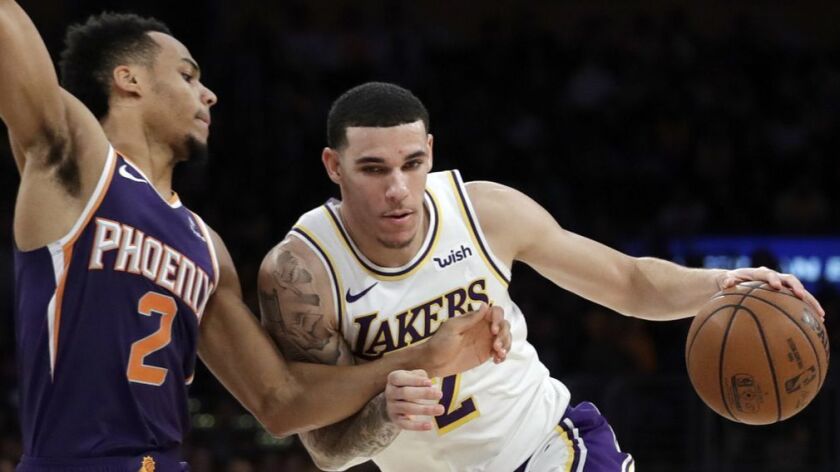 5. In the past two games, Lonzo Ball has combined for nine steals, five against the Mavericks and four against the Suns. Overall he's had three games this season with at least four steals, plays that have helped the Lakers undo some of their turnover transgressions. Ball has been doing a nice job lately of not letting his scoring lags affect the rest of his game. For example, Sunday afternoon, he made only three of 10 shots.
Follow Tania Ganguli on Twitter @taniaganguli
---