Kyle Kuzma's all-around play helps the Lakers blow out the Suns after slow start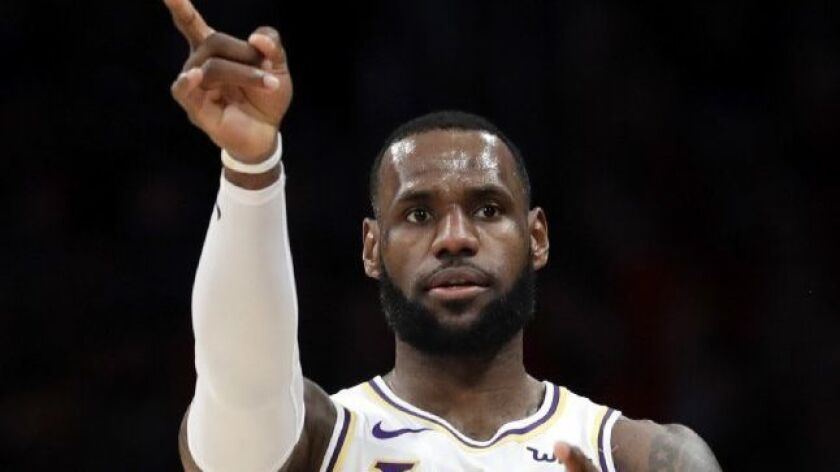 When he really needs the help, Kyle Kuzma will text Luke Walton at all hours of the night to ask about how he could have been better at one defensive assignment or another.
"I haven't in a minute," Kuzma said. "I've been playing good defense, that's why."
The two things the Lakers talk about constantly when discussing what helps them win are strong defense and a willingness to share the ball – two traits that aren't generally ascribed to Kuzma. But lately, the Lakers have been relying more and more on that from Kuzma, to add to his potent offensive ability.
"He's not allowing anybody to just put a cap on him just saying he's a scorer; I think he wants to be more than that," LeBron James said. "He's been continuing to get better and better, not only offensively but defensively as well. Just playing all around solid basketball."
On Sunday afternoon, Kuzma helped the Lakers (14-9) secure a convincing 120-96 win over the Phoenix Suns (4-19). He led all scorers with 23 points and added eight rebounds and three assists in his 29 minutes of playing time.
"He's doing a much better job of making the extra pass," Walton said. "Still not every time and I get on him every time he doesn't make it, but he is doing a nice job of, for the most part right now making the extra pass. And defensively he was good again today.
"We're putting him on guys that play the point guard, we're putting him on guys that are centers. Asking him to play switching coverage, asking him to play our scheme coverage and he's made a lot of progress with all of that."
James scored 22 points in 31 minutes, adding eight assists and six rebounds.
No Lakers starter except for Lonzo Ball played in the fourth quarter, and Ball played just five minutes in the final period.
The Suns took a 17-point lead in the first quarter, helped in part by 11 first-quarter points from Trevor Ariza. But by the end of the period, the Lakers had cut that lead to 10. Within the first four minutes of the second quarter, the lead was completely gone.
Michael Beasley helped spark a 10-0 run, scoring five points, grabbing a rebound and assisting on a three-pointer by Brandon Ingram.
Beasley, who scored a season-high 14 points, was asked after the game, what woke up the Lakers.
"Mike Beas woke us up!" a nearby teammate said.
"I guess I did," Beasley said in response.
The Lakers outscored the Suns by 25 points in the second quarter.
Kuzma was a big part of that second quarter turnaround, too. He scored 12 points during that period and 18 points in the half.
But during the past few games, that hasn't been the part of Kuzma's game that has showed the most growth. On Friday against the Mavericks, Kuzma scored 15 points, added 12 rebounds and had six assists, while guarding rookie forward Luka Doncic for much of the game.
"He's done a nice job on those type of players we're finding out," Walton said. "It's good for him to have a mission out there being able to focus defensively. We're looking for matchups that we can use his size and strength and athleticism to give us an advantage."
Walton said defensive improvement has been important to Kuzma since he entered the NBA.
"He just wasn't good at it," Walton said. "But he has that desire."
And Walton isn't the only person to whom Kuzma comes for help. James often helps Kuzma during games by pointing out things he sees on the court. Rajon Rondo is also helpful, especially now that Rondo can't play while he recovers from a broken hand.
"I think the narrative is that I just don't play defense, but if you watched as the season really progressed, I've been getting better and better every single game," Kuzma said. "Making the effort. I just want to be a complete player and all great players do it on both ends."
Follow Tania Ganguli on Twitter @taniaganguli
---
All things Lakers, all the time.
Get all the Lakers news you need in Dan Woike's weekly newsletter.
You may occasionally receive promotional content from the Los Angeles Times.