Five takeaways from the Lakers' loss to the Spurs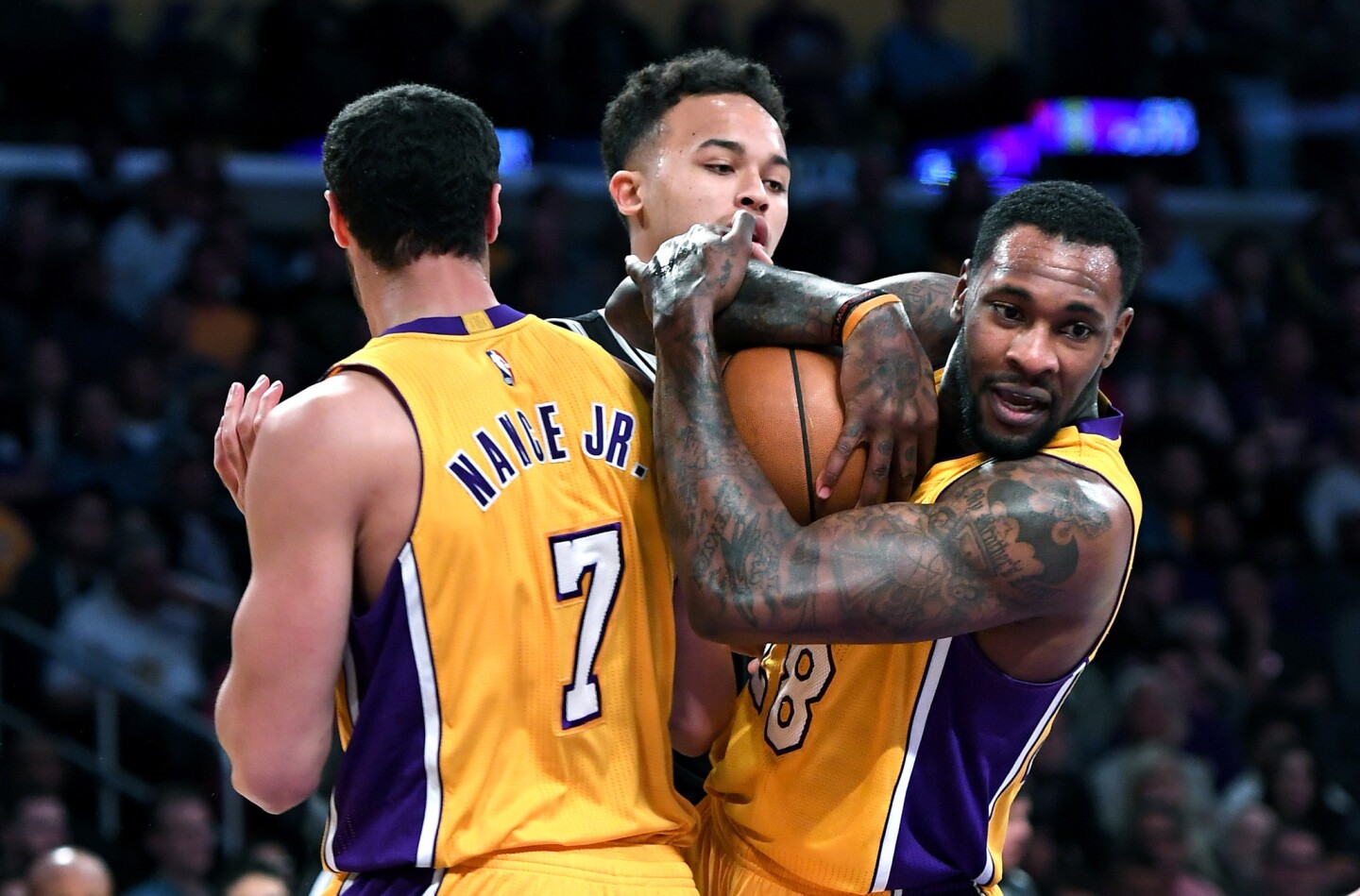 Lakers center Tarik Black grabs a rebound from teammate Larry Nance Jr. and Spurs guard Danny Green at Staples Center on Nov. 18.
(Wally Skalij / Los Angeles Times)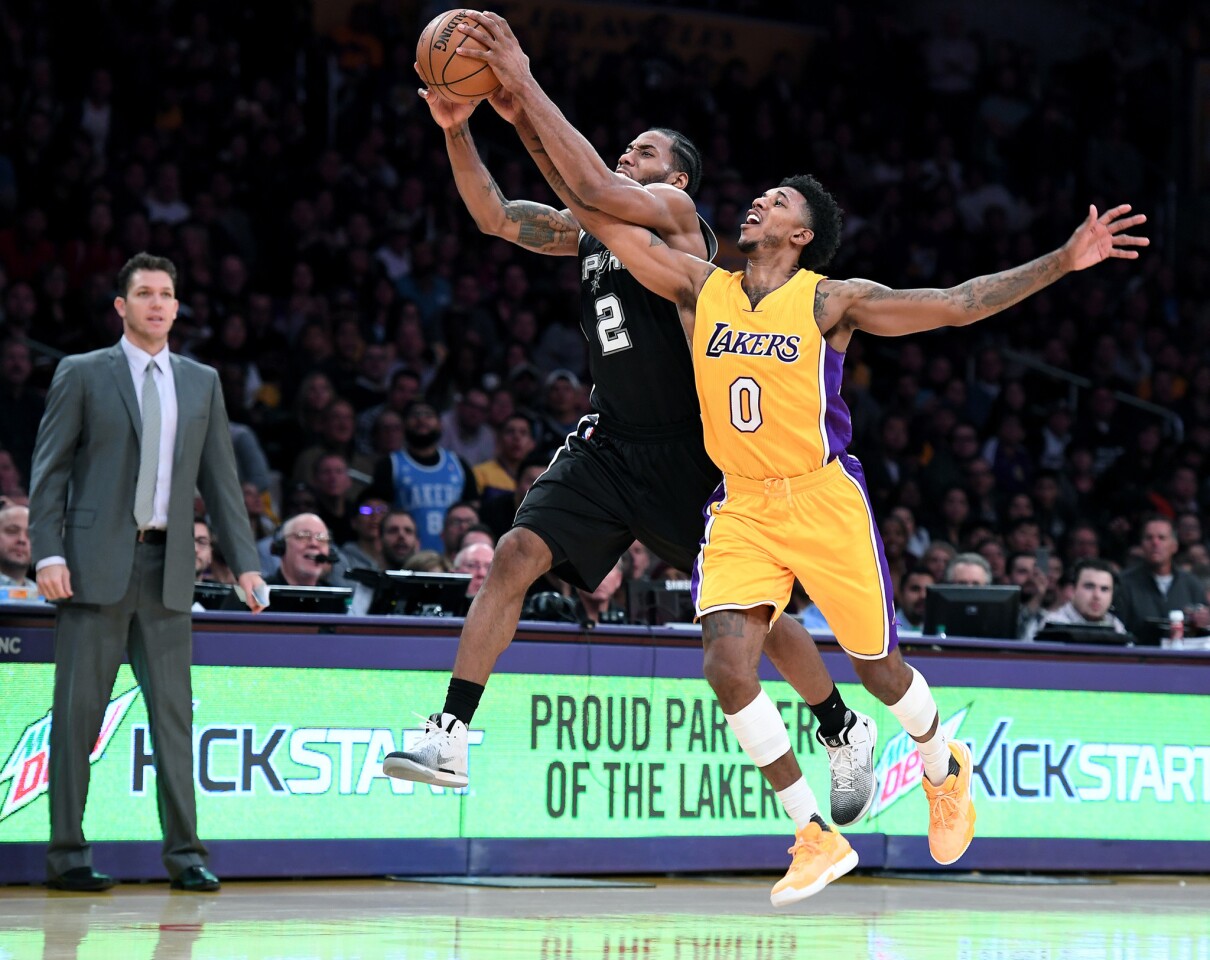 Lakers guard Nick Young tries to steal the ball from the Spurs forward Kawhi Leonard late in the fourth quarter of a game at Staples Center on Nov. 18.
(Wally Skalij / Los Angeles Times)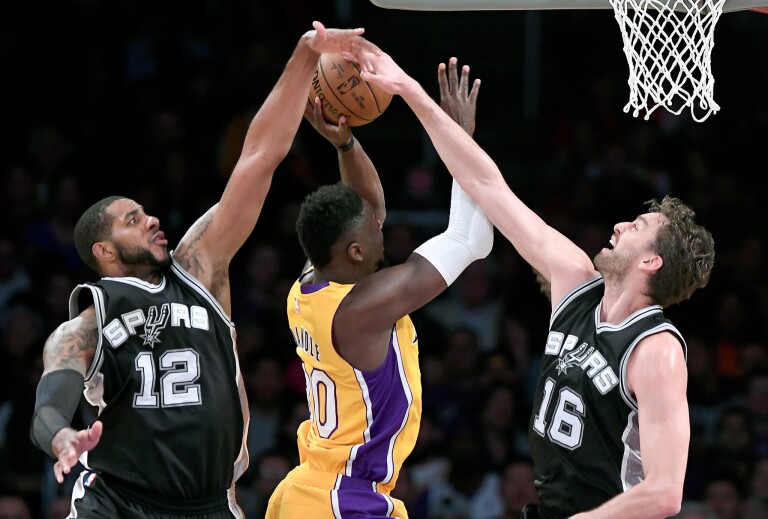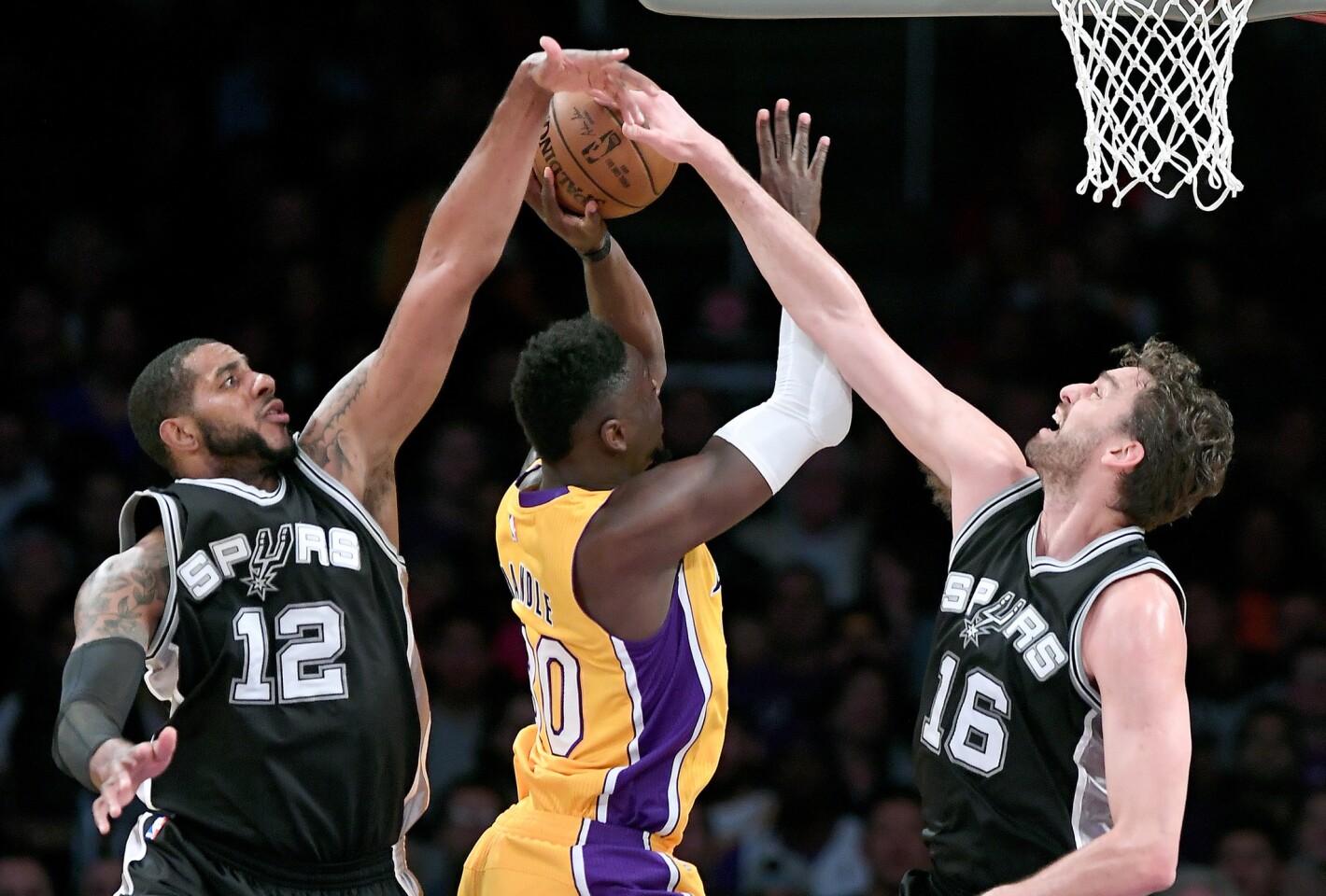 Lakers forward Julius Randle has his shot blocked by Spurs forward Pau Gasol as LaMarcus Aldridge helps on defense at Staples Center on Nov. 18.
(Wally Skalij / Los Angeles Times)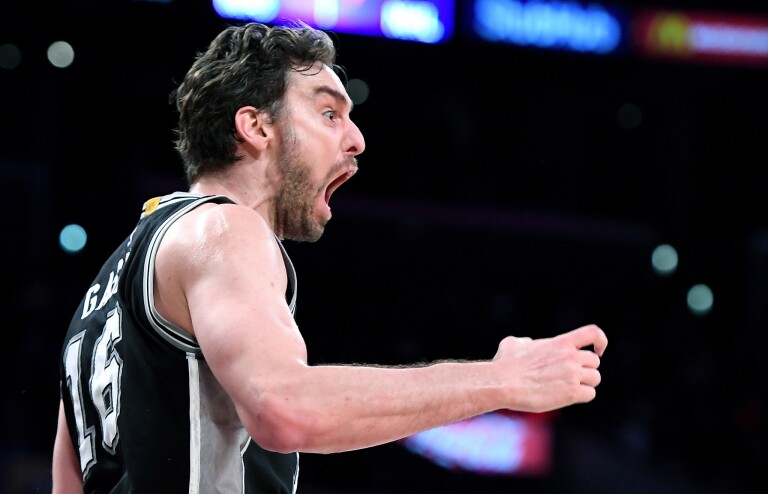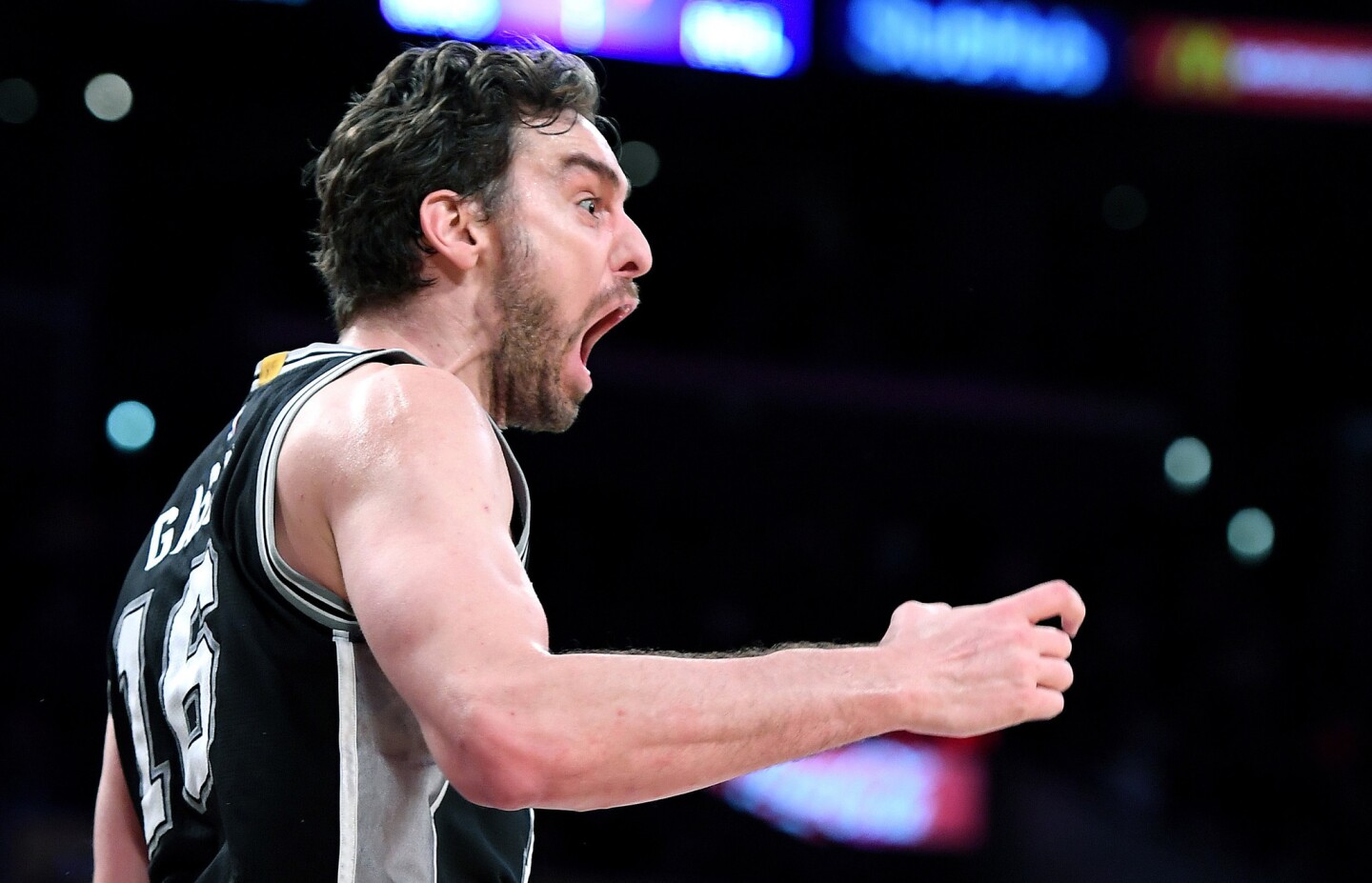 Former Lakers forward and current Spurs player Pau Gasol disputes a call with a referee at Staples Center on Nov. 18.
(Wally Skalij / Los Angeles Times)
Sidelined because of a knee injury, Lakers guard D'Angelo Russell reacts to a referee's call during a game against the Spurs at Staples Center on Nov. 18.
(Wally Skalij / Los Angeles Times)
Spurs Danny Green grabs a rebound from Lakers forward Brandon Ingram as Pau Gasol looks on at Staples Center on Nov. 18.
(Wally Skalij / Los Angeles Times)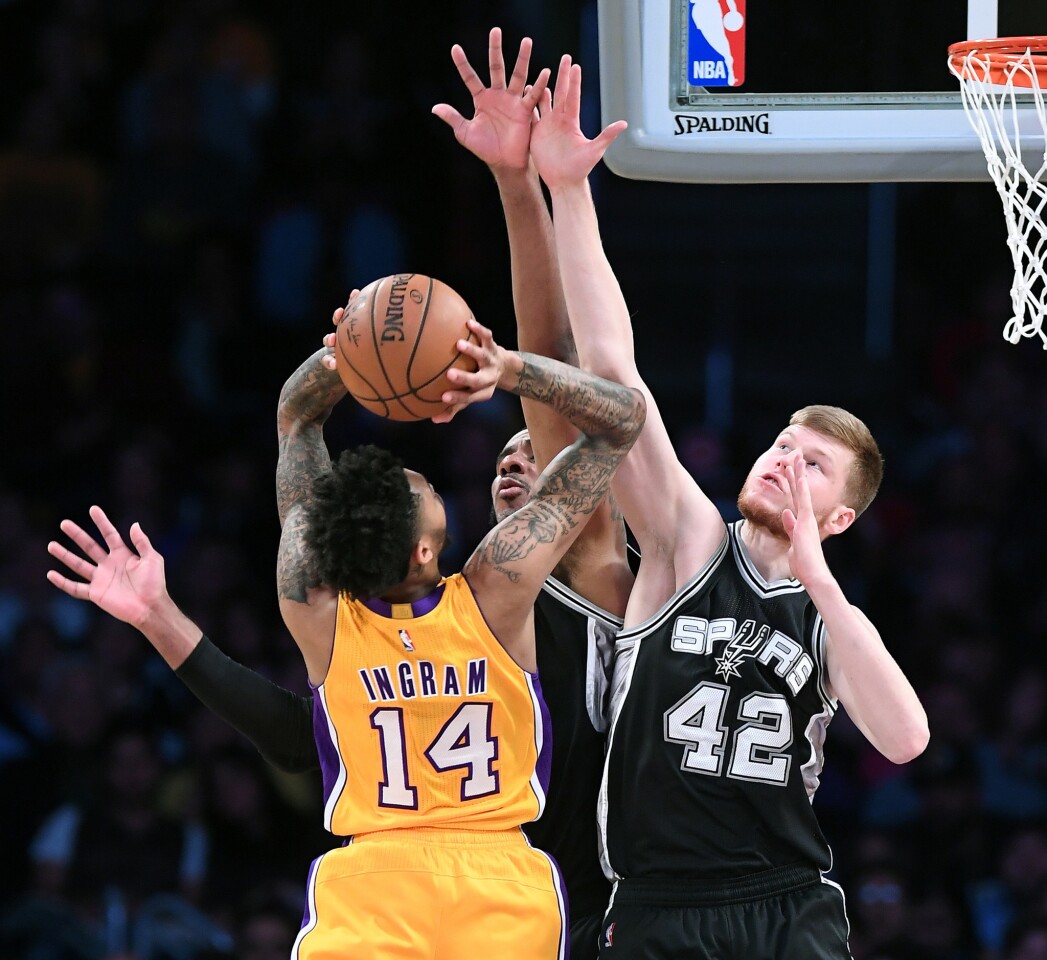 Lakers forward Brandon Ingram is forced into a missed shot by Spurs forwards LaMarcus Aldridge, left, and Davis Bertans at Staples Center on Nov. 18.
(Wally Skalij / Los Angeles Times)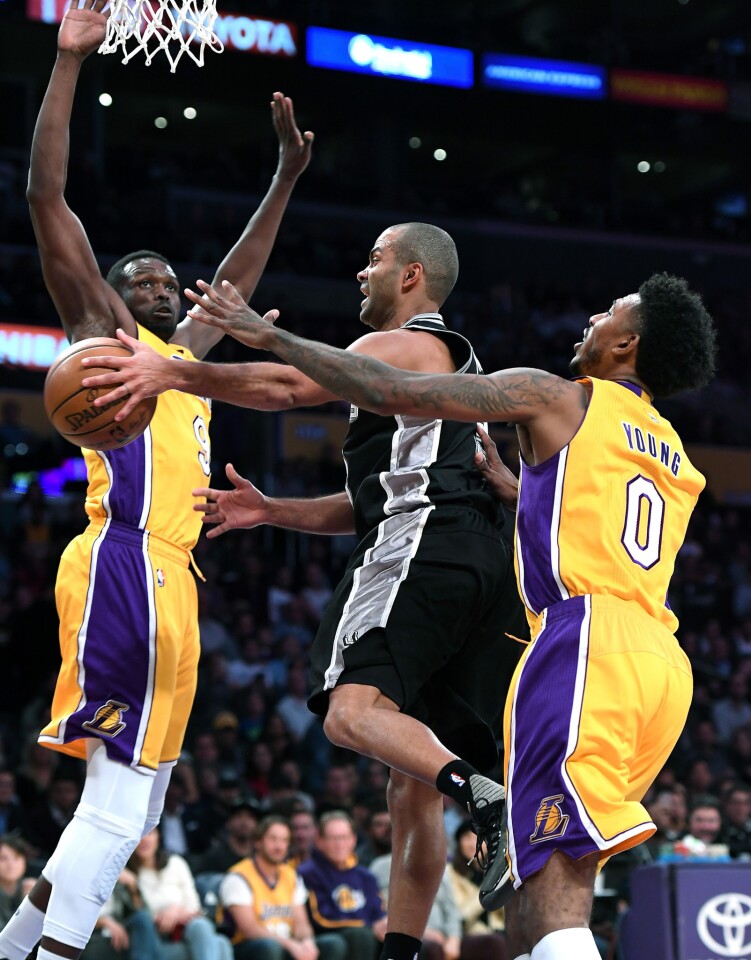 Spurs guard Tony Parker gets a pass off in front of Lakers guards Luol Deng, left, and Nick Young at Staples Center on Nov. 18.
(Wally Skalij / Los Angeles Times)
As he walked away from the postgame media scrum on Friday, guard Jordan Clarkson was reminded that, after playing the San Antonio Spurs, the difficult stretch of the Lakers' schedule would continue.
The Lakers will play the Chicago Bulls, who are 8-4 and have won their last four games, on Sunday evening. They'll play the Oklahoma City Thunder, their first repeat opponent of the season, on Tuesday. The first time they met, Russell Westbrook had a triple-double. They'll travel on Wednesday to face the Golden State Warriors (10-2), whom the Lakers already upset but are a no less formidable opponent. And they'll host the Warriors again on Friday.
"We ain't scared," Clarkson said.
The Lakers have certainly been playing that way all season.
Let's start there for five takeaways from Friday night's 116-107 loss to the Spurs.
1) Spurs Coach Gregg Popovich made this observation about the Luke Walton-coached Lakers: "Luke's done a great job of making them believe." That has been one of Walton's most important accomplishments, and it's why Clarkson's statement rings so true. The Lakers believe they should be able to beat the league's best teams, and that win over the Warriors only contributes to that confidence.
2) Julius Randle had a really tough challenge against LaMarcus Aldridge and Pau Gasol. "You just try to make it tough on him," Randle said of Aldridge. "Get him off his spots and be physical." Walton felt facing those two was good for Randle's development. "I thought he did a good job. He still needs to do better doing his work early, especially against players that talented. Julius has the belief and strength to fight and defend bigger players. But do the work early. Make them catch the ball four, five, six feet off the lane and then start the fight."
3) The Lakers' bench has been outscored only once all season — their Oct. 30 game against Oklahoma City. That's part of why Walton didn't break them up when needing on Friday to replace D'Angelo Russell, who has a sore left knee. He thought about it, he said. But the pull of keeping together the Clarkson-Lou Williams-Larry Nance-Tarik Black-Brandon Ingram unit was too strong. Keeping those players together also means they'll be better able to develop their chemistry, which is already pretty good. "It's great," said Black, the backup center. "Obviously. The numbers show that. But at the same time, [off] nights are going to happen. Our second unit isn't going to be perfect. We've built this thing and statistically it speaks volumes about how we go out there and play, how we cooperate with each other. But at the same time, it's not realistic to think that's going to happen every night. Consistency is a big thing."
4) Pau Gasol and Walton, former teammates, greeted each other before the game. Walton attempted some ping-pong related trash talk. Apparently, Walton and Gasol were the two best ping-pong players on the Lakers when they played together from 2008 to 2012. Gasol's wingspan was a problem for Walton, who often thought he had the Spaniard beat, only to fall victim to an improbable return. Walton's smack Friday didn't faze Gasol. He finished with 16 points, two assists and five rebounds, and had some very nice things to say about Walton's Lakers. "They're young, talented, they're figuring things out and really playing at a high level," Gasol said. "They have a lot of guys who put the ball in the hole, they're playing really up-tempo, and they're shooting the ball really well and moving it, too. That's something that's good to see and hard to defend."
5) The Lakers will give Russell (sore knee) the day off Saturday, then reevaluate him for Sunday's game against the Chicago Bulls.
Twitter: @taniaganguli
ALSO
Knee injury keeps Lakers' D'Angelo Russell out against Spurs
Lakers keep up with Spurs, but just can't beat San Antonio's veteran experience
Gregg Popovich feels older with no Kobe Bryant or Tim Duncan on court for Lakers-Spurs game
---
All things Lakers, all the time.
Get all the Lakers news you need in Dan Woike's weekly newsletter.
You may occasionally receive promotional content from the Los Angeles Times.