Lakers show growth, but Russell Westbrook leads the Thunder to a 113-96 victory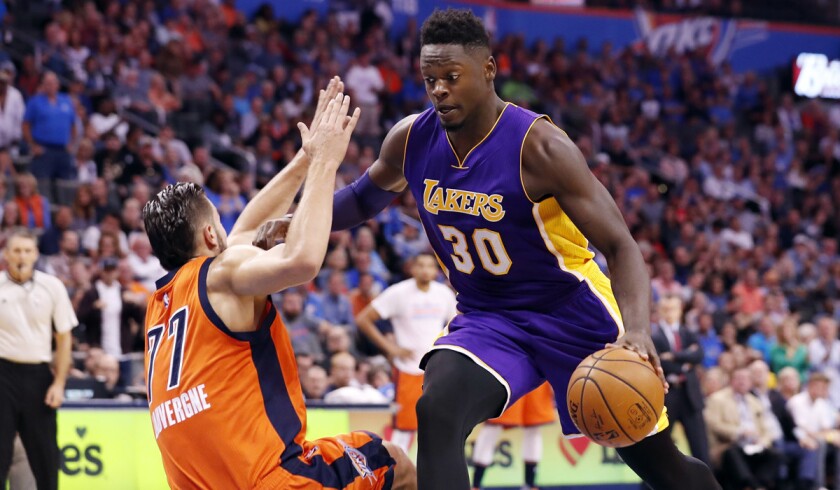 Reporting from Oklahoma City —
D'Angelo Russell fed Julius Randle for a layup. Nick Young made three free throws, then stole the ball back on a bad pass by Thunder star Russell Westbrook. He followed that feat with a three-pointer, bringing the Lakers to within four points of the Oklahoma City Thunder with about 4 1/2 minutes left in the game.
In those moments, Lakers Coach Luke Walton saw growth from his team. Ultimately, it wasn't enough.
The Lakers lost to the Thunder, 113-96, on Sunday as Westbrook took over the fourth quarter. The former UCLA star finished with his second triple-double of the season, scoring 33 points (15 in the final quarter) with 16 assists and 12 rebounds.
"He had a masterful game tonight," Walton said. "The way he was getting everyone involved. Shooting when the shots were there. Playmaking for teammates when we were aggressive on him. He showed today why he's one of the top point guards in the world."
It wasn't the 51-point barrage that Westbrook inflicted upon the New Orleans Pelicans on Friday. But it was enough to lift the Thunder to their third win and drop the Lakers to 1-2.
Lakers point guard Russell and power forward Randle led their team with 20 points each. Randle also had nine rebounds, three assists, three steals and two turnovers. Russell finished with five rebounds, five assists, two steals and three turnovers.
The Lakers opened strong, even building an eight-point lead in the first quarter. Walton said it was the best start his team has had so far, including in preseason games.
"We just started to up the energy from the gates," said guard Nick Young, who was partially responsible for Westbrook on defense. "That's something we needed to do."
Their early defense against Westbrook was effective, reflecting a joint effort by Young, Russell, Jordan Clarkson and Luol Deng. But while he waited for his opportunities to score, Westbrook found open looks for his teammates. He dished out five assists, grabbing two rebounds and blocking one shot.
Eventually Westbrook found his scoring rhythm. He made five of six three-point shots and 11 of 21 field-goal attempts overall. A lob to Andre Roberson in the third quarter resulted in a 16-point Thunder lead. Westbrook's final contributions were a three-pointer, then a 15-footer that gave the Thunder an insurmountable 17-point lead with 1 minute 49 seconds left in the game.
"Nonstop energy guy," Young said. "One-man fastbreak. He's constantly on the go. Constantly moving. Put a lot of pressure on the defense. On the bigs, the guards."
Coming into the game, the Lakers wanted to keep the Thunder out of the paint, especially Westbrook. Instead, the Thunder scored 62 points in the paint.
Oklahoma City also excelled at stealing the ball and beat the Lakers in transition constantly. The Lakers committed 22 turnovers that led to 34 Thunder points. By contrast, 20 Thunder turnovers led to 26 Lakers points.
"That's a very athletic team," Walton said. "Part of the scouting report is we knew they liked to gamble on defense and go for steals. They have a couple individuals on that team defensively that are really good at [disrupting] passing lanes and stripping the ball. They took advantage of that."
The Lakers struggled offensively too, shooting only 40.2%, 21.9% from beyond the arc. Since the shots were open, Walton was comfortable with the Lakers' taking them.
Despite all that, the Lakers found themselves with a chance late in the fourth quarter. With Russell, Randle, Young, Lou Williams and Clarkson on the floor, the Lakers steadily chipped away at the Thunder's double-digit lead, making it a manageable four points with plenty of time to finish the job.
They couldn't.
"The guys that kind of went on that run were pretty winded by then," Walton said. "They had worked really hard to get us to that point."
Thunder center Steven Adams scored quickly. He then stole the ball from Russell, leading to a fastbreak dunk by Westbrook.
The Lakers' deficit climbed to eight and kept rising as they missed four consecutive field-goal attempts.
"Man, we were right there," Russell said. "I don't know. [Westbrook is] as good as he is for a reason. He knows how to get it done. We'll watch the film and look at it. Figure out how we can contain him better next time."
It's not something many have been able to do.
tania.ganguli@latimes.com
Twitter: @taniaganguli
---
All things Lakers, all the time.
Get all the Lakers news you need in Dan Woike's weekly newsletter.
You may occasionally receive promotional content from the Los Angeles Times.