Five takeaways from the Lakers' 108-104 win over the Oklahoma City Thunder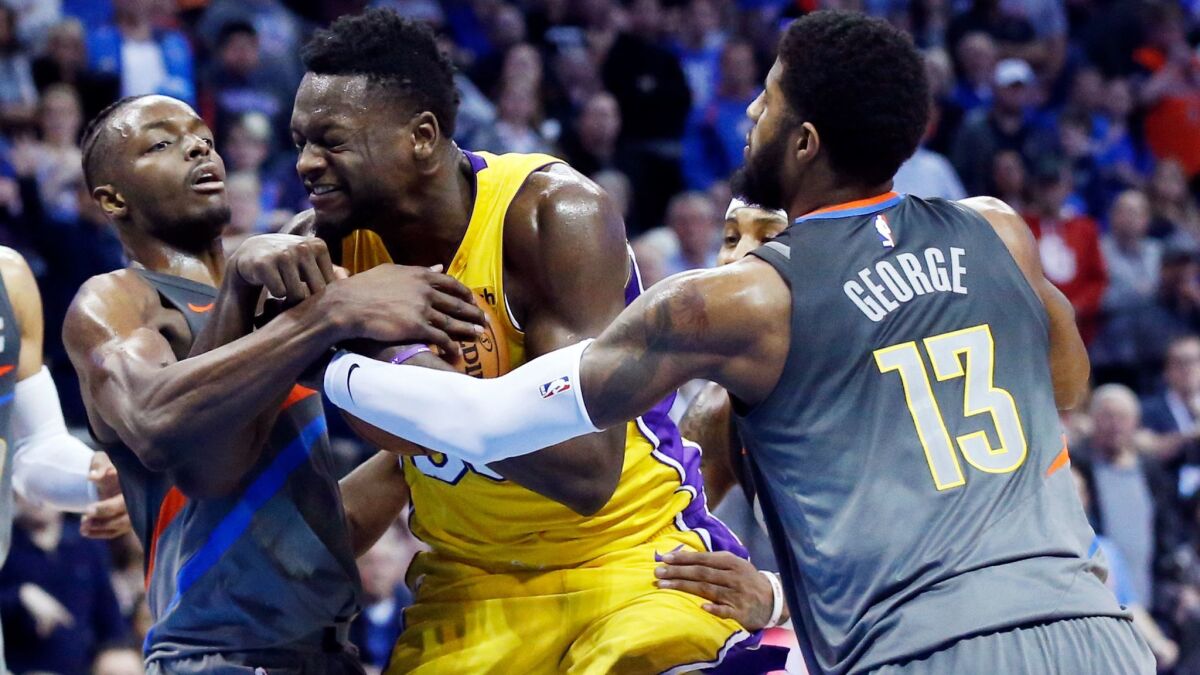 The Lakers might have started smiling and laughing a little too early in Sunday afternoon's game against the Oklahoma City Thunder, but they quickly recovered and secured one of their best wins of the season.
The other two games in the conversation are the win in Houston on Dec. 20 and their home win against the Boston Celtics.
Here are five takeaways from the Lakers' 108-104 win over the Oklahoma City Thunder.
1. Josh Hart has been something special for the Lakers in the last two games. The rookie started his second game in a row on Sunday and once again led the Lakers in rebounding. He's grabbed 25 rebounds in those games and done it as one of the smaller guys on the court. Brook Lopez smiled fondly Sunday when he said Hart had the "heart of a big."
2. Hart feels the four years he spent at Villanova prepared him for not shying away from big moments and big responsibilities. "Not to be cocky or anything like that but I come from Villanova; that's something that I'm going to praise coach [Jay] Wright about," Hart said. "He taught me how to handle certain things. He taught me never break. So not surprised or anything, just kind of know what I can do that's the biggest thing."
3. Containing Steven Adams' offensive rebounding was a big focus for the Lakers. "We just knew the last two times we played them they kicked our butt on the glass and a big part of that was Stephen Adams did a really good job," Julius Randle said. "We just tried to limit his offensive rebounds. He's the best at that in the league." He had seven offensive rebounds in their last meeting in Oklahoma and only two on Sunday.
4. There was a moment in the game when Larry Nance Jr. was about to be hit with a technical. He was called for a foul, he screamed an expletive at the ref and Luke Walton jumped in and screamed over him. Walton got the technical, his sixth of the season. Moments later, Nance walked over to thank him. "He said, 'Thank you for saving me $2,500,'" Walton said. "I said, 'No problem that's my job.'" Walton complains about officiating plenty but he doesn't want his players doing that. "I have Larry's back," he said.
5. Lopez had another solid game in which he got more playing time than usual. Lopez played 34:37 against the Thunder. That was partly a function of Oklahoma City's size and partly a function of Lopez taking advantage of the opportunity he was given. He scored 20 points, a team high, and had five rebounds and five assists.
Follow Tania Ganguli on Twitter @taniaganguli
---
All things Lakers, all the time.
Get all the Lakers news you need in Dan Woike's weekly newsletter.
You may occasionally receive promotional content from the Los Angeles Times.