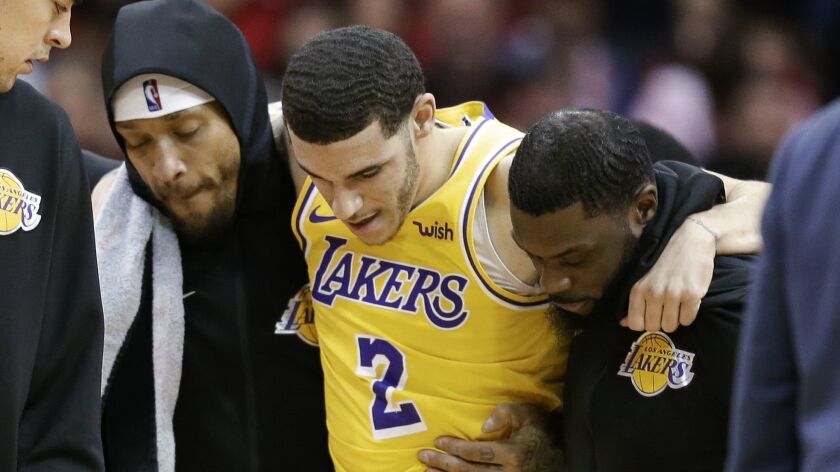 The Lakers have decided not to extend the contract of head athletic trainer Marco Nunez, moving on from the man who replaced legendary trainer Gary Vitti in 2016.
Nunez had been with the organization since the 2008-09 season, first as an assistant to Vitti.
The news broke during the Lakers' exit interviews when players and the head coach typically speak. Sixteen players were scheduled to speak on Wednesday in the wake of Magic Johnson's abrupt resignation Tuesday as president of basketball operations, but no team executives or coach Luke Walton were on the schedule. LeBron James was scheduled to address reporters on Tuesday, but chose not to.
Injuries have frustrated the Lakers this season and as an organization they have tabbed that as their main problem. Only Kentavious Caldwell-Pope played in all 82 games.
James missed 18 games with a groin injury and 27 overall as the Lakers tried to preserve his health. Rajon Rondo missed 36 games and had two hand surgeries. Lonzo Ball missed 35 with a severe left ankle sprain.
"I know they have my best interest [in mind,]" Ball said about the Lakers' training staff. "Certain things just come up later. … It sucks. I can't really say too much other than that. I don't like being hurt."
Sign up for our Lakers newsletter »
Ball missed 30 games last season because of knee and shoulder injuries.
This season, Brandon Ingram also missed 30 games. He sustained an ankle injury early in the season and he had a blood clot that ended his season in early March.
James' injury began a spiral for the Lakers, who were in fourth place in the Western Conference after defeating defending champion Golden State on Christmas in Oakland. They went 6-11 while James was out and began to panic about their future. The trade deadline caused an erosion of trust in the locker room both among players and between players and the front office.
When James became healthy, he thought the Lakers would return to the level at which they played before his injury, but they never did.
Players repeated the mantra that injuries derailed their season during their exit interviews on Wednesday, but none blamed Nunez.
"He was doing a great job," said Lance Stephenson, who missed games late in the season because of a sprained left second toe. "He's been doing a great job. It's definitely tough because that was my guy. I worked with him a lot. He did an amazing job with me."
Follow Tania Ganguli on Twitter @taniaganguli
---