Kentavious Caldwell-Pope's play a showcase for Lakers — and other teams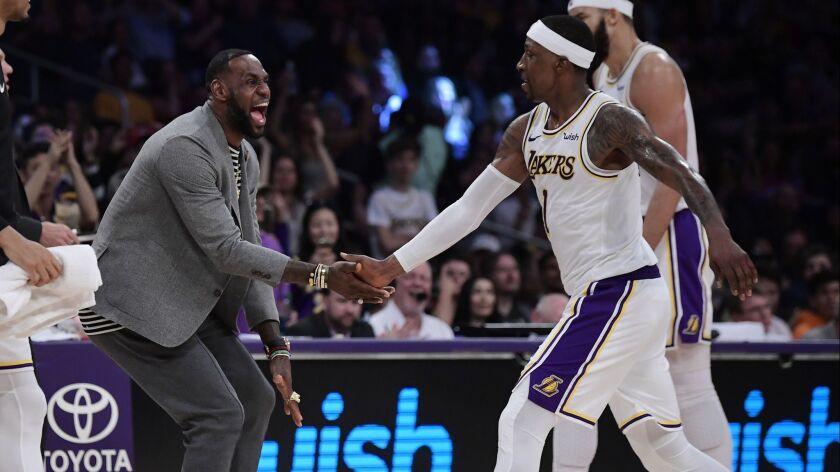 Essentially, Kentavious Caldwell-Pope is auditioning for his next job.
He's been employed by the Lakers for the last two years, playing on one-year contracts and making $12 million this season, but his future uncertain.
There are 29 other clubs in the NBA and Caldwell-Pope is showcasing his skills for them, too.
"Man, I'm just out there playing," Caldwell-Pope said Sunday night. "Yes, I'll be looking for a job for next season, but my job right now is to play my best basketball for the Lakers and then we'll see where things stand."
The 26-year-old guard had another strong performance Sunday against the Utah Jazz, scoring 32 points and adding six rebounds and six assists.
He had 18 points in the fourth quarter, missing just one of eight shots, and four assists as the Lakers rallied to win.
Caldwell-Pope was a highlight reel in the fourth quarter, helping seal the win with a couple of big plays: a high-arching shot over 7-foot-1 center Rudy Gobert and and a lob past Gobert that Lakers center JaVale McGee threw down for a dunk with 15.6 seconds left.
"I wish I was playing like this at the start of the season," Caldwell-Pope said. "But now, we just want to finish strong and just go out there and play free and just have fun."
Caldwell-Pope was on the Staples Center court a lot against the Jazz, playing a season-high 41 minutes and 38 seconds. He played all 12 minutes in the fourth quarter, often initiating the offense from the point.
"I haven't played 42 minutes in a long time," Caldwell-Pope said, smiling. "But I feel good. It's more minutes. I'm getting an opportunity so I'm going out there and I'm just playing. I'm still showing them what I can do and what they brought me back for."
Caldwell-Pope has been on a tear in his last 10 games, averaging 19 points, 4.5 rebounds and 2.7 assists. His 32 points against Utah were his second-highest output this season, behind the 35 he scored against Minnesota last month. For the season, he's averaging 11.2 points in 24.6 minutes.
"He's still fighting and he had an absolutely brilliant game, especially down the stretch," coach Luke Walton said. "He kind of carried us."
The Lakers, despite being eliminated from playoff contention and playing mostly players from the South Bay Lakers, have won six of nine games, including consecutive victories over playoff-bound teams, the Clippers and Jazz.
The Lakers will look to end the season with a three-game winning streak, which would be their longest since winning four consecutive games in early December. They play their season finale Tuesday night against Portland at Staples Center.
And though the Lakers have had a lot of adversity this season, their 37-44 record is their best in the last six seasons.
"You got to tip your hat to the way guys are really competing out there," Walton said.
Up next
VS. PORTLAND
When: Tuesday, 7:30 p.m.
On the air: TV — Spectrum SportsNet; Radio — 710, 1330.
Update: The Trail Blazers (51-29), despite missing starting center Jusuf Nurkic (season-ending leg surgery), are fourth in the West, two games ahead of the Jazz with two left. All-Star guard Damian Lillard leads the Trail Blazers in scoring (25.9) and assists (6.9).
Twitter: @BA_Turner
---
All things Lakers, all the time.
Get all the Lakers news you need in Tania Ganguli's weekly newsletter.
You may occasionally receive promotional content from the Los Angeles Times.