Lakers learn about kinks of the road in loss to Jazz, 96-89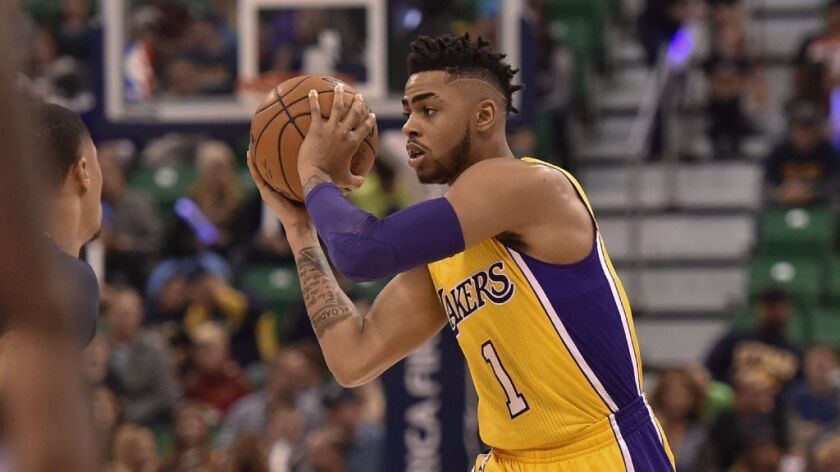 Reporting from Salt Lake City —
When they won, they focused on the lessons from that win. When they lost, 96-89, to the Utah Jazz on Friday night, the Lakers also homed in on what lessons they could learn.
The biggest: Even a hint of complacency can be crushing on the road, any missed opportunity can come back to haunt you.
"We gotta go take road wins," Lakers forward Julius Randle said. "Stay true to our character, who we are. Just gotta take wins."
The Lakers fell to 1-1 with the loss at Vivint Smart Home Arena, in their first road game of the season. Lou Williams led the Lakers with 17 points, while small forward Luol Deng had 12 points and 12 rebounds. Five Jazz players hit double digits, led by guard George Hill, who finished with 23 points.
Where the Lakers played for a raucous home crowd in their season opener, their energy had to come from within Friday. Coach Luke Walton warned his players about that effect in the day between games, when he urged them to quickly forget their season-opening win over the Houston Rockets.
Friday's game provided a different challenge. Their shots didn't fall as easily as they did in the opener. The game was more physical and more contentious. Foul calls didn't go their way. The Lakers were called for 29 fouls, while the Jazz were called for 18.
"Utah's a tough team at home," Lakers Coach Luke Walton said. "They're well coached. We missed some good looks. They shot 40 free throws, which is a little ridiculous to me but that's kind of what happens when you play here in Utah."
Julius Randle and Timofey Mozgov both picked up technical fouls, Mozgov after his fifth personal foul.
"He thought I was trying to throw the ball at [Utah's Dante] Exum," Randle said. "I was just trying to toss it back to the ref. Exum happened to be there."
At halftime, the Lakers faced a five-point deficit, which grew quickly to 11 as the Lakers failed to score for nearly the first four minutes of the third quarter. That's when Walton benched all of his remaining starters and gave the keys to his second unit of Marcelo Huertas, Jordan Clarkson, Tarik Black, Williams and Larry Nance Jr.
With that group, the Lakers clawed back into the game and were tied at 65 heading into the fourth quarter.
"I think that's the way we're gonna have to win," Williams said. "That's the way we're gonna have to compete. We're going to win by committee."
D'Angelo Russell did a nice job creating shots for his teammates, but he missed his first seven shots, finally making his eighth attempt in the fourth quarter.
That first make came at an opportune time. Russell's three-pointer gave the Lakers a 73-72 lead late in the fourth quarter. Deng followed with a three-pointer to give the Lakers a 76-72 lead. It was the last time the Lakers led, as the Jazz went on an 11-0 run that was too much for L.A. to overcome.
After the game Russell pulled Randle aside to offer some encouragement.
"This game is behind us now," Russell said. "It hurt. But there's nothing we can do about it. We gotta stay positive and build off of it as a team. When we lose we can't separated, that's when we gotta come together. I was just trying to preach that."
From their coach, they got a similar message. He also wanted them to understand how this felt.
"That it sucks to lose," Walton said, on what he wanted his young team to take away. "Honestly. We played well enough to have a chance. I told the guys. I don't think we gave this game away by any means. Utah earned that win tonight. They should have won the game. They played better than we did. But we didn't go take it. On the road we have to learn that when you're in a road game and you have the opportunity to take it, you have to go take it. We didn't do that tonight."
Follow Tania Ganguli on Twitter @taniaganguli
---
All things Lakers, all the time.
Get all the Lakers news you need in Dan Woike's weekly newsletter.
You may occasionally receive promotional content from the Los Angeles Times.