Trainer Gary Vitti is another longtime Laker who's retiring after the season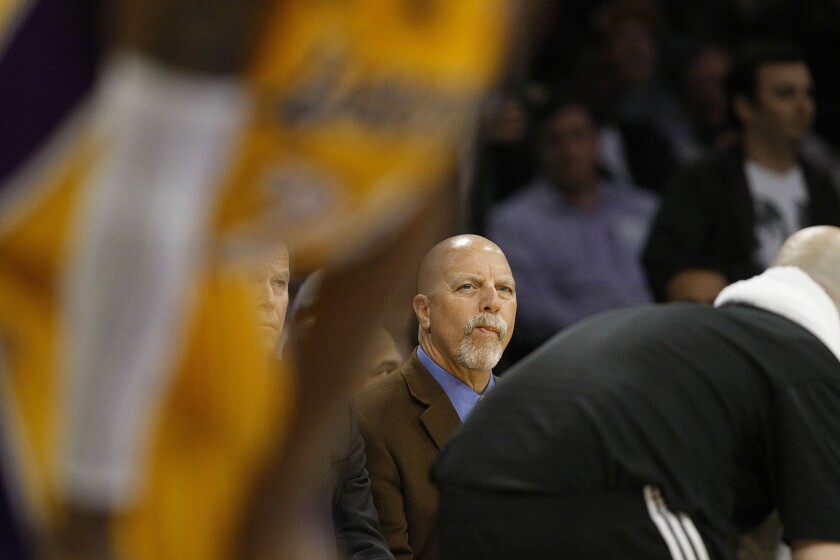 Gary Vitti isn't the face of the Lakers franchise. He's the one fixing it up if an errant elbow gets thrown.
He's also retiring after this season, though not as many people know it. Take Kobe Bryant's 20-year NBA career, add 12 and you get Vitti's years of service as the Lakers' athletic trainer.
The road has become familiar, if not a little wearisome, for Vitti, who has experienced 12 NBA Finals and eight championships since joining the Lakers in 1984.
This season has been tough for everybody on the team. Vitti is not immune, despite the almost impeccable physical health of the team through one-fourth of the season, Bryant's sapped legs notwithstanding.
The Lakers (3-18) are off to their worst start ever through 21 games.
"I've always heard players say, 'I just want to win one and then I can retire.' I've always thought the opposite. Winning makes you want to stick around and stay longer in the NBA. It's the losing that wears you out," Vitti said.
Like most people, Vitti talks about the Lakers in two distinct segments — the young players and Bryant. Even though D'Angelo Russell and Julius Randle were just dropped to reserve status, Vitti likes what he sees of them, along with Jordan Clarkson, Larry Nance Jr. and little-known Anthony Brown.
"As bad as our win-loss record is, I really like these kids," he said. "It's the first time in my career I've had all these rookies. They do work hard. They want to be good. Our record is not from lack of effort."
He reserved some biting humor for Bryant. Two decades of knowing each other allows plenty of leeway.
Vitti chuckled at Bryant's apparent surprise when the retiring All-Star said, "I thought everybody hated me," after bathing in the warmth of adoring road crowds.
"They do hate him," Vitti said. "He shouldn't confuse respect with love. I think they really respect what he does on the basketball court and they're showing that respect back.
"I think it was the same thing with Kareem [Abdul-Jabbar]. He was never very loved but on his final tour he got a standing ovation in every city we went to. He was respected as a true champion and I think that's the same thing with Kobe."
Vitti, 61, will remain with the team as a consultant for two years after this season but will soon be done traveling as a full-timer.
He tries to remember the franchise's strong points, when seasons came down to successful Game 7s, not lottery draws. He embraces the parallel of leaving at the same time as Bryant.
"He's like me. We started here. We'll finish here," Vitti said. "I don't want to go out like this either. It's just the way it ended up. We talk more about all the great stuff that happened than what's happening right now."
Of all the aches and pains Bryant overcame, one stood out in Vitti's mind — when Bryant was sick in Sacramento for a playoff game against the Kings in 2002. The culprit might have been a bacon cheeseburger or cheesecake ordered for room service. Or maybe it was simply a viral illness, Vitti said.
Vitti remembered the effort even though the Lakers lost and Bryant made nine of 21 shots.
"He was curled up like a cooked shrimp," Vitti said. "You know when your stomach is cramping so bad, you can't even straighten out? That was him."
As the Lakers near the end of an eight-game trip, their longest since 2008, it's easy for Vitti to remember how the team used to travel.
Long before charter flights, the Lakers piled into commercial planes. Jerry Buss, the late owner of the team, tried to fly everybody in first class but some players had to go in coach class because of lack of seats.
There was a pecking order — veterans in first class, rookies in the cheaper seats — but that's not what Vitti remembered about the players in coach class.
"Dr. Buss was so generous that he would buy three seats for two guys so they could sit in the aisle and window with nobody in the middle," Vitti said. "People were angry sometimes, would say they were empty seats. Well, they really weren't empty. We bought them. Paid full price for them."
Vitti will soon tape his last ankle. His days of sitting in the first seat on the Lakers' bench are almost over.
Like Bryant, he's at peace with his decision.
"Thirty-two years is a good run, you know?" he said.
Follow Mike Bresnahan on Facebook and Twitter @Mike_Bresnahan
---
All things Lakers, all the time.
Get all the Lakers news you need in Tania Ganguli's weekly newsletter.
You may occasionally receive promotional content from the Los Angeles Times.