Through the elation within the organization about signing LeBron James, one question has hovered over the Lakers for the last two months.
What does this mean for coach Luke Walton?
So far three of the Lakers' top executives have made clear they believe in Walton's ability to properly guide the team. And they won't panic, they say, if the Lakers start poorly.
"As I was talking to Luke … we said don't worry about if we get out to a bad start," said Magic Johnson, the Lakers' president of basketball operations. "We have seen that with LeBron going to Miami, and we have seen that when he came back to Cleveland. He is going to struggle because there are so many new moving parts. But eventually we are going to get it and we are going to be really a good team."
Johnson's thoughts align with Lakers controlling owner Jeanie Buss.
"Luke is such a natural, he is," Buss said in July. "His ability to connect with people. I'm not concerned at all. … He's wise beyond his years. He'll be terrific. The players like to play for him. I'm looking forward to seeing them work with him."
Both times James previously changed teams in free agency, his new team took time to jell. When the 2010-11 Miami Heat lost eight of their first 20 games, panic ensued. Questions arose about Erik Spoelstra's job security, though the Heat stayed with him. Miami finished the season 58-24 and made it to the NBA Finals. James and Spoelstra won two titles together.
The 2014 Cleveland Cavaliers, James' team after four seasons in Miami, lost three of their first four games and seven of their first 12. They too made it to the NBA Finals, losing to the Golden State Warriors.
Walton's role has come under scrutiny around the league already — nothing new for the third-year coach.
He started his NBA coaching career with the Warriors as an assistant to Steve Kerr during the 2014-15 season, when the Warriors won the first of three championships in four seasons. Walton served as interim coach through the first half of the 2015-16 season, leading Golden State to a 39-4 record.
Then-Lakers general manager Mitch Kupchak and then-executive vice president of basketball operations Jim Buss hired Walton to coach the Lakers the following year.
This summer, rumors swirled from various outlets about Walton's standing within the organization.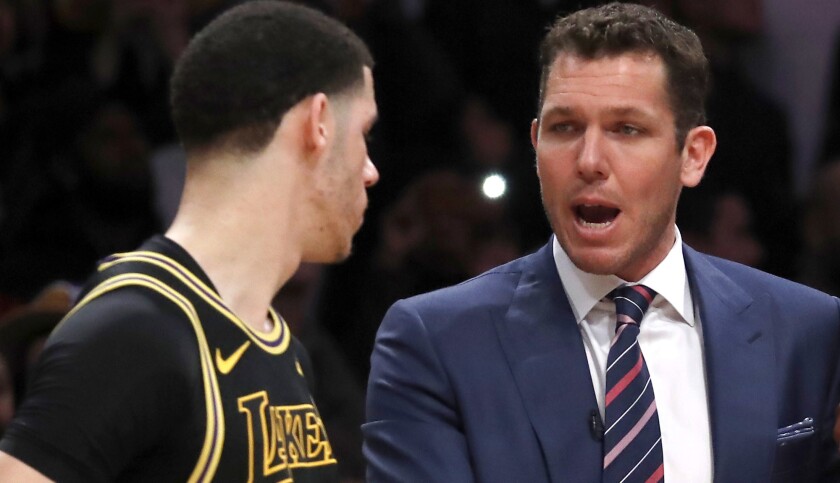 Then in July the Lakers' roster changed dramatically. They added four veteran free agents, all with strong personalities who have at times challenged their coaches. They also added the greatest player in the world, which comes with its own pressure.
"I think that Luke has been working very hard to figure out how to utilize all the pieces," Johnson said. "Luke's a winner. He's been a winner as a player, he's a winner up at Golden State. He'll be a winner here too. People think it's a problem when you have a lot of talent. No, we want a lot of talent. I think a coach wants a lot of talent. He'll know how to put them in a winning position."
To prepare, Walton had breakfast with Cavaliers coach Tyronn Lue, who had just spent 21/2 seasons with James in Cleveland. Lue began his tenure in January 2016, after David Blatt was fired. Led by James, the Cavaliers won a championship that spring.
Though that outcome is unlikely in Walton's first season coaching James, he goesinto it with management's support.
"He's young, he's played at a high level, won championships," general manager Rob Pelinka said. "Has a great way of communicating with people. Has a genuine air and keeping guys engaged. We think our roster and its strengths actually lines up perfectly with our coach and his strengths."
Follow Tania Ganguli on Twitter @taniaganguli
---