Michael Beasley's visit to Lakers game a bright spot in a big loss to Wizards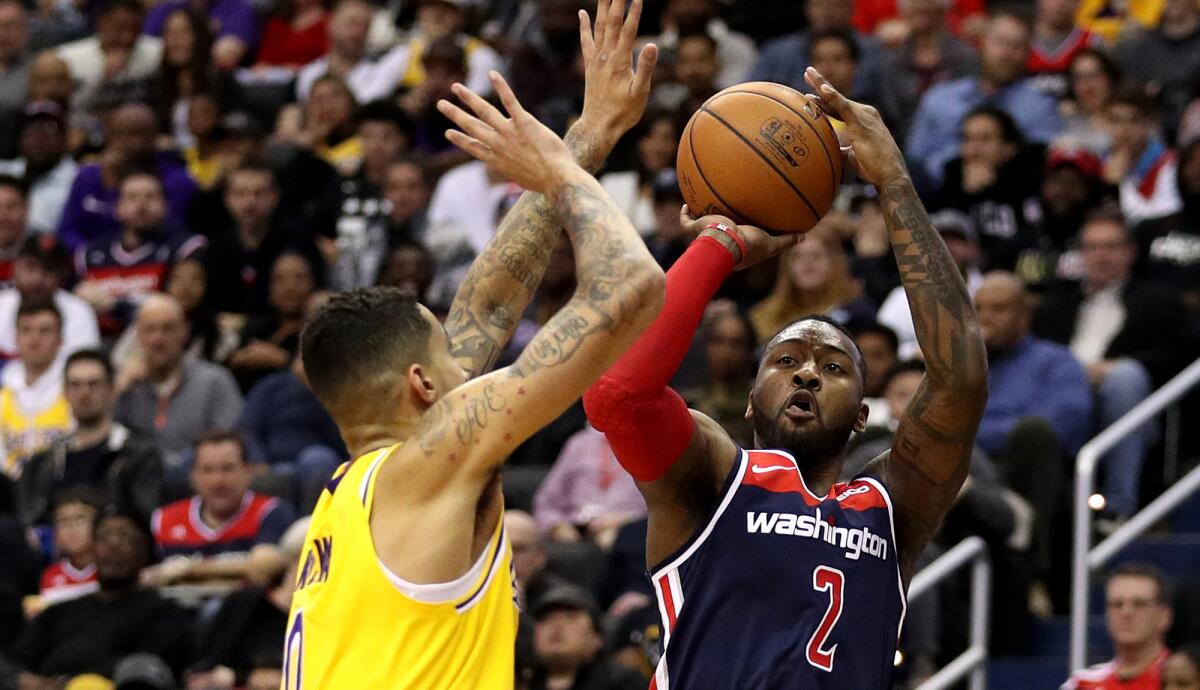 Reporting from Washington —
There was a surprise addition to the Lakers' bench Sunday evening in Washington.
Michael Beasley appeared, having been away from the team for eight days. His mother, Fatima Smith, has been ill and she wanted to see his team play. So Beasley brought her to the game and watched with her from a suite.
Then, for a few minutes at the start of the second half, Beasley sat on the bench with his teammates. After a while, he returned to be with his mother.
"I was surprised," Lakers rookie Moe Wagner said of seeing Beasley. "I was really happy. He's a really good guy, really good team guy, and like I said, we are very close, so it's not the same without him."
Seeing Beasley offered a bright spot for the Lakers, and some perspective as they slogged through Sunday night's 128-110 loss to the Wizards.
A night after their largest margin of victory this season, defeating the Hornets in Charlotte by 28 points, the Lakers (18-12) came out flat and never recovered. The Wizards (12-18) routed them behind 40 points from John Wall and 25 points from Bradley Beal.
"We take our jobs very serious but we know that there's always real life happening and that's always the most important thing," Lakers coach Luke Walton said. "We also know we're lucky to have our jobs and we have a group that really enjoys each other and coming to work. But Michael obviously going through real-life stuff is more important than any basketball."
Wall had 28 first-half points and at halftime the Lakers trailed by 20. Despite the Wizards maintaining a large lead, Beal and Wall remained in the game until late in the fourth quarter.
Kentavious Caldwell-Pope led the Lakers with 25 points on nine-of-12 shooting after making each of his first seven shots. Kyle Kuzma scored 20 points, making nine of 15 shots.
A night after his 75th career triple-double, LeBron James scored a season-low 13 points with six rebounds and three assists.
The Lakers did not have center JaVale McGee, who had been dealing with the flu all weekend, and started Tyson Chandler in his place.
"We just didn't have our energy and obviously we didn't have our depth. We got four out of our top 11 guys, two of them that's not with the team, obviously BI and Do," James said, referring to injured Brandon Ingram and Rajon Rondo.
"JaVale was a late scratch. And Beas. When you're trying to expend a lot of energy and you don't have a lot of bodies, it was just tough on us tonight."
Beasley had not been with the team since Dec. 8, when he left from San Antonio to be with his mother, who has been dealing with a serious illness throughout the season.
Beasley grew up in the D.C. area and has spent several games away from the team to be with his mother. The Lakers have allowed him all the time he needs.
"I couldn't imagine going through it especially with the relationship I have with my mother," Kuzma said. "I know he has the same. We're all here for him, giving him a helping hand for whatever he has. It was just great to see him."
The first time Beasley left the team was Oct. 29 before the Lakers played Minnesota. Beasley returned six days later. On Nov. 11, he left less than an hour before the Lakers played the Atlanta Hawks and returned the next day.
Beasley has played in just 10 games this season, but before his most recent departure, he played in six consecutive games. His best outing was Dec. 2 against the Phoenix Suns when he made six of nine shots and scored 14 points. After that game, James said he just hoped the team could be a bright spot for Beasley.
On Sunday night, Beasley was one for them.
"It's happy to have our brother back, see a smile on his face," James said. "The game of basketball's done so much for him and for him to be able to get away from whatever situation he's in, I know it's a bright spot for him. I just try to give him respect. I'm ready for him when he comes back, that's for sure, but it's all family time."
Follow Tania Ganguli on Twitter @taniaganguli
All things Lakers, all the time.
Get all the Lakers news you need in Dan Woike's weekly newsletter.
You may occasionally receive promotional content from the Los Angeles Times.