Luke Walton: How LeBron James' comments are interpreted should not be a team focus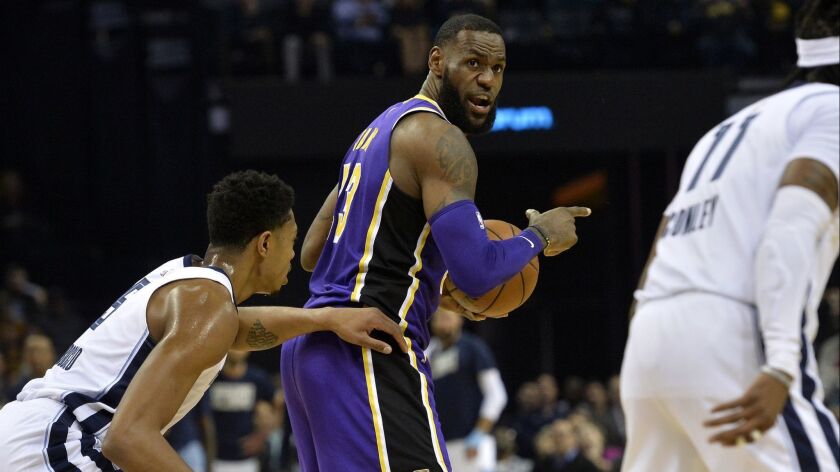 After road losses to Memphis and New Orleans, two teams unlikely to make the playoffs, the Lakers returned home to reset.
The previous several days involved dissection of their future as a team and of LeBron James' comments after games.
Lakers coach Luke Walton often says he wants his players to avoid speculation on social media and outsiders' perspectives on their inner team dynamics. It was noted to Walton that players who spend time on social media might find what goes viral, and the assumptions attached to those viral events, difficult to avoid.
"Where is our mind? It shouldn't be on that," Walton said. "Those guys know LeBron, they've got good relationships with LeBron, the culture we try to build down here is supportive of each other. That stuff's gonna happen, but we just gotta ... do our job and not let that seep in to the way we play for each other and with each other."
James was asked after Wednesday's shootaround if his words in news conferences are a reflection of what he's already told his teammates, or if they just filter back to his team.
"It's hard to kind of [determine] what I say to you guys that filters back to my guys," James said. As for his team, "I think we try to prepare every day — and we do prepare, not try: We prepare every day for our next challenge, and we did that today. And I love the positive mindset that we have, even with the struggle that we've had the last 10 games. I like where we are as a ballclub today with our mindset and hopefully going forward."
Often the meaning of his words gets lost in translation.
On Monday night, after the Lakers' five-point loss to Memphis, James was asked whether the playoff push was a distraction for the team.
"At this point, if you are still allowing distractions to affect how the way you play then this is the wrong franchise to be a part of and you should just come and be like, 'Listen, I don't [think this is for me]. I cannot do this,'" James said. "Like, seriously, if you're distracted by playoff pushes out of all the stuff that's been talked about this year, nah. Just come and do your job. We do our job at a high level and that's not a distraction. That's what you want. That's what you want every game. You want to feel like you're fighting for something."
Sign up for our Lakers newsletter »
A video clip of James' answer went viral, with various outlets wondering on social media whether James was referring to a specific teammate or teammates.
"That's why I … encourage a lot of our players not to pay attention," Walton said. "Because a lot of it will get twisted and headlines will read something totally different than what was said."
Follow Tania Ganguli on Twitter @taniaganguli
---
All things Lakers, all the time.
Get all the Lakers news you need in Tania Ganguli's weekly newsletter.
You may occasionally receive promotional content from the Los Angeles Times.