The Lakers sign Make-A-Wish recipient Yitzi Teichman for one night, giving them a win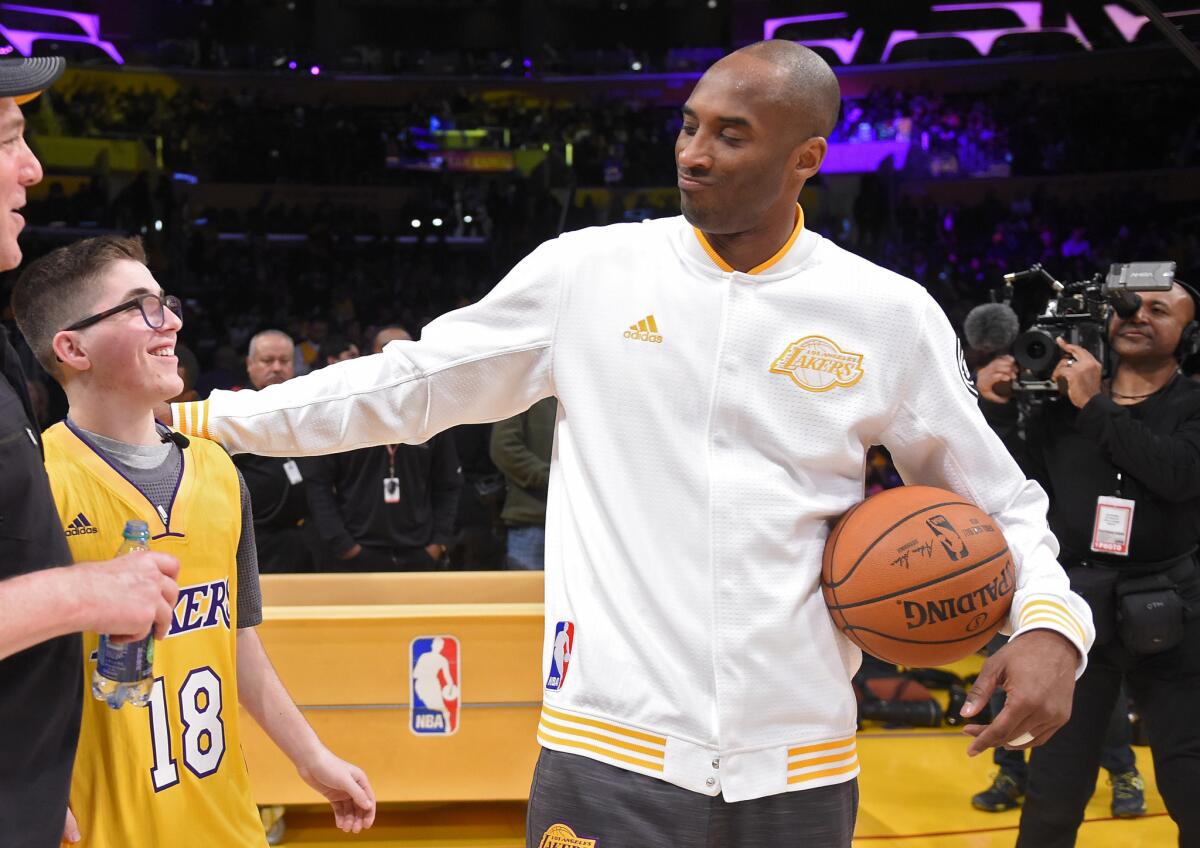 As the team lost its 10th straight game, falling to the Charlotte Hornets on Sunday night, one member of the Lakers was all smiles.
Yitzi Teichman, ceremonially signed to a one-day contract before the game, left the Lakers' locker room with a bag full of his teammates' sneakers, and an ear-to-ear grin.
"I've got all the players' gaming shoes. Kobe [Bryant] signed a ball. Kobe signed shoes," said Teichman. "My room is going to look nice when I get home."
Teichman is a Valley Village native livng in Baltimore -- and a teenager fighting brain cancer. He was brought to the Lakers by the Make-A-Wish Foundation.
"I can't thank them enough. This is not even possible, and they made it possible," he said. "They were like, 'What do you want to do for your wish?'
"It was pretty easy, I want to be a Laker," he continued. "I didn't have much of a shot considering my height; so it was either I've got to be good at basketball or get cancer. So, I went with the cancer route."
Teichman sat in on the team's pregame meeting, and shot around as the Lakers readied for the Hornets.
"I talked to him a little bit," said second-year forward Julius Randle. "He hit a three-point shot when we were warming up."
Earlier in the evening, Teichman sat with Lakers General Manager Mitch Kupchak, signing his contract and posing for photos with his No. 18 jersey -- once worn by two-time champion Sasha Vujacic.
"Well I'm 18 years old and I'm Jewish and 18 is Chai" in Hebrew, explained Teichman, not much younger than 19-year-old Lakers rookie D'Angelo Russell.
Kupchak introduced the signing to the media, with Teichman's parents and seven siblings in attendance.
"He made a comment about, 'It'd be hard for me not to improve your team,'" said Kupchak. "I'm only kidding. He didn't say that."
Teichman became a Lakers fan very early in life.
"I was born," was the starting point, explained Teichman. "My first word was Kobe."
Teichman almost went blind when a tumor in his brain started bleeding, damaging a nerve in his face.
He underwent surgery at Johns Hopkins, followed by cancer treatment.
"A lot of good happened.... People think this is crazy, but it needed to happen, I guess. I'd rather it happen to me than anybody else. I can deal with it, a lot of people can't," said Teichman. "If it had been one of my siblings or one my parents, I wouldn't have known how to deal with it."
Yes, the Lakers are facing adversity this season -- but nothing like what Teichman has battled since his diagnosis over the last year.
Now Teichman is back in high school, deciding between college acceptances from the University of Maryland and Towson University.
For a day, he was a Laker.
Did he expect to hit the court against Charlotte?
"It's up to the coach," Teichman said. "I'm good on the bench too though. It's where I find myself in most sports."
"They should have put him in," said Nick Young after the game. "Could they have put him in?"
No, Teichman technically wasn't signed to play on the team. The Lakers have a full roster of 15 players. The shortest contract he could sign would be for 10 days at nearly $31,000 and he'd have to go through the draft process first.
None of that mattered on Sunday night.
"It was awesome. He was just a part of the crew," said Bryant. "He came in here and just hung out. He sat next to me. He was here for the pre-game, he was here for halftime, post-game. He fit in very well."
Teichman held up a pair of Randle's shoes in the locker room.
"They must weigh 10 pounds," he said.
What was the takeaway message from his Lakers teammates?
"Keep fighting. Never give up. Stay strong," said Teichman. "Especially in such a bad season, these guys know what it's like to go through tough times."
"That's the man right here," interrupted Bryant, passing by on his way out of Staples Center. "Safe travels, buddy."
"All right, see you Kob," replied Teichman, clearly comfortable enough to refer to Bryant by nickname.
The Lakers difficult slog through a lost season continued, as the team fell to 9-41 after their loss to the Hornets, but the night itself was a mitzvah.
What's Teichman's approach through his difficult journey?
"Always make jokes. Always keep smiling," he said. "When things get awkward, just keep being funny."
Email Eric Pincus at eric.pincus@gmail.com and follow him on Twitter @EricPincus.
MORE LAKERS NEWS
Tarik Black helps the D-Fenders improve to 15-14
Happy memories of Marge Hearn, 'first lady of the Lakers'
Lakers keep putting the 'L' in L.A., losing their 10th in a row to tie franchise record
All things Lakers, all the time.
Get all the Lakers news you need in Dan Woike's weekly newsletter.
You may occasionally receive promotional content from the Los Angeles Times.