Lakers' Byron Scott says D'Angelo Russell is getting comfortable in role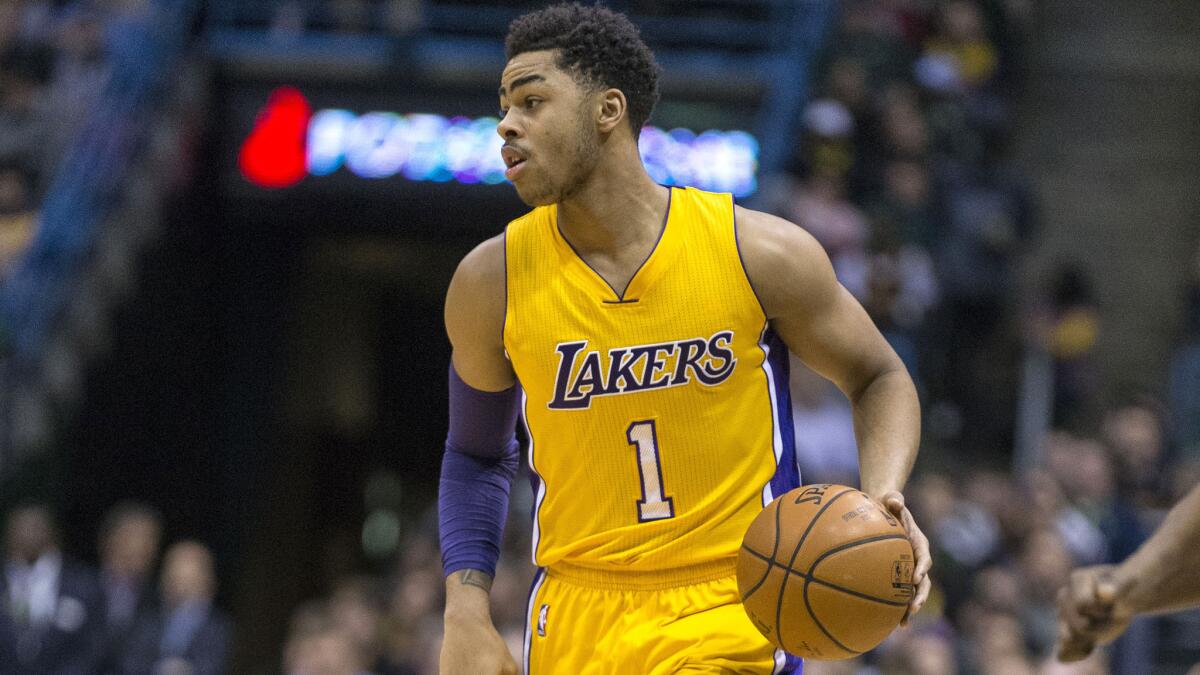 In the eyes of Lakers rookie point guard D'Angelo Russell, he has been given more freedom to operate the offense since he became a starter again five games ago.
When Lakers Coach Byron Scott was asked about Russell's comments after practice Sunday, Scott actually chuckled when talking about loosening the reins on his young fella.
"I don't think I really loosened it up," Scott said. "I just think he's getting more comfortable in his role. I don't feel I've really loosened it that much. I don't think it's been that tight in the first place. But I feel that he is getting more comfortable and I think his confidence is growing with some of the things that we're doing.
"Like I've said, each month he seems to get better and better and I think a lot of that is because of repetition, gaining some experience and then obviously a lot is his confidence in himself. When all of a sudden you start playing a little bit better, you start feeling better about yourself. Like I said, I like where he is right now."
Never one to lack confidence anyway, Russell does appear to be playing with more of a free mind since he was reinserted into the lineup.
In those five games as a starter, Russell has averaged 15.2 points on 49.01% shooting, 55.5% on three-pointers.
"Obviously, the basis is always started here in practice," Scott said. "Then the game has kind of been the end result. As far as today in practice, he was really good as far as his tempo and pushing the ball, setting screens and just doing a lot of little things that I'm asking him and Jordan [Clarkson] and all our guys to do.
"He did a better job today. Now it's just seeing if he can take it from the practice court to the basketball court on game night. That's always been our biggest challenge to me. We've had some great practices and then we come out and we lay an egg. So it's just a matter of guys being able to take it from here [at practice] to the big stage."
Bryant still recovering from injury
Kobe Bryant didn't practice the last two days because of a sore right shoulder that forced him to miss Friday night's game against the Memphis Grizzlies.
Scott said he expects to see Bryant at the team's practice facility Monday getting treatment and that "it's still to be decided" whether his star will play Tuesday night when the Lakers play the Brooklyn Nets at Staples Center.
"I think there's a good chance he plays Tuesday and Wednesday [at Denver]," Scott said.
Follow Broderick Turner on Twitter: @BA_Turner
All things Lakers, all the time.
Get all the Lakers news you need in Dan Woike's weekly newsletter.
You may occasionally receive promotional content from the Los Angeles Times.