Lakers' Lonzo Ball suing Big Baller Brand co-founder alleging fraud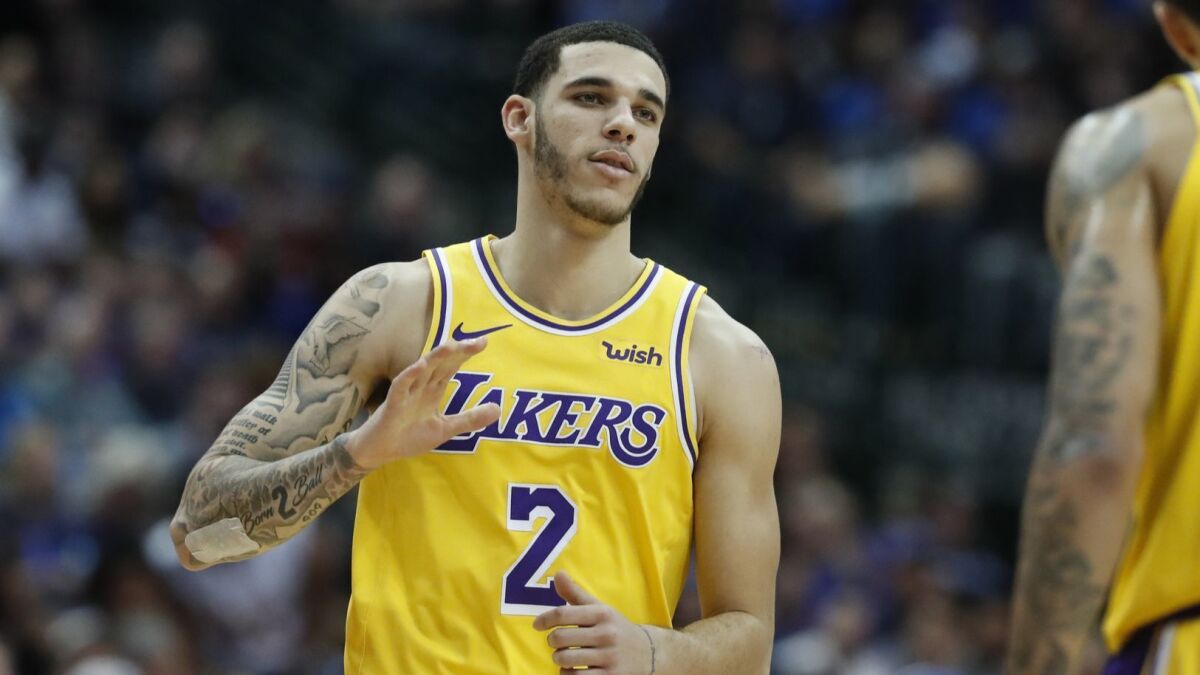 Big Baller Brand and Lonzo Ball are suing Gregory Alan Foster, a co-founder of the Lakers guard's shoe and clothing line, alleging fraud and breach of fiduciary duties, in hopes of recovering more than $2 million in damages.
The complaint, which was filed Tuesday to the Los Angeles County Superior Court, alleges that Foster conspired to take millions of dollars and used those funds to buy property in Ethiopia. It adds that Foster mishandled tax filings and failed to distribute profits from Big Baller Brand to Ball. When confronted with these accusations, Foster threatened "to publicly disseminate false and misleading information" about the family, the lawsuit says.
An attempt to reach Foster on his cellphone Tuesday went straight to voicemail. Ball was with the Lakers in Oklahoma City but was not available to reporters.
According to the complaint, Foster made cash withdrawals totaling at least $1.5 million between May 2016 and September 2018, but refused repeated requests to explain why he withdrew the money or account for the missing funds.
Foster's company, Marathon Consulting Inc., also allegedly received payments of $475,000 from Big Baller Brand between February 2017 and July 2018. The complaint says Foster initiated those payments and notated that they were for "expense reimbursements."
Ball and Big Baller Brand are not just alleging that Foster took money. Their complaint also says Foster arranged for loans to be taken out under Ball's name and that of a company, Family Matters LLC., affiliated with Ball, that included "exorbitant financing charges that were paid in whole or in part to Foster without Ball's knowledge or consent." As an example, the complaint cites eight loans arranged by Foster whose financing fees add up to nearly $950,000.
Although Foster was the registering agent for Big Baller Brand and gave himself 16.33% of the company, the lawsuit says Ball, who owns 51% of the company, removed him as a manager of BBB LLC.
In a statement two weeks ago, Ball said he recently learned Foster was a convicted felon. The complaint filed by his lawyers stresses that Foster hid his criminal past from Ball and presented himself as an experienced business manager who could help him maximize his profits.
According to court records examined by The Times, Foster was convicted in 2002 of defrauding more than 70 people of nearly $4 million. He was forced to pay back most of that money and sentenced to seven years in prison. Foster served five years but violated the terms of his probation and went back to prison for five months in 2009.
He worked with a partner named Steven Clark Woods, whom he later introduced to the Ball family. Woods was entrusted to house-sit for the family.
Sign up for our Lakers newsletter »
Foster met the Balls when Lonzo was in middle school and Foster's son was in school with Lonzo. Foster developed a close relationship with LaVar Ball, who considered Foster his best friend.
Ball was first informed of Foster's activity by his financial advisor, Humble Lukanga. Ball said he empowered Lukanga, his agent Harrison Gaines and his manager Darren Moore to take a more active role in his career.
Follow Tania Ganguli on Twitter @taniaganguli
---
All things Lakers, all the time.
Get all the Lakers news you need in Dan Woike's weekly newsletter.
You may occasionally receive promotional content from the Los Angeles Times.