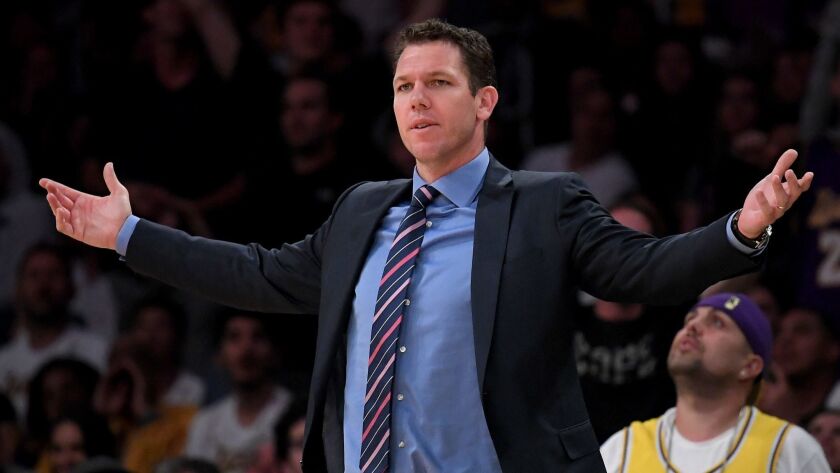 During Magic Johnson's impromptu news conference Tuesday when he resigned as the Lakers' president of basketball operations, he hinted on several occasions that he had decided to fire coach Luke Walton.
"Tomorrow I would have to affect someone's livelihood and their life," Johnson said that night, later alluding to Lakers owner Jeanie Buss. "And I thought about that. That's not fun for me. That's not who I am. And then I don't want to put her in the middle of us, even though she said, 'Hey, you do what you want to do.' I know she has great love for him (Walton). And great love for me."
Though Walton likely was surprised Johnson abruptly resigned seconds after the coach finished his last pregame media briefing of the season, he certainly wasn't shocked Johnson planned on firing him. Walton didn't expect to be the Lakers coach on Friday when the week began and there was no reason for him to continue twisting in the wind while the Lakers figured out what they wanted to do. That happened enough over the last three months.
So Friday the Lakers and Walton "mutually agreed to part ways." There was no need for him to stick around when he was expected to be the leading candidate for the Sacramento Kings head coaching job. In Sacramento he would work with a front office led by former Lakers center Vlade Divac that actually believes in him and will give him the time to develop a playoff team, which is something he never got from the Lakers.
As bad as things have been over the last six seasons, the fact that a coach would want to leave the Lakers for Sacramento might serve as a new low for this once-proud franchise.
The last four days have unraveled any stability that the Lakers thought they had going into this season. After struggling under the leadership of Jim Buss and Mitch Kupchak as well as coaches Mike D'Antoni and Byron Scott, the Lakers had seemingly found the long-term answer in Johnson, Rob Pelinka and Walton, a former Laker who had led the Golden State Warriors to a 39-4 record, including a 24-0 start, on an interim basis while Steve Kerr was sidelined to start the 2015-16 season.
Pelinka is the last one left, for now anyway, as the Lakers begin their offseason without a president and head coach.
Jeanie Buss wasn't looking to hit the reset button this summer, but now she has no choice. When she met for three hours with Johnson on Monday she was put in a difficult position. Johnson, someone she considers a brother, wanted to fire Walton, someone her former fiancé Phil Jackson considered a son. She wanted both to stay. In the end, both wanted to leave a franchise they loved but couldn't bear being a part of anymore.
When Johnson resigned on Tuesday he said, "What I didn't like was the backstabbing and the whispering. I didn't like that. I didn't like a lot of things that went on that didn't have to go on." Walton didn't talk to reporters Friday but no doubt must have had similar feelings about a franchise that didn't support him publicly as everyone talked about his job security.
The Lakers had long been the gold standard for NBA franchises. Under Jerry Buss' ownership from 1980 to 2010 they won 10 championships and played in 16 NBA Finals. They were the model of stability with Buss empowering Jerry West and Kupchak in the front office while Pat Riley and later Jackson patrolled the sideline.
Sign up for our Lakers newsletter »
You knew what you were getting. They were almost always a contender with the team missing the playoffs just five times from 1948 to 2013. The Lakers have now missed the playoffs six consecutive seasons.
They are now a team with no identity and seemingly no direction. The signing of LeBron James last summer was supposed to right the ship, but the Lakers are entering this summer like the Titanic with everyone jumping off.
They might still be the Lakers, but it's hard to imagine anyone watching this mess from afar wanting to get on board after this week.
---