Luke Walton is ready to return the fun to the Lakers and that has people smiling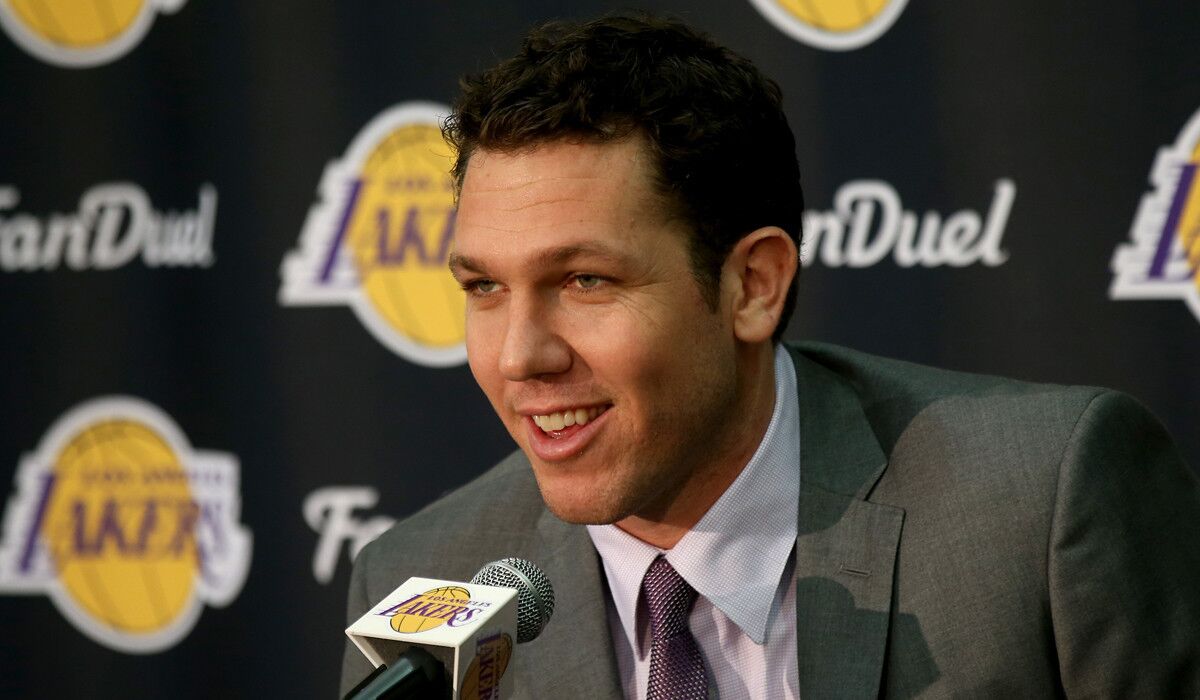 The most compelling part of Luke Walton's introductory news conference as Lakers coach Tuesday actually occurred after the news conference.
At the opposite end of the practice facility, Walton's baritone voice was replaced by another sort of deep thump.
D'Angelo Russell, dressed in a hoodie, board shorts and deck shoes, just couldn't help himself.
He picked up a basketball and suddenly started shooting three-pointers.
"Let's get it, let's go, I'm excited, I'm sweating right now, let's go more,'' the kid said.
There was joy in a voice that was once so sullen. It echoed the joy in the faces of Lakers employees who have spent two years fighting to find a smile. It was a joy that came from Walton, literally, as soon as his third answer.
"We're going to put a stamp on the culture we want, and it's going to be joy,'' he said, and, even amid the roar of air conditioners throughout the sweltering Southland, one could hear a giant exhale.
Lakers fans, wipe your brow and breathe easy. Your old friend has vowed to make your team fun again. During what felt like a 30-minute run through a cool sprinkler, your former favorite scrub sounded very much like a new-era leader, framing the usual promises of "accountability" and "work" around strange new Lakers ideas of "fast" and "flow."
He's got a difficult job with an odd roster accustomed to a losing atmosphere, and championship contention could be several years away. But his first step was a strong one.
"We're going to play a brand of basketball that the L.A. fans will appreciate," said Walton during a news conference that everyone who has felt dragged down by an aging Lakers brand can appreciate.
While Walton is a former Laker, his introduction was not about the greatness of the former Lakers. They tried that during Byron Scott's news conference, and how did that work out?
Walton is also a disciple of Phil Jackson, but, unlike the news conferences of both Mike Brown and Mike D'Antoni, there was no trace of a Jackson ghost.
The emphasis here was not the past, but the future. It was about the youngest head coach in the league — he's just 36 — rebuilding potentially one of the youngest rosters with a No. 2 draft pick, tons of salary-cap space, money to fill it, and a message to those potential free agents who might take it. It was a message clearly defined by his two magical seasons as a Golden State Warriors assistant coach, during which the Warriors won one championship and set the league record with 73 regular-season wins before their bid for a second title ended in a collapse to the Cleveland Cavaliers in the just-completed NBA Finals.
"We have skilled guards who can score, pass and defend," Walton said. "We have a young big man who averaged over 10 rebounds a game this year, and is great at pushing the ball himself. These are all things that allow us to do similar things to what we were doing up in Oakland."
Kevin Durant, listen up. It might not hurt LeBron James to listen as well.
"The future's bright, you know?" Walton said of his free-agent pitch. "We're going to play an up-tempo game … .we have money to spend. … I know the Buss family and I know the Laker organization and they do what it takes to win. That's, to me, all you really need to know, and I wouldn't see why you wouldn't want to come here and play."
Walton might be the biggest attraction, and on Tuesday he showed why. His easy manner, engaging answers, and emphasis on allowing the players to be themselves were as impressive as his 24-0 start and 39-4 overall record this season as a Warriors interim head coach.
How fresh is his start here? Instead of talking about working with Kobe Bryant, he talked about moving past Kobe Bryant.
"He's obviously going to be missed," Walton said. "But his departure obviously opens up this opportunity for the next generation of Lakers."
How prepared is he for the distractions? When asked about his outspoken father Bill, who publicly said he shouldn't take this job, he laughed about not listening to his father and teased about Bill's future involvement with the Lakers. Sadly for all hungry media involved, Bill Walton did not attend the news conference, but soon enough, he'll surely make his voice heard.
"I love my father — sometimes he has great advice, sometimes he doesn't," said Luke with a grin. "You'll see him in the hallways wearing Laker shirts that are too small for him and chanting 'Lakers' and all sorts of other things that we've come to love about him."
How is Luke going to handle the pressure? If his wife Bre is any indication, pretty well. As he spoke, Bre sat in the front row on the verge of giving birth to their second child. The due date is Thursday.
"You know, if I was in labor or having a baby, I probably wouldn't be here," she said with a grin. "But if not, well, I'm here."
The Waltons, who kept their Manhattan Beach home after Luke left the Lakers in a trade with Cleveland in the 2011-12 season, have already sensed the excitement in the community. While they were eating breakfast at a local spot Tuesday morning, a fan came up to Luke and thanked him for coming back.
"The fan was really excited," said Bre. "But so is Luke."
So, too, are his players, even the most challenging ones, as Russell showed during his spontaneous post-conference workout.
"A lot of us coming out of college, we want to have fun, and that's what [Walton] is saying, have fun and run as much as possible," said Russell. "I'm like, let's go, I'm ready for summer league, ready for the first game, ready for the preseason, ready for the first practice, ready for all of that."
Ready for some joy, and he's not alone.
bill.plaschke@latimes.com
Twitter: @billplaschke
Twitter: @billplaschke
---
All things Lakers, all the time.
Get all the Lakers news you need in Dan Woike's weekly newsletter.
You may occasionally receive promotional content from the Los Angeles Times.