From the Archives: Magic Johnson's career ended by HIV-positive test. Lakers star says: 'I plan to go on living for a long time'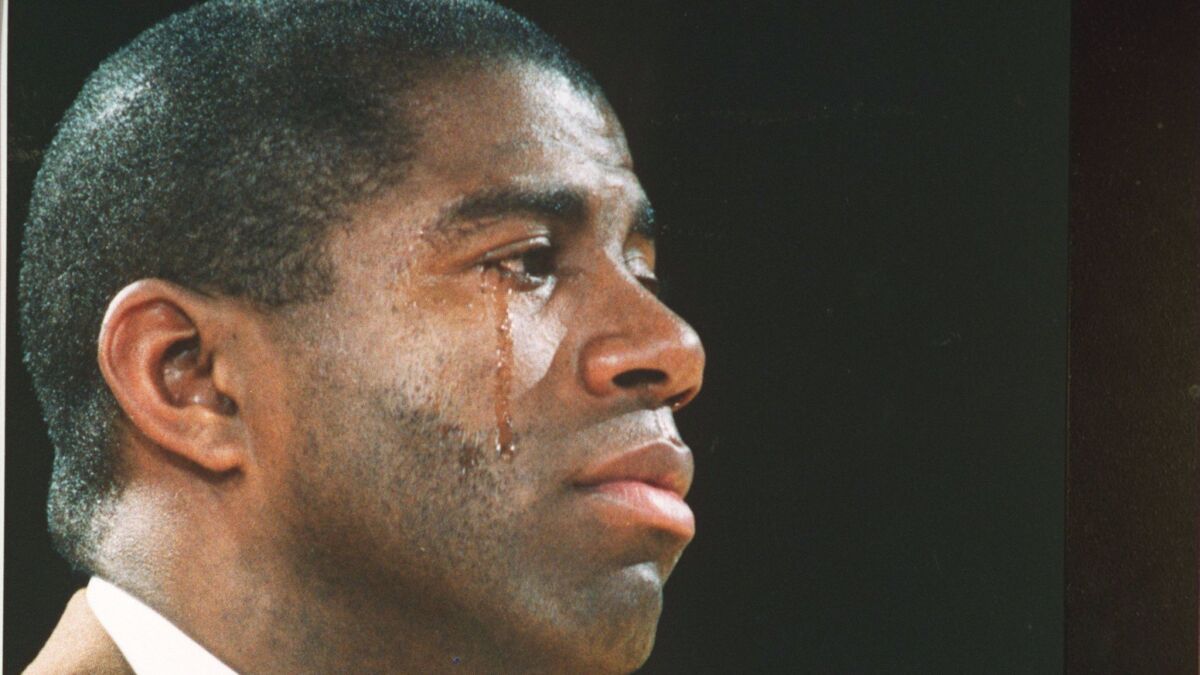 Magic Johnson stunned the world 25 years ago today when he announced he was HIV positive. In a piece on his website today, Johnson writes: "Today is a celebration of life, a celebration of what some people thought was a death sentence 25 years ago. It's a celebration of everything I've been through until now."
Here's a look back on The Times' coverage of his revelation and retirement from the Lakers.
::
In an announcement that rocked the sports world, Earvin (Magic) Johnson retired Thursday, saying he had tested positive for the human immunodeficiency virus (HIV), which causes AIDS.
Johnson, 32, the marquee name for the Lakers and the National Basketball Assn. for 12 years, learned he had the virus several weeks ago after a test administered by a life insurance company.
Steadfastly upbeat at a somber Forum press conference, flashing his trademark smile readily, Johnson vowed to become a spokesman for AIDS prevention.
"I just want to make clear, first of all, I do not have the AIDS disease," he said. "My wife is fine. She's (tested) negative.
"I plan to go on living for a long time.
"I'm going to be a spokesman for the HIV virus. I want young people to realize they can practice safe sex. Sometimes you're a little naive about it and you think something like that can never happen to you. It has happened but I'm going to deal with it. My life will go on. Life is going to go on and I'll be a happy man."
Johnson's disclosure was praised by public health officials, doctors and activists.
"I hope that Americans everywhere will understand better today that AIDS is not a remote disease that only strikes 'someone else,' " Dr. Louis W. Sullivan, secretary of Health and Human Services, said in a statement. "Everyone must be aware that the AIDS epidemic can reach them. I am very heartened by the announcement that in the months and years ahead, Magic Johnson will help carry a lifesaving message to young people across our nation."
Said Laker physician Michael Mellman: "What we have witnessed is a courageous act by a very special person. He is not compelled by any legal description or legal requirement to disclose what he has disclosed today.
What we have witnessed is a courageous act by a very special person.
— Michael Mellman, Laker physician
"He is not a person who is invisible. Because of his presence and potential impact on society, with a situation that is not only serious but from which we are all at risk, I think he should not only be commended but held as a modern-day hero.
"This is a very, very special person and a very special admission."
HIV attacks the body's defenses against infection. People with full-blown AIDS, which results from the virus, develop some forms of cancer and an array of infections, including a serious form of pneumonia.
Said Mellman: "Earvin Johnson has been infected with the HIV virus. He does not have AIDS. . . . There's no immediate effect on his life other than we have advised him to avoid those activities which can further impair his immune system, which is playing professional basketball."
Johnson said he had called his best friends in basketball, including Larry Bird, Isiah Thomas, Michael Jordan and former coach Pat Riley to tell them. He told his current teammates in the Laker dressing room before the press conference.
Johnson had not played in the three games the Lakers have played this season, sidelined by flu. Mellman said that illness was coincidental and not related to the HIV virus.
Thursday's announcement brought to a sudden end one of the brightest of storybook careers.
The self-described shy youngster from East Lansing, Mich., led Michigan State University to a national championship in 1979, when he was 19.
A year later, he was the point guard on a Laker team in the NBA finals. In the sixth game of that series, at Philadelphia with Kareem Abdul-Jabbar injured, he jumped center, played all three positions, scored 42 points and had 15 rebounds and seven assists, leading the Lakers to a championship and certifying himself a basketball legend at 20.
He was an all-star in 11 of 12 seasons, missing only because of a knee injury.
He played in nine NBA finals and on five championship teams.
He was a three-time most valuable player and three-time MVP of the finals.
He leaves as one of the most popular players in NBA history. His endorsement income — an estimated $9 million — dwarfed his Laker salary of $3.1 million.
He promoted a series of Janet Jackson concerts. His friends included Arsenio Hall and other entertainment stars. He had a kitchen cabinet of advisers that included some of the most powerful men in Hollywood, among them Joe Smith, president of Capitol Records, and Michael Ovitz, the head of Creative Artists Agency. Ovitz set up the deal through which Johnson bought a one-third partnership in a Pepsi-Cola distributing plant.
"To me, he's the biggest and most recognizable star in this town," Joe Smith once said.
"I've been in Morton's when Warren Beatty and Clint Eastwood were there with nobody paying any attention to them. Magic comes in and — bang!"
In a city of retiring stars, Johnson seemed omnipresent. He danced onstage at M.C. Hammer concerts. He attended Raider games every Sunday, including the one on Sept. 15 this season — the day after his wedding in East Lansing to childhood sweetheart Cookie Kelly.
There can be no doubt Johnson got the most from his career and enjoyed it.
"Basketball is going to be all I dreamed of," he said last summer. "I never thought all this would happen.
"You find out about the bad things but they don't compare to the good side: being in the finals . . . playing Boston . . . having that intensity. I mean, there's nothing that can replace that. Nothing. I mean, I've been hurt--fingers, knees. That's nothing. Because when you watch those films, you go back to Philly, you go back to the (1980) championship.
"It's scary when your dreams come true."
Johnson twice broke engagements to Kelly, saying that the press of business made him too moody during the season, vowing to wait until his career was over. He changed his mind and they were married Sept. 14 in East Lansing, with Thomas and another Detroit Piston, Mark Aguirre, among Johnson's groomsmen.
Two weeks later, he joined the Lakers in an exhibition season that took them to Paris. He said he didn't like the French cuisine and spent the week eating junk food.
He played in his last two exhibitions Oct. 22 and 23. Two days later, he flew to Salt Lake City but returned home when he felt ill.
It's another challenge, another chapter in my life. My back is against the wall. I think you just have to come out swinging and I'm swinging.
— Magic Johnson
Laker officials, including Coach Mike Dunleavy, said as recently as Monday they were hoping for Johnson's return this weekend.
However, Laker doctors, who cleared Johnson to begin working out, kept his reconditioning regimen light.
Behind the scenes, there was a news blackout. Mellman told Laker officials he didn't even want to be identified as the attending physician.
Thursday, local television stations broke into programming to show the press conference. NBA Commissioner David Stern attended, with Johnson's former teammates Kareem Abdul-Jabbar and Michael Cooper.
Characteristically, Johnson convened the press conference, personally, and thanked everyone for attending.
"I want to thank Kareem," Johnson said. "We stood side by side and won a lot of battles.
"I told Coop and Kareem, I'll be calling them so we can play one on one. We'll have some fun. I just won't be part of the Lakers.
"I'm going to miss it. I'm going to miss coming in at 5 o'clock (before games), saying hello to the security people, the ushers. Getting to see you guys (reporters) at 6 o'clock: 'Magic, what about this, what about that?' I'll miss that. I'll miss the battles and the wars but most of all I'll miss the camaraderie with the guys. . . .
"It's another challenge, another chapter in my life. My back is against the wall. I think you just have to come out swinging and I'm swinging.
"The only thing I can do is have a bright side. If I slipped, then it might be over. Then I'm down, out. I can't be like that. I never have been.
"Just like I want everybody to be. This is not my-life-is-over because it's not."
Johnson says he will still pursue his oft-stated ambition, to buy an NBA team.
"You might interview me next time in Dr. Buss' office," he said, referring to Laker owner Jerry Buss.
"As soon as he moves out, I'll move in."
ALSO
Sparks take some tips from Magic Johnson going into the WNBA Finals
Jeanie Buss lends memories of her father to a new Lakers documentary
Magic Johnson: 'I won't be watching another one of Manny Pacquiao's fights'
---
All things Lakers, all the time.
Get all the Lakers news you need in Dan Woike's weekly newsletter.
You may occasionally receive promotional content from the Los Angeles Times.