Lakers are a different team this time against the Mavericks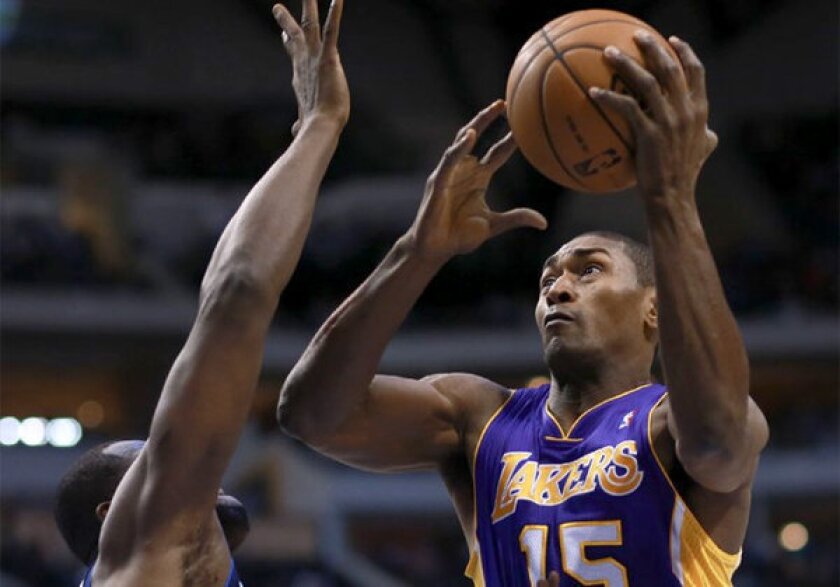 When the Lakers opened the season on Oct. 30 against the Mavericks at Staples Center, they let an early lead fade into an eight-point loss (99-91).
On Saturday, almost a month later, the Lakers got their revenge with a 115-89 pummeling of the Mavericks in Dallas.
The game in October was Steve Nash's only full appearance, injuring his leg the following night. He hasn't played since, and the time frame for his return remains unclear.
The opener saw the Lakers get big numbers from Pau Gasol (23 points), Kobe Bryant (22) and Dwight Howard (19), but the team missed 19 free throws and didn't get much bench support.
In Dallas, the Lakers still missed double-digit free throws (11), but it was the role players like Metta World Peace (19 points), Antawn Jamison (19) and Jodie Meeks (11) who helped the Lakers get an easy win.
Gasol (13), Bryant (19) and Howard (15) all contributed, but the Lakers looked dominant with a well-balanced effort.
The team can't count on World Peace hitting 5 of 7 from three-point range every night, but when the Lakers get more players involved as they did Saturday, they look like the group that came into the season with championship aspirations.
A full team effort is something Coach Mike D'Antoni hopes to see every night, but after one performance in Dallas, it's premature to say the Lakers are even close to locking in that level of performance.
ALSO:
Lakers interested in Mickael Pietrus, reporter tweets
Lakers trounce Mavericks, 115-89, to snap two-game skid
You can email Eric Pincus at eric.pincus@gmail.com and follow him on Twitter @EricPincus.
---
All things Lakers, all the time.
Get all the Lakers news you need in Dan Woike's weekly newsletter.
You may occasionally receive promotional content from the Los Angeles Times.