Jerry Buss memorial: Lakers greats recall a man of the people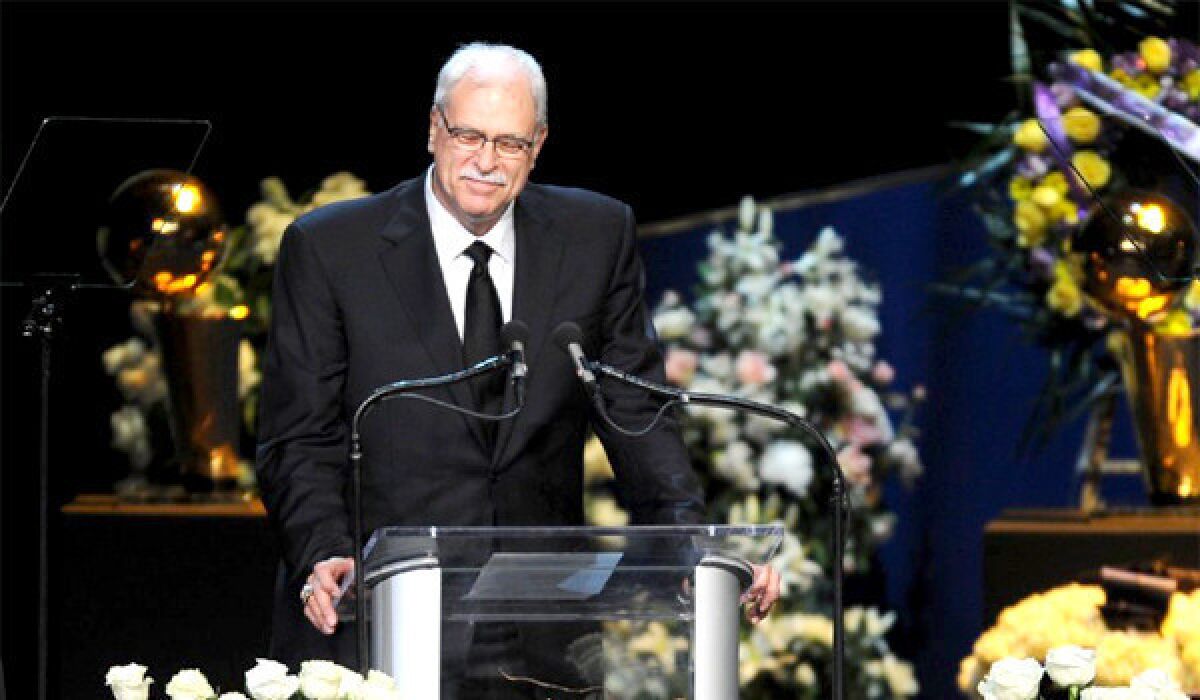 Phil Jackson won five championships and advanced to two other NBA Finals while coaching the Lakers for owner Jerry Buss.
His words were as anticipated as anybody's Thursday at Buss' memorial service at Nokia Theatre.
Jackson said he first remembered meeting Buss in 1999 after being hired to coach the Lakers. Buss was wearing his standard attire, Jackson remembered -- jeans, running shoes and an open-neck shirt.
"He told me how much fun he'd had in the '80s, winning five championships. He said it seemed like almost a natural thing. But then the '90s came and it was filled with change and disappointments," Jackson said.
"He said he was hoping to win one more championship. I told him I thought he had a talented enough team to win more than one, and I was going to accomplish that. We were able to do that and win five championships, just like that team did in the '80s, and it brought Jerry a great deal of [happiness]."
Jackson then received a round of applause from the memorial guests at Nokia Theatre.
Jackson coached the Lakers for five seasons, sat out the 2004-05 season, and then came back to coach the Lakers for six more seasons. He was part of the uncomfortable 2007 off-season, when Kobe Bryant demanded to be traded after three consecutive failed seasons.
"During that fall, when things got a little bit testy, we had many meetings," Jackson said. "During one of those meetings, Dr. Buss said to Kobe, 'If I had a diamond of great value, four or five carats, would I give up that diamond for four diamonds of one karat? No. There's no equal value that we can get for you.'
"He prevailed and we won two more championships."
Jackson ended by saying Thursday was a day to celebrate a life that was "a diamond of great value."
Magic Johnson, the leader of Buss' Showtime Lakers, remembered the team's owner as a father figure and the satisfaction of winning a championship in his rookie season.
"He would ask me to go have lunch with him after our practices in Palm Springs and we would just sit and talk about what his vision was for the organization, how much he wanted to win and definitely how bad he wanted to beat the Celtics.
"To be able to deliver with Kareem, Norm, Jamaal and all the guys that [won] the championship that first year, how happy he was and how excited as rookies -- him a rookie owner and me a rookie player -- we both just sat and enjoyed that moment."
Johnson also said Buss was the perfect business mentor.
"As we played pool until four or five o'clock in the morning, he was picking my brain to what I wanted to do after basketball," Johnson said. "He became my advisor and it was tremendous, because with him and his expertise, I knew I had a chance to be successful away from the basketball court."
And when Johnson tested positive for HIV, Buss was more of a father figure then ever.
"As we cried for hours -- him not knowing if I would be here 22 years later -– thinking he would lose a son, an adopted son, he picked up the phone and started calling hospitals to make sure I had the best health care possible -- the best doctors.
"He would call me all the time, 'Are you taking your meds? Are you doing what you're supposed to do?' That's when I knew this man loved me and cared about of me outside of winning championships, outside of making no-look passes.
"That's who Jerry Buss was. He cared about all his players not just on the court but off the court as well -- as men, as people."
Kobe Bryant has spent every minute of his 17-year NBA career with the Lakers. His relationship with Buss was a main reason he re-signed with the Lakers as a highly sought free agent in 2004. He was also convinced by Buss to stay with the Lakers after demanding a trade in 2007.
Bryant wasn't sure what he was going to say about Buss a few hours before the memorial service for the deceased Lakers' owner, saying only it would come "from the heart."
When he spoke at Nokia Theatre, he mentioned his first meeting with Buss.
"I remember Dr. Jerry Buss telling me, 'I want you to become a Laker for life.' At the time, I was 17, stubborn, a know-it-all kid. The trust that he had in me to deliver for this franchise and all the history that this franchise had made me want to go the extra mile for him, made me want to believe in him."
Bryant said his most memorable off-season was actually 2005, not 2004 or 2007.
"The biggest summer to me was the summer when we were looking for a head coach," Bryant said. "[Buss] sits me down and he says, 'You know, what do you think about brining Phil Jackson back to coach again?'"
Bryant recreated the scene Thursday by grimacing and shifting uncomfortably: " 'I don't really know how I feel about that, Dr. B,' " Bryant said.
"And he just looked at me and he just said, 'Trust me.' And I did. And that has taken us to a whole 'nother level in winning another two championships. That came from his vision. He knew what he wanted to do. He knew how he wanted to go about it. He also had this ability to convince you to follow him."
Bryant had some words for the present-day Lakers as well, their 26-29 record as stunning as it was underwhelming.
"For our current Lakers, we've been going through kind of an up-and-down season. I encourage all of you, me included, to just look around the room and look at the greatness of one man's vision. Look at the players that are here, all the coaches that are here. We all have one thing in common, is that we all believed in Dr. Jerry Buss.
"We're playing for something bigger than ourselves, bigger than a single season. We are playing for the memory of a great man. Dr. Jerry Buss."
Buss' son John also pointed to the owner's gentle, guiding hand when he addressed the audience.
"On the surface it seemed that everything went right for this man and in a way it did, but not without strenuous work hours, passion, diligence," John Buss said. "Not everything went right but because he was always thinking ahead, everything became right. His honesty, integrity, insight -- coupled with kindness, humility and a gentle disposition. He truly had the right stuff.
"He loved Los Angeles and as we can see Los Angeles loved him too."
Frank Mariani also reflected on his former business partner's personal side.
"You and I have been friends and partners for over 50 years," Mariani said. "You are the same person in your private and your public life. You are somewhat of a shy and stubborn person. You're extremely courteous and considerate. Your kindness knows no bounds. You have tolerance and patience almost to a fault. Your loyalty is unparalleled."
Mariani added that it was never time to make a business move without assuring equity for both sides.
"Once he felt it was a fair deal for both parties, he'd say, 'Frankie let's go cut the deal,'" Mariani said.
"Jerry, last time I saw you, I told you how much I love you and miss you. I know we'll be together forever. Somehow you left without me, but I'm sure I'll catch the next flight out."
Jerry West, one of the greatest Lakers who won a championship as a player and was the architect of others as a general manager, remembered meeting Buss in 1979.
"I met a man that was truly unique," West said. "Different, but a good different. Just being around him and just feeling the warmth in him, he was genuine. He was a man for all people.
"Even when he was having his greatest successes, he was the most humble, unique man I ever met.
He knew what we wanted with the team."
West recalled one of his first meetings with Buss as a consultant. West said that Buss told him, "I want people to come see a winning basketball team but I want entertainment, very much like a Broadway show."
Added West, "Here was a man who not only changed basketball, he changed all sports. He changed them all. He has left a shadow over the entire sports world."
Hall of Fame center Kareem Abdul-Jabbar said a great man like Buss is not measured by the towers or monuments they build but rather "the tender memories that he's left in those who remain after his life. The fact that so many of us have come together to celebrate those tender memories of Jerry Buss is a testament to his greatness.
"His passion for life made Jerry a modern renaissance man. He was a beloved college professor, a courageous entrenprenuer and a generous philanthropist. No matter what he did, he was a success. Perhaps his greatest quality was his wilingness to share his success with everyone else."
Adbul-Jabbar added that when he thinks of Buss, he pictures him at a poker table.
"I think of him sitting there with the world's best poker players staring him down ... and pushing all of his chips into the middle, and declaring with a twinkle in his eyes, 'all in.' That's the way Jerry lived his life, all in, all the time."
Shaquille O'Neal, another of the Lakers' great centers, called Buss a visionary.
"He saw the future before any of us did and the future he saw brought people together," O'Neal said. "He brought people together to root for a team, a team that rallied around the city and redefined the merger of sports and entertainment."
O'Neal talked about meeting Buss and West, and being told that with a young Kobe Bryant a championship could be won.
"The first four years were very, very rocky, but one thing I admired about Dr. Buss is that he never got upset," O'Neal said. "After every loss ... he called me on the phone and said, 'It's OK big fella. Don't worry about it.'
"When we finally got the right combination and knocked off three [championships] in a row, he came to me and said, 'I told you. I told you we could do it. I told you.'
"Dr. Buss, I know you will be watching the Lakers from the ultimate sky box. We will miss you very much. We thank you for all you have done. We love you, sir. Say hello to Walt Hazzard and all the other legends. Say hello to John Wooden. Thanks again, sir."
Pat Riley began his speech to Jerry Buss with a few simple words.
"Hello everybody, I feel like I'm back home," he said.
Riley played for the Lakers from 1970-75 and coached the team from 1981-1990, before coaching in New York and Miami.
Before Riley left for New York, he recalls Buss giving him a pep talk that really resonated with him.
"It's been 20 years and for the last 20 years I really wanted to say these words to Dr. Buss," he said. "One of the last times I had an opportunity, both Chris [Riley] and I, to spend time with him was just prior to my going to New York. I was 20 years in Los Angeles and I was afraid to leave the nest. And I'll never forget, I called him, wanted to say goodbye, and we had dinner up by Sunset Blvd. somewhere, just Jerry and Chris and I."
"We were talking about my time here, nine years, and all he did was talk about how great it was to have me coach this team. Never talked about the losses. [He] talked about the growth that I had as a young coach, talked a lot about Chris and young James, and when I said I was afraid to leave and go to New York, he said to me: 'You've got to be kidding me. They're gonna be paying you 8 1/2 mllion dollars, Riley.' He says, 'You've made it.' He says, 'You get out of town and go to New York and you do the best job that you can do.'"
Riley went on to become a three-time NBA coach of the year, in 1990, 1993 and 1997.
"What hits home is when things change," Riley said. "When the dream fades, life hits back, losses mount, the sky casts its dark shadow. That's not what's happening today. We may feel it. Today is an example of a lot more than darkness, but realizing this truth does not have to sadden us. To the contrary, it can give us greater appreciation for the many wonderful experiences we lived through together with Jerry Buss and the Lakers."
NBA Commissioner David Stern was one of the first speakers at the memorial service.
He said he first met Buss in 1979 while analyzing and approving Buss' purchase of the Lakers.
Stern said there were numerous questions by other NBA team owners in an era where big-city teams didn't change hands often.
"We thought that the waiting and inquisition bordered on impoliteness," Stern said. "But I was struck then by Jerry's most gracious demeanor, his patient responses, and his instant understanding with the wink of the eye that he understood we were just doing our job as gently as possible. And thus began Jerry Buss's Hall of Fame NBA career and our 34-year friendship."
Stern went on to say that Buss was a "transformational force in the history of sports," referring to him as a pioneer of naming rights for arenas and regional TV networks.
There was also Buss's desire to always acquire top talent, most notably "paying some young kid named Johnson a million dollars a year."
Stern ended with, "Rest in peace, my friend."
Reporters Mike Bresnahan and Melissa Rohlin as well as correspondant Eric Pincus contributed to this report.
All things Lakers, all the time.
Get all the Lakers news you need in Dan Woike's weekly newsletter.
You may occasionally receive promotional content from the Los Angeles Times.