Preview: Lakers vs. Cavaliers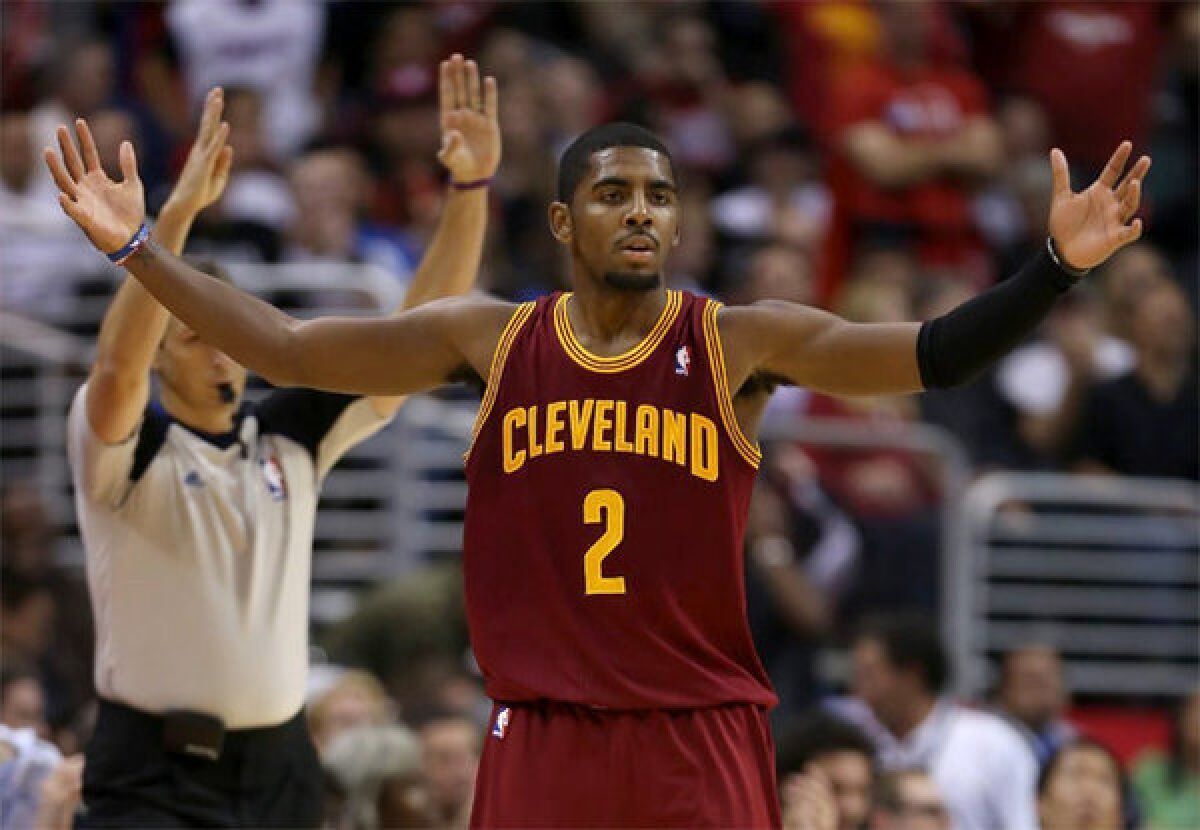 The struggling Lakers (15-21) play host to the Cleveland Cavaliers (9-29) on Sunday night at Staples Center.
Even with their subpar record, the Cavaliers are a threat to the Lakers behind the play of young point guard Kyrie Irving. Irving missed about a month this season with a finger injury, returning Dec. 11, just in time to take out the Lakers, 100-94, in Cleveland.
Forward-center Anderson Varejao, another player the Lakers seem to always have a problem playing against, is out with a leg injury. Of course, the Lakers are without Dwight Howard (shoulder), Pau Gasol (concussion), Jordan Hill (hip) and Steve Blake (abdominal surgery). Howard and Gasol will be reevaluated before the game but neither is projected to be available, even if there's a slight window.
That probably means a starting frontcourt that includes Robert Sacre and Earl Clark.
The Lakers are desperate for a victory but haven't shown a consistent ability to get stops defensively. Irving won't help that cause Sunday.
Key matchup
Coach Mike D'Antoni indicated at practice Saturday that he'll look to play Kobe Bryant defensively on the ball, and that means he probably will have the main assignment on Irving.
While Bryant isn't nearly as quick as the young point guard, he has size, length and experience. So far this season, Irving has averaged 23.6 points and 5.6 assists a game. He's shooting 46.5% from the field, 41.7% from behind the three-point arc and 83% from the free-throw line.
Defensively, the Cavaliers probably will go with a combination of C.J. Miles and Alonzo Gee on Bryant, who is averaging exactly 30 points a game this season. Nash probably would pick up the Cavaliers' shooting guard when Bryant is on Irving.
X-factor
Clark followed a huge game against the San Antonio Spurs with a strong first quarter against the Oklahoma City Thunder. As the Lakers were eventually blitzed out of the game, Clark's impact was less noticeable.
The Lakers and D'Antoni are hoping they have found a gem on the roster, especially with Hill out for the season.
The Cavaliers get an occasional outburst from small forward C.J. Miles and those bursts, dating back to his days with the Utah Jazz, always seem to come against the Lakers. Miles is a 40.3% three-point shooter who can get very hot, very quickly.
Outlook
The Lakers have to start winning games if they have any designs on a playoff spot in the Western Conference. They simply can't afford to lose to the Cavaliers.
ALSO:
Watch Kobe Bryant talking trash-talking
Jordan Hill shocked and devastated by hip injury
Lakers executive Jim Buss says 'we're not going to panic'
Email Eric Pincus at eric.pincus@gmail.com and follow him on Twitter @EricPincus.
All things Lakers, all the time.
Get all the Lakers news you need in Dan Woike's weekly newsletter.
You may occasionally receive promotional content from the Los Angeles Times.