Preview: Lakers vs. Thunder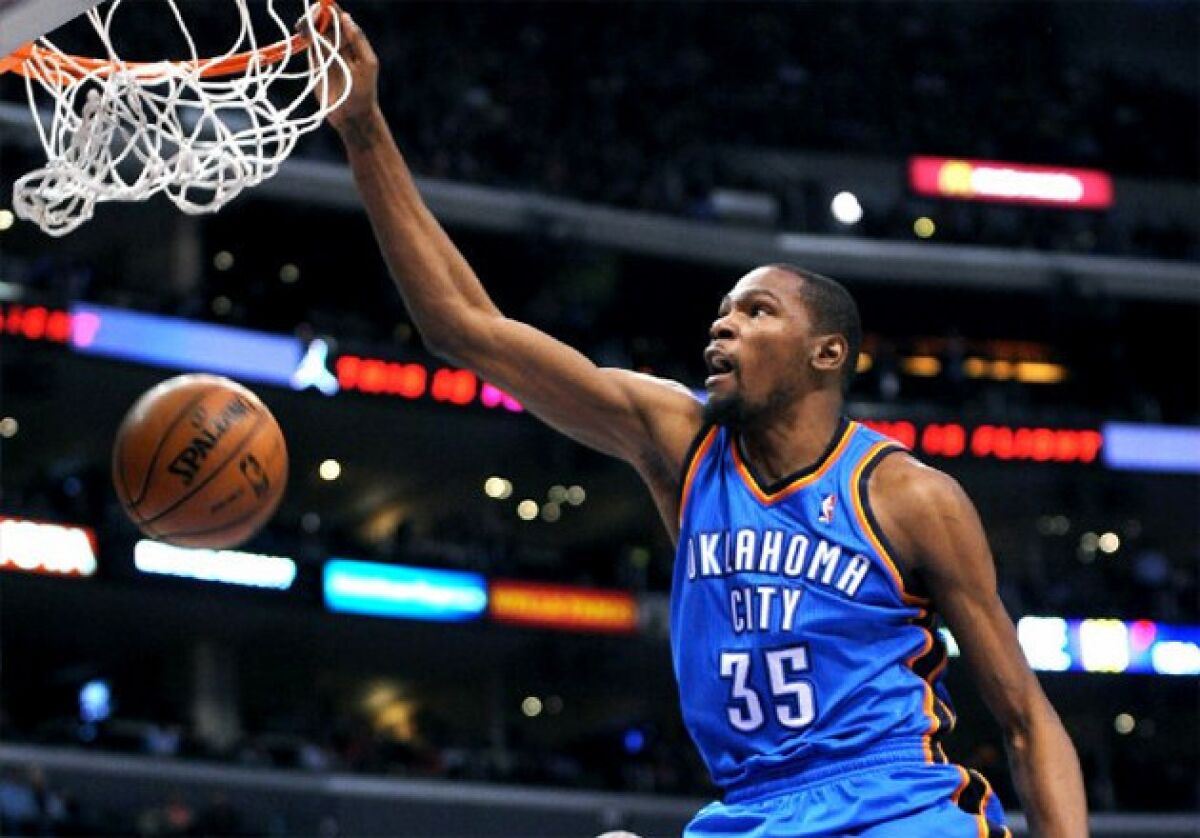 Can the Lakers (18-25) get their second win in a row Sunday, defeating the Oklahoma City Thunder (34-10) at Staples Center?
It's a tall order, finding a way to stop the Thunder, which scores a league-best 105.9 per game. The Lakers can score (102.3 points a night), but their defense has left a lot to be desired (giving up 101.1 a night).
Hiding Steve Nash might work when the Thunder plays Thabo Sefolosha, but against Kevin Martin off the bench with Russell Westbrook and Kevin Durant? Even Serge Ibaka has developed into a dependable scorer. In that situation, does Coach Mike D'Antoni put Nash on center Kendrick Perkins?
The Thunder gives up 97.1 points a game, stingy for a team that plays at such a fast pace. Oklahoma City has the best record in the league and the top point differential at 8.8.
Key matchup
Kobe Bryant will probably get the call against Thunder point guard Russell Westbrook. That's no easy task, given Westbrook's speed and athleticism.
If Westbrook has a feel for his jumper Sunday, the Thunder will be very, very hard to beat. Can Bryant keep up with Westbrook and still have enough energy to score or initiate the team's offense as he did on Friday against the Utah Jazz?
The Thunder will probably use a combination of Sefolosha, Martin and Kevin Durant on Bryant on defense.
X-factor
The duo of Metta World Peace and Earl Clark needs to try to contain Durant. It's a given that the Thunder star is going to score. The Lakers just have to make it difficult for him.
Whenever players such as World Peace and Clark have efficient, high-scoring nights, it typically helps to open up the rest of the Lakers' offense.
At that point it becomes a question of defense. Even when the Lakers score well over 100, they tend to give up even more.
Outlook
A win would be huge for the Lakers. It would also be a surprise.
ALSO:
Even in victory, Lakers struggling with turnovers and free throws
Lakers' teammates prefer Kobe Bryant as a willing passer
Kobe Bryant, Steve Nash receive Italian national team jerseys
Email Eric Pincus at eric.pincus@gmail.com and follow him on Twitter @EricPincus.
---
All things Lakers, all the time.
Get all the Lakers news you need in Dan Woike's weekly newsletter.
You may occasionally receive promotional content from the Los Angeles Times.