Seven-man rotation a symptom, not the cause of Phoenix loss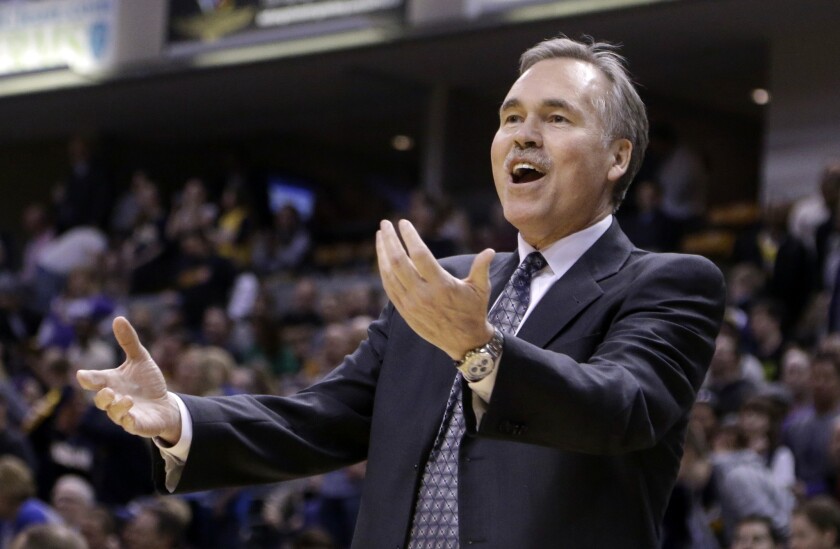 Did Coach Mike D'Antoni run his players into the ground with heavy minutes on back-to-back nights?
Sure, but did that have anything to do with the loss in Phoenix on Monday night?
"We've been playing a seven-man rotation, and I think it caught up with us," said Steve Nash after the game.
It's not like D'Antoni had any other choice. He could have tried to work in Robert Sacre, Darius Morris, Chris Duhon or Devin Ebanks, but D'Antoni would have certainly preferred Kobe Bryant, Pau Gasol or even Jordan Hill — but none was available.
Injuries have been the reality for the Lakers all season. D'Antoni won't get a full roster for his entire initial season with the team. It hasn't happened and it won't with Hill out for the year (hip).
The closest he can hope is that Gasol (foot) and Bryant (ankle) are back Friday night, with the Lakers getting three days off before they host the Washington Wizards.
D'Antoni played seven players for a reason (at least until the final minutes of the game against the Suns with the game already decided). The Lakers aren't going to get much out of their last four guys.
Nash actually played just 31½ minutes, below his season average. Dwight Howard (37 minutes) and Metta World Peace (39) took the brunt of the back-to-back, but Jodie Meeks, Earl Clark, Steve Blake and Antawn Jamison all played a reasonable number of minutes.
The Lakers have not won both games in a back-to-back set this season in 14 tries — 13 of them with Bryant in the lineup. It wasn't going to happen if D'Antoni is counting on Morris or Duhon to suddenly produce. He relied on both before — right when the Lakers fell well below .500.
Getting through the three-game road trip while surviving Bryant's severely sprained ankle — playing six games in nine nights, winning four including a road game in Indiana — was impressive but costly. The Lakers had nothing left for the lottery-bound Suns.
It's not the first time a team with a winning record fell to a team with a losing record. It will happen again.
If there's blame to go around, perhaps it's on the Lakers' front office for building a top-heavy roster. General Manager Mitch Kupchak has a knack for landing superstars but he's a bit spotty finding quality 13th men.
The San Antonio Spurs always seem to pluck some random gem to keep their franchise rolling, but the Spurs last won a title in 2007. The Lakers have two since then.
More than anything, with the regular season winding down, the Lakers need their nine best players available for D'Antoni. That may finally happen later in the week.
This may not be the year the Lakers win it all but the team may be a lot better than its 36-33 record given how many games Gasol, Nash, Howard, Hill, Blake and now Bryant have missed this season.
The Lakers are still within range of the sixth seed, but they'll need to hold off the Utah Jazz, Dallas Mavericks and Portland Trail Blazers from below the rest of the way.
Monday was a bad loss for the Lakers, but they were the walking wounded. The team is older, slower and lacks true depth. There's not a lot of room to absorb injuries to players like Bryant and Gasol.
The loss to the Suns was more about Dahntay Jones' uncalled fouls and Gasol's torn plantar fascia than D'Antoni playing a short rotation — given the alternative.
ALSO:
Lakers scorched by the Suns, 99-76
Pau Gasol says foot's soreness expected, not sure about return
Kobe Bryant is out Monday against the Phoenix Suns
Email Eric Pincus at eric.pincus@gmail.com and follow him on Twitter @EricPincus.
---
All things Lakers, all the time.
Get all the Lakers news you need in Dan Woike's weekly newsletter.
You may occasionally receive promotional content from the Los Angeles Times.