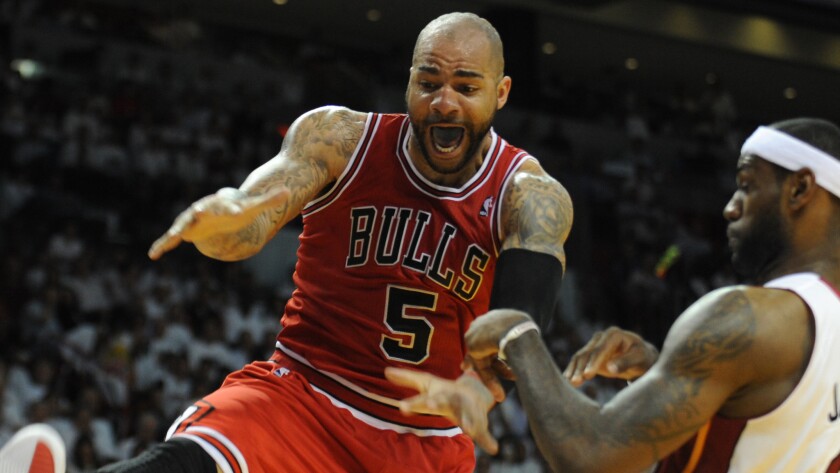 Carlos Boozer has been waived via the NBA's one-time amnesty provision.
Boozer will still earn the final $16.8 million on his contract for the coming season, but he'll be removed from Chicago's salary-cap and tax calculations -- which would enable the Bulls to sign Lakers free-agent center-forward Pau Gasol.
"Carlos epitomized professionalism in everything he did for the Bulls both on the court and in the community during his time here in Chicago," said General Manager Gar Forman. "Over the last four seasons, Carlos' productivity helped elevate our team to another level. I have nothing but respect for Carlos, and certainly wish him the best as he moves forward."
Last season, the 12-year veteran averaged 13.7 points and 8.3 rebounds through 76 appearances with the Bulls.
Teams currently under the salary cap can submit bids to the NBA on Boozer's contract through a 48-hour waiver period.
The highest bidder will get Boozer's services for the rest of the season at the bid price, offsetting the balance still owed to the 33-year-old power forward by Chicago.
The Lakers are one of many teams still armed with salary-cap room (about $6.8 million), though approximately $5 million of that has been promised to re-signing guard Nick Young.
Both Young and returning center-forward Jordan Hill have yet to re-sign, giving the Lakers additional flexibility to add to the roster -- possibly through an amnesty claim on Boozer.
The Lakers can also waive and stretch the contract of Steve Nash over three years, increasing cap room this summer by about $6 million, while reducing the space over the next two season by $3.2 million.
Other teams potentially with cap room include the Atlanta Hawks, Charlotte Hornets, Cleveland Cavaliers, Detroit Pistons, Milwaukee Bucks, Orlando Magic, Philadelphia 76ers, Phoenix Suns and Utah Jazz.
The bidding consists of a blind, single bid per team. Whichever franchise lands Boozer in an amnesty claim, if any, will not be able to trade him this season.
Email Eric Pincus at eric.pincus@gmail.com and follow him on Twitter @EricPincus.
---