Chris Kaman says he took less money to join Lakers [updated]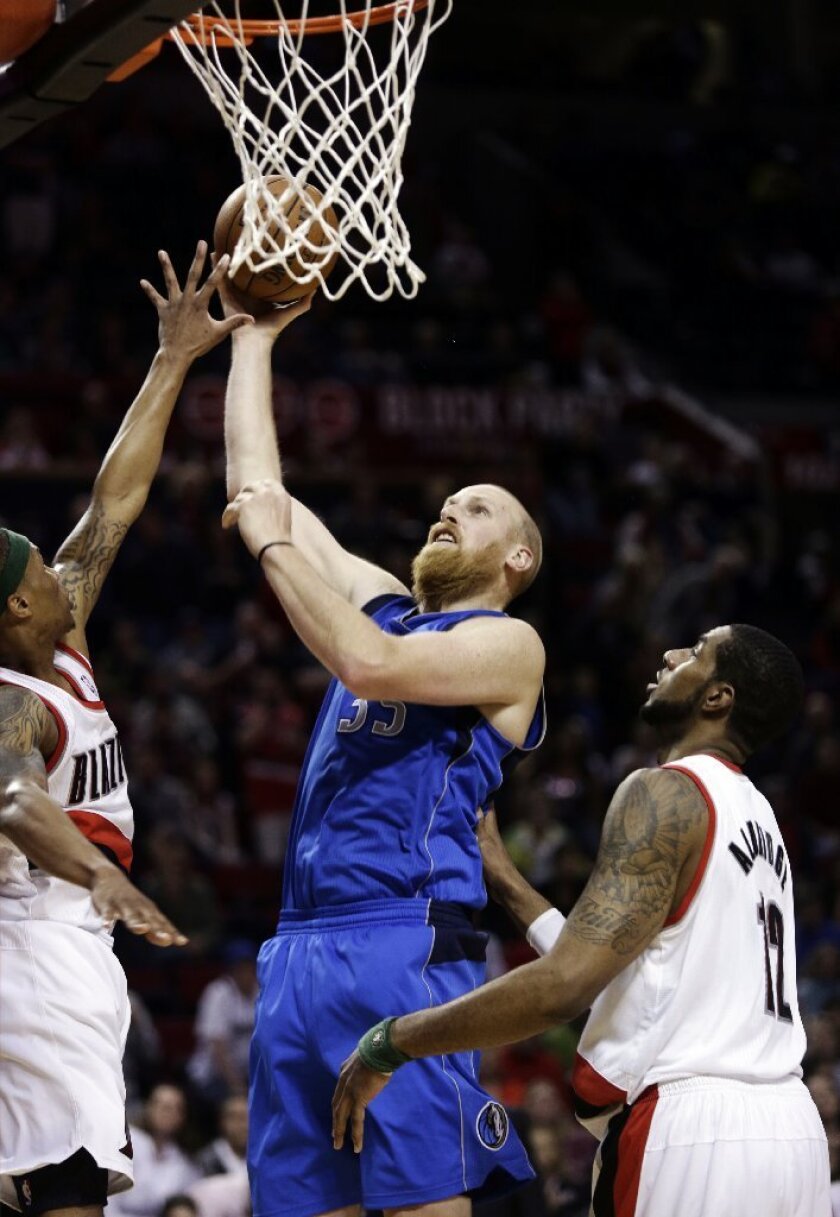 This post has been updated, as indicated below.
The Lakers used their one true spending tool this summer, adding former Clippers center Chris Kaman on Monday via their taxpayer mid-level exception of $3.2 million on a one-year deal.
"Weird coming back [to Los Angeles], but excited," Kaman said via message to The Times.
With Dwight Howard choosing to join the Houston Rockets, Kaman gives the Lakers a true 7-footer to join Pau Gasol in the team's front court.
"[I] just wanted to get on a solid team and see how far we can go," said Kaman, who is vacationing with his wife in Hawaii. "I could have signed for more money somewhere else but the Lakers are a good option."
Kaman was paid $8 million last season by the Dallas Mavericks, for whom he averaged 10.5 points on 50.7% shooting from the field with 5.6 rebounds.
It's not clear whether Kaman will start next to Gasol, but the Lakers' veteran forward/center will move back into his role as the team's primary post player after yielding that spot in recent years to Howard and Andrew Bynum.
Kaman's short deal helps the Lakers preserve their plan to have significant cap space in the summer of 2014. The Lakers hope to lure one or two All-Stars such as LeBron James and/or Carmelo Anthony.
Signing a center instead of a small forward replacement may also signal that the Lakers will keep Metta World Peace, rather than waive him via their one-time amnesty provision (and a savings worth as much as $19 million).
Kaman's arrival also signals the team will continue to play the slower, inside game they adopted midway through this past season, which they finished with 28 wins in their last 40 games.
While Coach Mike D'Antoni might like to field a roster more capable of playing his favored up-tempo style, the Lakers just don't have the spending power as a luxury-tax team to bring in enough athletes and shooters.
The Lakers are hoping to get Kobe Bryant back at full strength from his Achilles' tendon injury, suffered in April.
Defensively and athletically the Lakers look quite vulnerable. They're also older (Kaman is 31) and injury prone as a group.
Still, the Lakers appear unwilling to tank for a lottery pick. If they do stay healthy, they might be surprisingly competitive, but on paper they don't look like they're a championship contender.
With eight players on guaranteed contracts, the team still needs to fill at least five more roster spots to hit the league minimum of 13. Reserve center Robert Sacre and this year's second-round pick, forward Ryan Kelly (48th), are likely to make it 10.
The Lakers can offer only minimum contracts to any additional free agents.
The team also has a $1.2-million trade exception that expires on Aug. 12, allowing the team to take on a player without sending any salary out. More likely than not, it will go unused.
[Updated, 4:20 p.m.: Lakers General Manager Mitch Kupchak announced Monday that the team has been engaged in negotiations with free agent center Chris Kaman and intends to sign him to a contract at the conclusion of the NBA moratorium period.]
ALSO:
Carmelo Anthony could be a 2014 target for the Lakers
Dwight Howard's decision creates widespread reaction
Email Eric Pincus at eric.pincus@gmail.com and follow him on Twitter @EricPincus.
---
All things Lakers, all the time.
Get all the Lakers news you need in Dan Woike's weekly newsletter.
You may occasionally receive promotional content from the Los Angeles Times.