After counseling, losing 25 pounds, Robert Upshaw says he's ready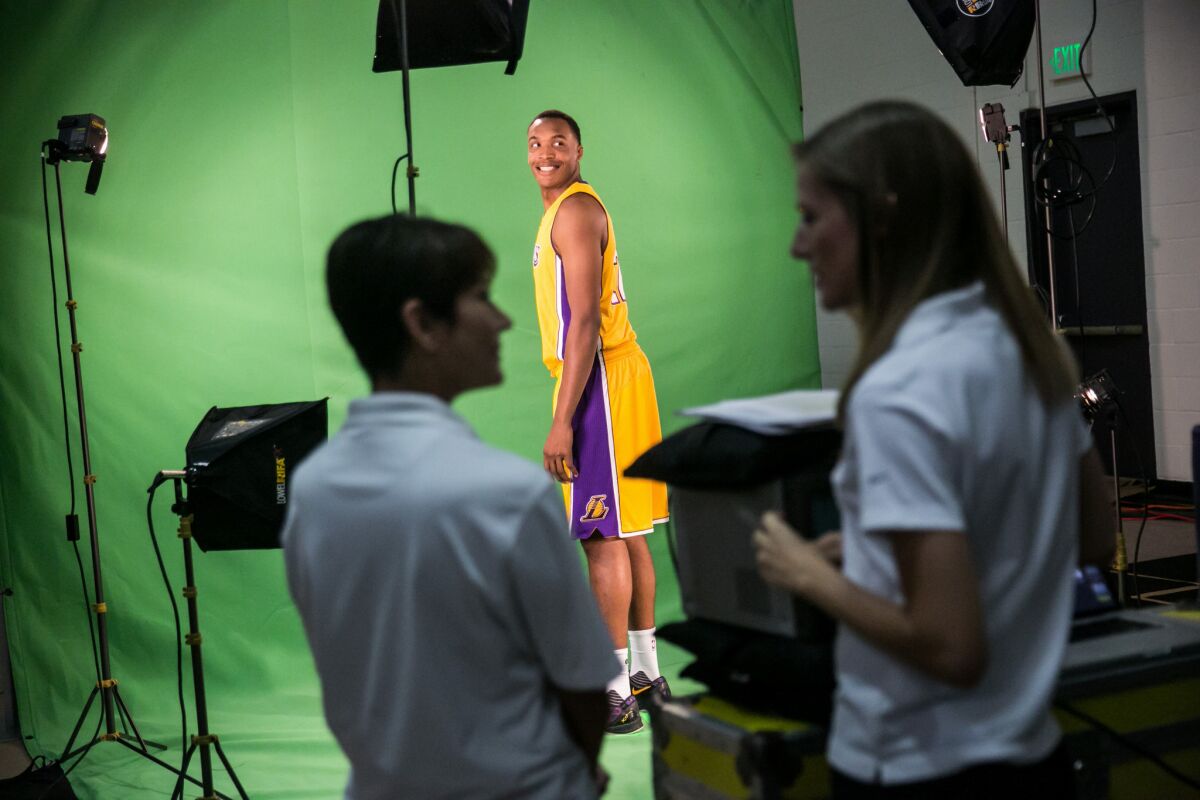 The Lakers met the media on Monday before flying to Hawaii to begin training camp.
Undrafted center Robert Upshaw, who has just $35,000 of his two-year, $1.4-million minimum contract guaranteed with the Lakers, hopes to make a strong enough impression to earn a roster spot.
"I know I can play basketball at this level. It's just a matter of keeping my focus on the prize ahead," Upshaw said. "In the last two weeks my extent of play has just been through the roof, and the coaches have given me the same feedback, it's just a matter of consistency.
"It's just a matter of doing the right things when you need to, when nobody is looking."
On the court wasn't an issue for Upshaw at Washington, where the 7-footer averaged 10.9 points, 8.2 rebounds and a dominant 4.5 blocks a game.
Where he struggled was behind the scenes, breaking team rules that got him ejected from his second college program, after a prior dismissal from Fresno State.
Get the latest in sports with our free newsletter >>
The personal issues, along with a potential heart issue, killed his draft stock. The Lakers were willing to try him out in Las Vegas with the team's summer squad.
Out of shape, Upshaw struggled to contribute, although he did have a strong showing defensively against Minnesota Timberwolves forward/center Karl-Anthony Towns, the top overall pick in June's NBA draft.
"It was tough really, because right when I was finished up [training in] Santa Barbara, they had red-flagged me with the heart condition," said Upshaw. "It was zero basketball activity, zero activity. It's hard to get in shape and it's easy to get out of shape. I got out of shape really fast, it was a month's time where I was just barely doing anything."
Upshaw was eventually cleared of any heart concerns, prior to the draft.
"I'm just normal. I'm just a big guy," he said.
The Lakers gave the defensive prospect individual goals, both physical and personal, in order to earn a training-camp invite.
Upshaw said he took advantage of that time.
"I trained three times a day," he said. "I really put an emphasis on getting up and down the court and basketball conditioning. I lost 25 pounds."
"I feel wonderful," he continued. "Taking care of business off the court, when you put everything together finally, it feels great to work hard and be the guy you want to be, and the guy everybody else wants you to be.
"I feel like a million dollars, one-hundred-million dollars."
In addition to conditioning, Upshaw met regularly for counseling from a trusted advisor.
"I'm definitely working with somebody who is very inspirational in my life. I have him as the support system I needed," said Upshaw, declining to name his mentor. "He's helped me be the person I want to be again."
It doesn't necessarily matter what Upshaw says but what he does. The Lakers are willing to give him an opportunity despite the missteps the 21-year old made at two universities.
He'll still need to earn a place on the roster, which won't be easy with 19 players competing for a maximum of 15 spots.
Upshaw said he's well aware opportunities like this may not come around more than once in a lifetime.
"I took the last month and a half before I got here to just lose weight, to really focus on the task at hand," he said. "Now I'm having a great time. I'm with a bunch of great guys in a great organization."
Upshaw may ultimately prove to be a steal for the Lakers, but he still has to prove that his personal demons have been exorcised.
Twitter: @EricPincus
MORE ON LAKERS
Bill Plaschke: Kobe Bryant, more human than super at 37, sees 20th Lakers season as a great unknown
D'Angelo Russell eager to show his progression since summer league
All things Lakers, all the time.
Get all the Lakers news you need in Dan Woike's weekly newsletter.
You may occasionally receive promotional content from the Los Angeles Times.