Which Lakers will develop into 'core players'?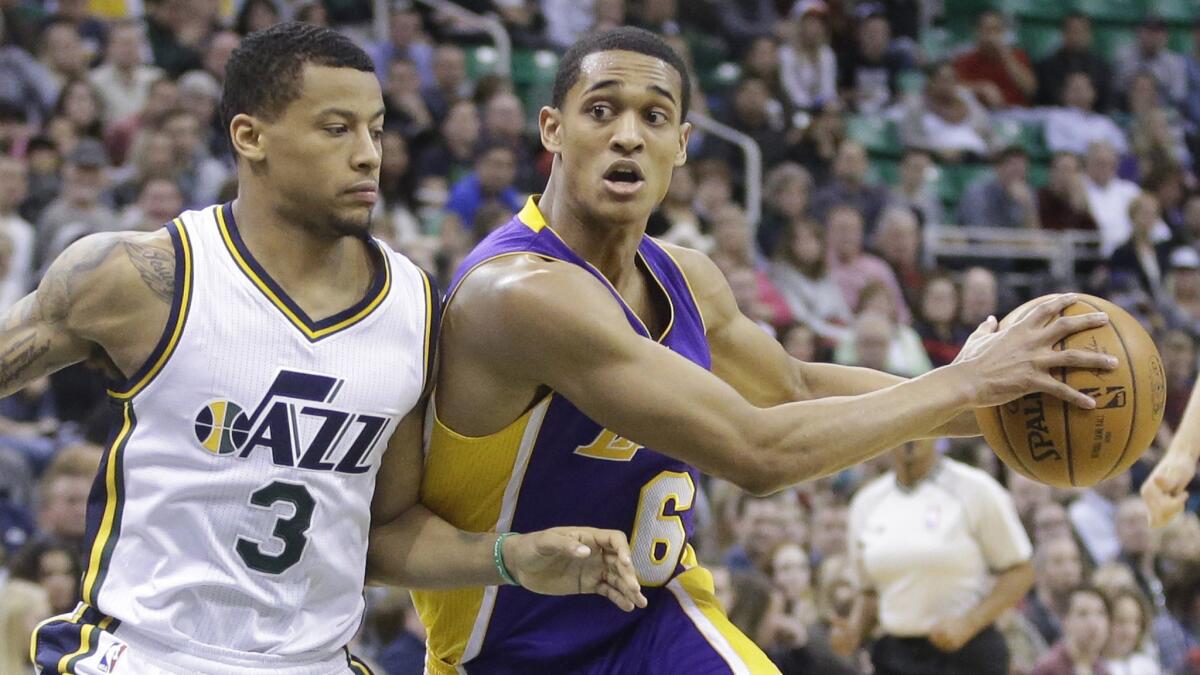 Kobe Bryant has finally recovered from last season's shoulder injury. He and the Lakers will reunite for training camp on Sept. 28, with the hope of improving on last season's dismal 21-win performance.
In late August, Lakers part-owner and executive vice president of basketball operations Jim Buss told The Times specifically what he is looking for in the 2015-16 season.
"To me, the barometer of success at the end of next year ... is if we have eight core players that are going to be Lakers for the next five years," said Buss.
The Lakers currently have 18 players on their roster, with a strong chance that veteran forward Metta World Peace will re-sign with the team as the 19th. Only 15 can make the opening night roster -- which have a shot of joining Buss' projected core?
Bryant, heading into his 20th and possibly final season, isn't likely to be around for five more years.
The team hopes the torch passes to their young crop of draft picks, notably Ohio State guard D'Angelo Russell, taken second overall in June. He ideally would be the team's point guard of the future.
FULL COVERAGE: Los Angeles Lakers >>
Julius Randle, the Lakers' 2014 first-round pick (seventh overall), is now healthy after sitting out the season after his leg was broken on opening night last October. The Kentucky power forward has since transformed his body, both leaner and more muscular than when he joined the team a year ago.
Jordan Clarkson is another player the Lakers are relying on for their future. The second-year guard was drafted 46th overall in 2014 but eventually started at point guard for the second half of the season, earning a spot on the NBA's all-rookie first team.
Coach Byron Scott won't commit to a starting lineup before training camp, but Clarkson may need shift to shooting guard alongside Russell at the point, with Bryant joining the frontcourt at small forward.
Buss also mentioned center Roy Hibbert, acquired in July via trade from the Indiana Pacers, as the team's potential fourth piece. With Hibbert heading into the final year of his contract, the Lakers would like to see the center serve as the team's defensive stopper in the middle beyond the coming season.
A backcourt of Russell and Clarkson, with Randle at power forward and Hibbert protecting the basket may be a positive starting point for the Lakers, provided each player reaches his potential. Starting small forward may not be adequately filled until the Lakers hit free agency next summer, when they project to have the spending power to add in two maximum-level free agents.
The top available player will be Oklahoma City Thunder All-Star Kevin Durant, although the Lakers will hardly be the only team in pursuit.
In the meantime, the Lakers would like four additional players to emerge this season.
The team has two potent bench scorers in guard Lou Williams, signed this summer for $21 million, and guard/forward Nick Young. Each is under contract for three more seasons, although Young can opt out before 2017-18. Williams is the NBA's reigning sixth man of the year, and Young needs to rebound after a down 2014-15 season.
The Lakers also inked forward Brandon Bass to a two-year deal in July, with a player option on the second season. Center Robert Sacre and forward Ryan Kelly are heading into the final years of their contracts with a lot to prove.
The Lakers' scouting department would love to have stolen another pair of rotation players outside of the draft lottery in forwards Larry Nance Jr. (27th overall) and Anthony Brown (34th). Both have guaranteed contracts for the next two seasons -- longer at the team's discretion.
The rest of the roster is composed of players who have to earn their spots. Returning forward/center Tarik Black and guard Jabari Brown have non-guaranteed deals at $845,059 apiece.
Texas forward Jonathan Holmes is promised $100,000 of his $525,093 rookie salary. Florida's Michael Frazier has a similar contract, but with $50,000 guaranteed.
Like Frazier and Holmes, center Robert Upshaw went undrafted. Although he may become a powerful NBA defender, given the chance, Upshaw scared off a number of teams after getting kicked off two college teams (Washington and Fresno State).
While Upshaw has $35,000 of his rookie contract locked in, Brazilian point guard Marcelo Huertas, a 32-year old NBA rookie, has no financial promises in his contract.
Each prospect has potential, but the same can be said of roughly 100 players under contract league-wide who will be cut before opening night.
As the Lakers go through the rebuilding process, the team can't help but bank on potential.
Some decisions will be made before the end of October, but it may take until April for Buss, Scott and General Manager Mitch Kupchak to know whether the team has successfully found eight players that fit their five-year view.
Email Eric Pincus at eric.pincus@gmail.com and follow him on Twitter @EricPincus.
ALSO:
Kobe Bryant gets total medical clearance
Roy Hibbert wants to rediscover his game, not his fame, with the Lakers
Lakers sign undrafted center Robert Upshaw; roster climbs to 18

All things Lakers, all the time.
Get all the Lakers news you need in Dan Woike's weekly newsletter.
You may occasionally receive promotional content from the Los Angeles Times.