Jeremy Lin leading the second unit at point guard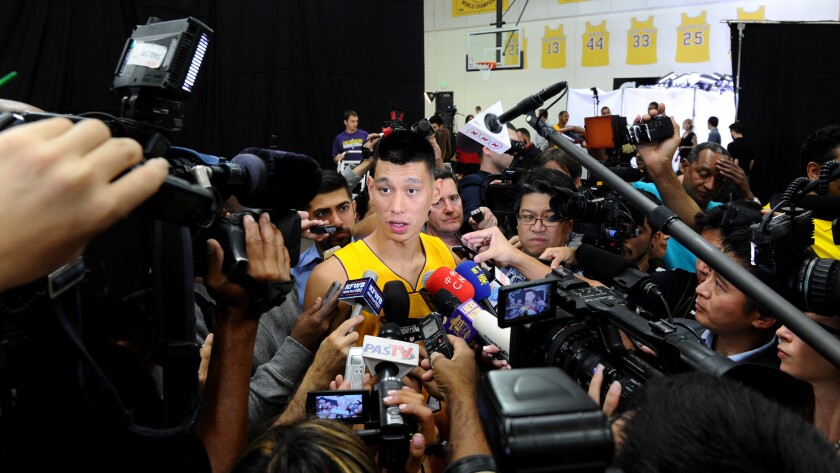 The Lakers finished their third day of preseason practice on Thursday, continuing to scrimmage and run.
Point guard Jeremy Lin said he's never run so much through a training camp, but welcomes the challenge.
"The running comes with the territory, it's kind of what you have to do at the beginning," Lin said. "After a while, we'll get into more playing and less running, after we establish our defensive principles."
Lin has been scrimmaging as the lead guard for the team's second unit, matching up against veteran starter Steve Nash.
Nash's health has been a concern the last two seasons (back, knee and hamstring), which may boost Lin into the starting five should the 40-year-old guard miss any time.
The reserve team took it to the starters in scrimmage on Thursday, although Kobe Bryant assured reporters after practice that his team won two of the three games played.
"Every kid at some point gets a Christmas gift," said Bryant, of his squad's loss to the reserves.
Coach Byron Scott is happy with what he's seen from the 26-year-old Lin.
"I like him a lot. I really do," Scott said on Wednesday. "On defense he really knows where to be. He's gritty, just like I knew he would be.
"He's going to guard you to the best of his ability, and he never gives up on a play. Offensively he runs the team. He gets to the basket. I love the way he pushes the ball in the open floor."
Lin said the team is starting to learn Scott's offensive system, after the team spent most of the first few practices on conditioning and defense.
"We're putting in more sets every single day, trying to figure out what works, what doesn't work," Lin said. "It's fun to get back out there."
Email Eric Pincus at eric.pincus@gmail.com and follow him on Twitter @EricPincus.
---
All things Lakers, all the time.
Get all the Lakers news you need in Dan Woike's weekly newsletter.
You may occasionally receive promotional content from the Los Angeles Times.