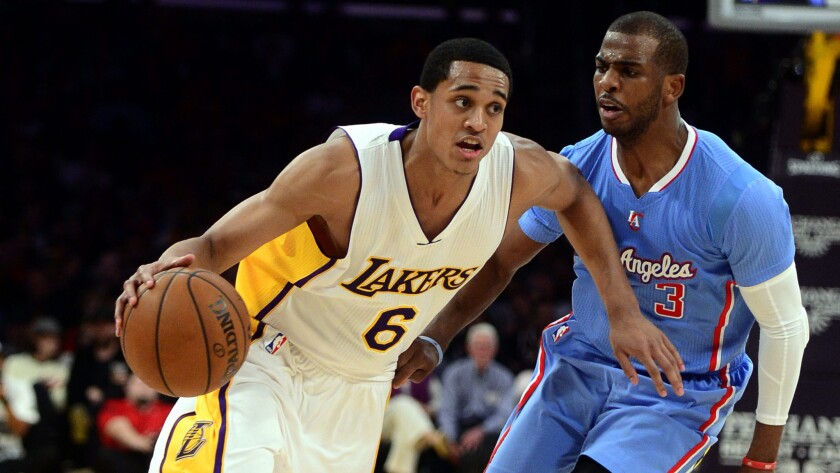 Lakers guard Jordan Clarkson was named Monday to the NBA all-rookie first team.
Clarkson joins rookie of the year Andrew Wiggins (Minnesota Timberwolves), Nikola Mirotic (Chicago Bulls), Nerlens Noel (Philadelphia 76ers) and Elfrid Payton (Orlando Magic) on the squad, as voted by members of the media.
Clarkson, cognizant of his low draft status last year, called it "crazy" to be honored for the award. He was working out at the team's training facility when Lakers General Manager Mitch Kupchak came over to tell him of the all-rookie news.
"It's a great accomplishment but I know I've still got a lot to prove," he said. "I've got to continue to stay in the gym and keep working hard."
Clarkson is the 11th Laker to be named to the all-rookie first team, the first since guard Eddie Jones in 1995. The Lakers acquired Clarkson by purchasing the 46th pick in the 2014 NBA draft from the Washington Wizards for $1.8 million.
After sitting for most of first half of the season, Clarkson started 38 games, primarily at point guard. During that stretch, the Missouri product averaged 15.8 points, five assists and 4.2 rebounds a game.
Clarkson received 74 first-place votes and 52 second-place votes, placing him fifth overall.
Marcus Smart (Boston Celtics), Zach LaVine (Timberwolves), Bojan Bogdanovic (Brooklyn Nets), Jusuf Nurkic (Denver Nuggets) and Langston Galloway (New York Knicks) formed the all-rookie second team.
Undrafted Lakers forward/center Tarik Black also received voting consideration.
Both Clarkson and Black have non-guaranteed contracts with the Lakers next season.
Email Eric Pincus at eric.pincus@gmail.com and follow him on Twitter @EricPincus
---