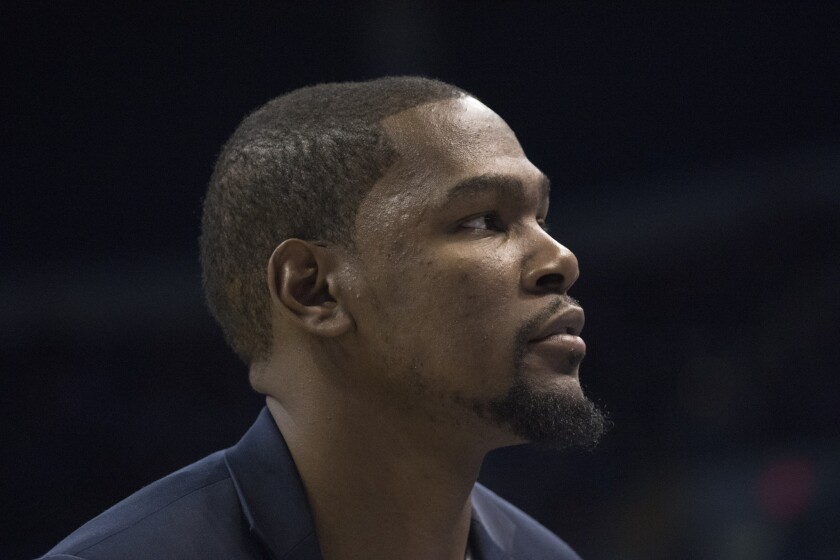 Kevin Durant doesn't approve of the amount of criticism Kobe Bryant has received this season from the media.
Durant believes Bryant's career, which has spanned two decades, greatly overshadows his play this season and he wishes reporters would show more respect during Bryant's final months in the league.
"I've been disappointed this year because you guys treated him like [expletive]," Durant told reporters Monday via The Oklahoman. "He's a legend and all I hear is about how bad he's playing, how bad he's shooting, time for him to hang it up. You guys treated one of our legends like [expletive] and I didn't really like it."
Durant is the deputy publisher of The Players' Tribune, the online publication that ran Bryant's poem Sunday announcing his retirement.
"Hopefully now you can start being nice to him now that he decided to retire after this year. It was sad the way he was getting treated. He had just an amazing career, a guy who changed the game for me as a player mentally and physically. Means so much to the game of basketball. Someone I'm always gonna look to advice for anything. Just a brilliant, brilliant, intelligent man. Sad to see him go. He put his mark on the game."
Bryant is shooting a career-low 34.5% from the field. Against the Golden State Warriors on Nov. 24, he made only one of 14 shots.
His career includes five NBA championships and a most-valuable-player award in 2008. Among the highlights of his career are an 81-point performance against Toronto in 2006.
Clippers reserve guard Jamal Crawford seconded Durant's assessment that the media has denigrated Bryant.
"I was already a big KD fan but I love him even more so for what he said," Crawford said. "It was all fact to me. I love the media, I have a great relationship with you guys, but it's like that. Lately it's been like a Kobe bashing, and that's not cool."
Crawford said he was shocked when Bryant announced that this will be his final season and said it has been an honor to play alongside the 17-time All-Star.
"He's the best player I've ever played against, for sure," Crawford said. "He's this generation's Michael Jordan. When it comes to scoring ability, mentality, how driven he is, his work ethic, his size and mentality, he's the closest thing we'll see. I know a lot of people say we'll never see another Jordan. I know for sure we won't ever see another Kobe."
---