Kobe Bryant: 'I can't breathe' protest not about race but justice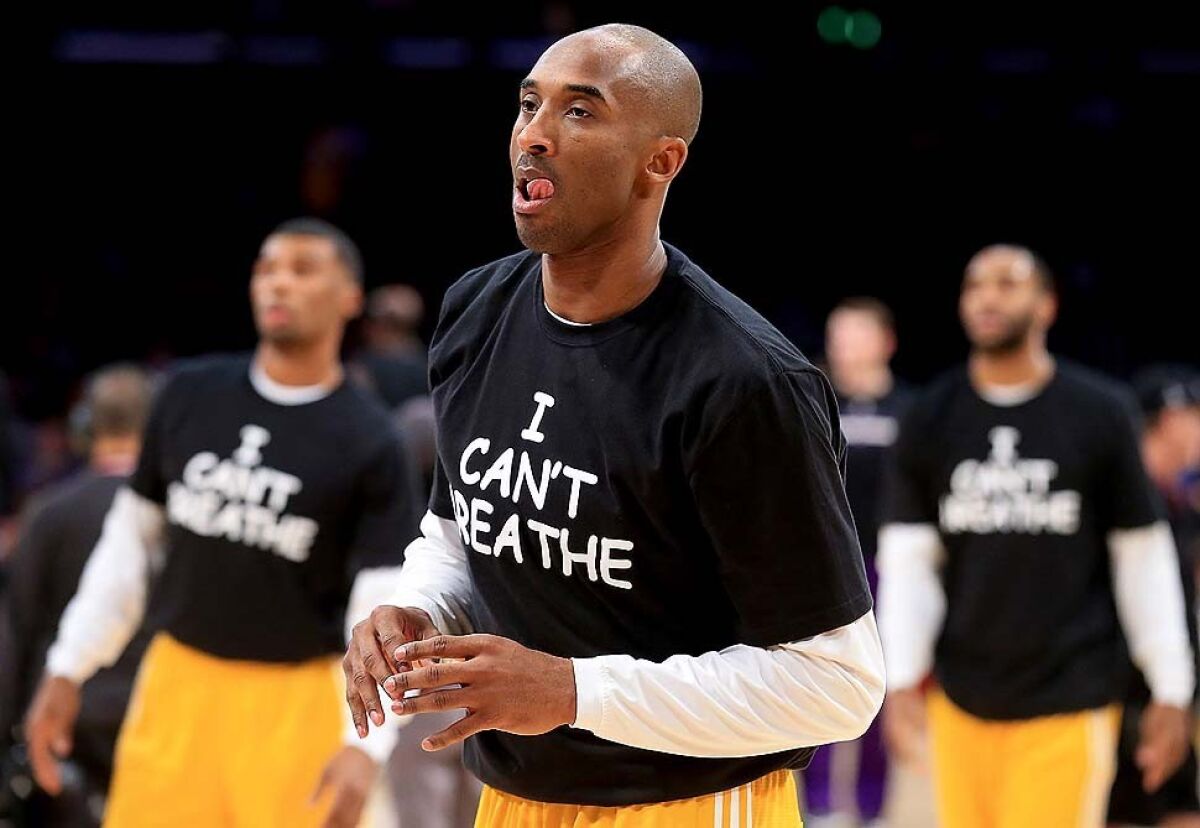 On Tuesday, Kobe Bryant arranged for the Lakers to wear black-and-white "I can't breathe" T-shirts during pregame warmups and throughout the game while on the bench, during the team's 98-95 victory over the Sacramento Kings.
The shirts were in support of Eric Garner, an African American who died while being arrested in New York after being placed in a chokehold.
Bryant said he didn't view his statement as a referendum on race relations in America.
"I think it would be a serious disservice to limit this to a race issue. It's a justice issue," said Bryant after the game.
"You're kind of seeing a tipping point right now, in terms of social issues. It's become at the forefront right now as opposed to being a local issue," he continued. "It's really something that has carried over and spilled into the mainstream, so when you turn on the TV and you watch the news or you follow things on social media, you don't just see African Americans out there protesting."
Bryant and his fellow Lakers including Jeremy Lin, Carlos Boozer and Nick Young, wore the shirts in solidarity with a number of high-profile NBA players like Derrick Rose of the Chicago Bulls and LeBron James of the Cleveland Cavaliers.
"I think it's us supporting that movement and supporting each other," said Bryant after the game. "The beauty of our country lies in its democracy. I think if we ever lose the courage to be able to speak up for the things that we believe in, I think we really lose the value that our country stands for."
A grand jury recently chose not to indict the police officer responsible for Garner's death, sparking protests around the country and the world.
"It's become a global thing," said Bryant. "It's become a thing where people are really standing up for their rights and really questioning the justice system and questioning the process of the legal system and those who have authority -- and whether or not they're abusing authority and what's the threshold to use deadly force."
"That's what our nation is founded on," he continued. "We have the ability to question these things in a peaceful fashion. That's what makes us a great country. We have the ability to voice up, we have the platform to speak up and we have the platform to affect change."
Coach Byron Scott tread lightly on the subject after the game, deferring to NBA Commissioner Adam Silver on the rules violated by the protest.
"Freedom of choice and freedom of speech," said Scott. "From my standpoint as a coach, I'm going to support them, but that's their choice."
Bryant has been more outspoken in recent years about societal issues, typically after some reflection.
"I didn't have to research or study too much to look at the video," said Bryant of Garner's death. "It's pretty self-explanatory."
Email Eric Pincus at eric.pincus@gmail.com and follow him on Twitter @EricPincus.
---
All things Lakers, all the time.
Get all the Lakers news you need in Dan Woike's weekly newsletter.
You may occasionally receive promotional content from the Los Angeles Times.