Mitch Kupchak doesn't expect Kobe Bryant to return in next two weeks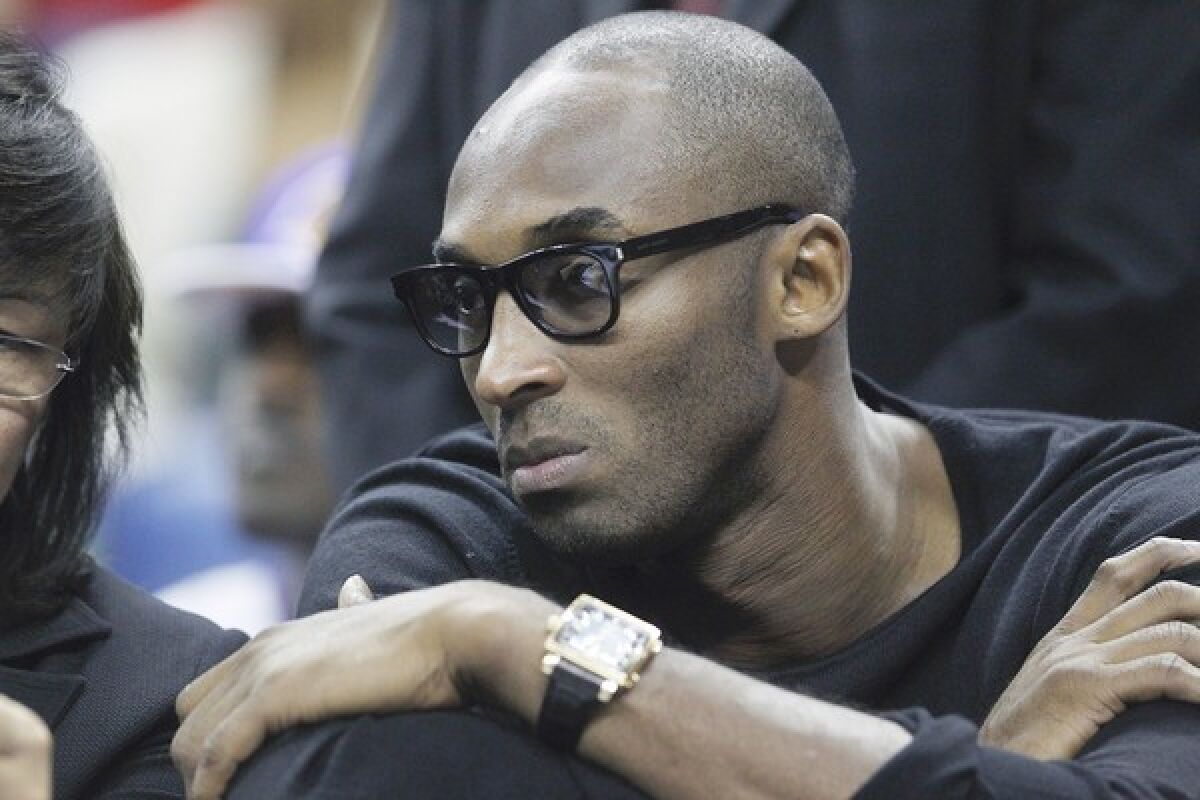 Lakers General Manager Mitch Kupchak said Sunday he does not anticipate that Kobe Bryant will be able to return from his Achilles' tendon injury within the next two weeks.
"I don't see that in the next week or two because you've got to be on the court. You've got to practice. You've got to play," Kupchak, speaking at an event for season-ticket holders, said of the team's All-Star guard.
Bryant said recently that he's gotten in two of the three weeks of intense conditioning he needs before considering a return date.
The Lakers undoubtedly will work Bryant slowly back into practice before he sees his first NBA game action since tearing his Achilles' on April 12 during a win over the Golden State Warriors.
"Clearly we don't know what this team is all about until Kobe gets back, and when he gets back, how is he going to play?" Kupchak told an audience of more than 1,000.
"I know he's going to come back competitive. I know he's going to be productive. But that's when we're going to find out what kind of team we have."
Kupchak acknowledged the franchise is preparing for the time after Bryant is gone.
"He's not going to be here forever. Just like Elgin [Baylor] wasn't here forever, Jerry [West] wasn't here forever -- Wilt [Chamberlain], Kareem [Abdul-Jabbar and] Magic [Johnson]," said Kupchak. "Everything runs its cycle."
The difficult task ahead for Kupchak will be rebuilding under the difficult rules of the 2011 collective bargaining agreement.
"The [CBA] really made a concerted effort to level the playing field in terms of taxes, the ability to sign free agents, the [salary] cap, the exceptions," Kupchak said. "We're starting to see, slowly, some of the effects of that agreement. This is something that all the smaller-market teams in the NBA wanted."
Kupchak said he expects smaller-market teams to benefit in the standings.
"The owners . . . want, as much as possible, to level the playing field," he said. "I'm not sure we'll be able to have three superstars and dominate for eight or 10 years. I just don't think the new rules will allow that."
Kupchak also gave credit to Commissioner David Stern, who is retiring in February, for globalizing the NBA game.
"He's done so much for this [league with] his vision," Kupchak said. ". . . We'll miss him, with the exception of one moment."
In 2011, Kupchak had agreed to a trade with the New Orleans Hornets (now Pelicans) and Houston Rockets to bring Chris Paul to the Lakers -- but Stern stepped in as temporary owner of the Hornets to stop the blockbuster deal.
"Have you forgiven him for that one moment?" asked Lakers broadcaster Stu Lantz, moderating the event.
"No I haven't," Kupchak answered.
In the meantime, the Lakers hope to get Bryant back on the floor -- and more out of Steve Nash.
"If we can get Steve Nash to give us a total of 25 to 28 minutes" a game, Kupchak said, "[if he can] get us out of the block, set up the offense, organize and get us off to a good start in the first and second half -- maybe finish a game. I'm happy with that."
Nash is nearly 40-years old. Coach Mike D'Antoni has opted to sit the veteran on the second night of consecutive games.
In two tries, the Lakers are 0-2 without Nash. Kupchak isn't convinced D'Antoni will stick to the plan all season.
"We haven't played him on back-to-back games," Kupchak said. "That's not something that's etched in stone. I think that can change."
ALSO:
Lakers can't keep pace at the finish with younger Pelicans
Lakers are first team in NBA to have played seven games
Lakers have highest scoring bench in NBA
Email Eric Pincus at eric.pincus@gmail.com and follow him on Twitter @EricPincus.
---
All things Lakers, all the time.
Get all the Lakers news you need in Dan Woike's weekly newsletter.
You may occasionally receive promotional content from the Los Angeles Times.