Kobe Bryant helps seal Lakers' win in final game at Boston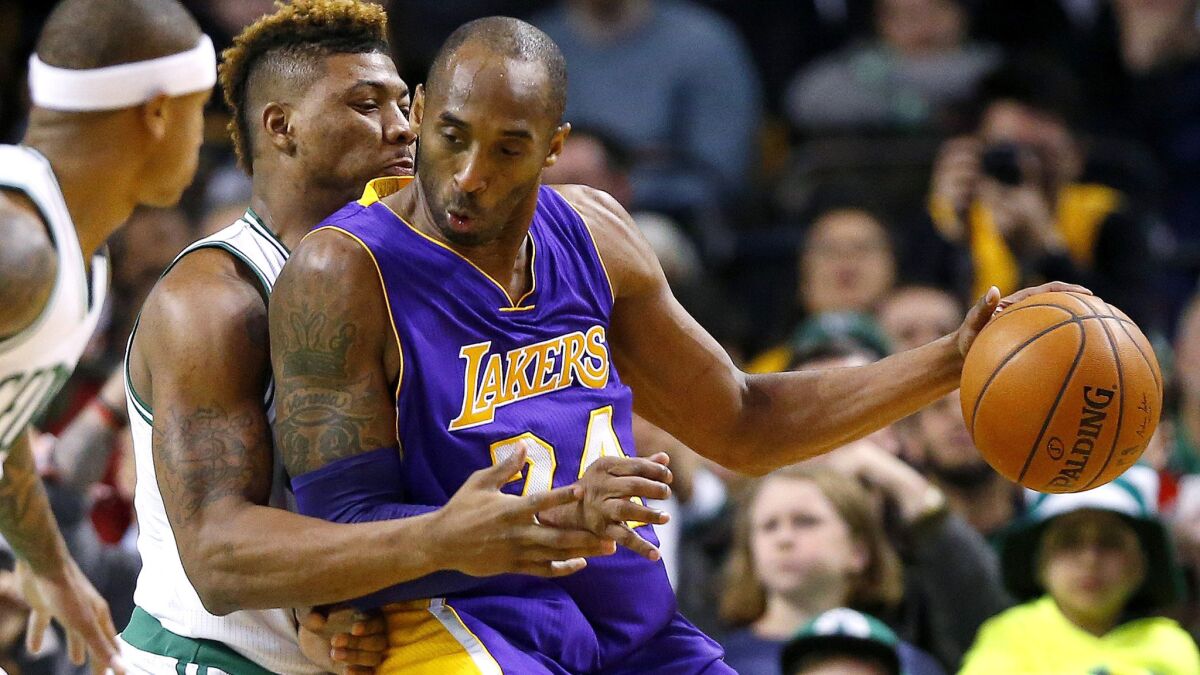 Kobe Bryant played his final game in Boston, helping the Lakers upset the Celtics, 112-104.
With the Boston crowd chanting, "Kobe," Bryant made a long three-pointer late in the fourth quarter to hold off a Celtics' run.
Both teams kept the score close for most of the game, until the Lakers pushed ahead by as many as 14 points in the third quarter.
See more of our top stories on Facebook >>
Evan Turner helped the Celtics get back into the game with six consecutive points midway through the fourth quarter. The Celtics closed to within two points with 3 1/2 minutes left before Jordan Clarkson scored twice, but Boston kept coming.
Bryant's long-range shot with 1:40 left was enough for the Lakers to end a five-game losing streak at Boston's expense. Bryant finished with 15 points on five-of-18 shooting, 11 rebounds, three assists and four turnovers.
Clarkson and Boston's Isaiah Thomas led all scorers with 24 points apiece. Clarkson made 10 of 15 shots; Thomas dished seven assists with four turnovers.
Forward Julius Randle converted a three-pointer in the second quarter, his third attempt and make over the last three games. Over his last four games, Randle has made four of six three-pointers, after making just one in his career before this recent hot streak.
Randle finished with a double-double, scoring 15 points and taking 12 rebounds. Lou Williams added 19 points, making seven of nine from the field. D'Angelo Russell scored 16.
The Lakers shot 45.7% from the field, 47.4% (9 of 19) from three-point range and 73.9% (17 of 23) from the free-throw line.
The Celtics shot 43.2%, 25.9% (7 of 27) and 84% (21 of 25), respectively.
Evan Turner had 20 points and eight assists for Boston. Jae Crowder added 17 and Avery Bradley 13.
The Lakers (6-27) return home to host the Philadelphia 76ers (2-31) on Friday. The Celtics (18-14) host the Brooklyn Nets (9-23) on Saturday.
Email Eric Pincus at eric.pincus@gmail.com and follow him on Twitter @EricPincus.
MORE LAKERS NEWS
Kobe Bryant's final Christmas as a Laker
Former Laker Jeremy Lin is having fun in a reserve role with the Hornets
Kobe receives the Michael Jordan treatment, but Lakers fall to the Hornets, 108-98
---
All things Lakers, all the time.
Get all the Lakers news you need in Dan Woike's weekly newsletter.
You may occasionally receive promotional content from the Los Angeles Times.